In brief
Claim
Theresa May said sex offenders including paedophiles should be allowed to adopt.
Conclusion
She never said this. An academic wrote an article saying this when Theresa May was Home Secretary.
An image claiming that Theresa May said sex offenders, including paedophiles, should be allowed to adopt, has had several hundred shares on Facebook.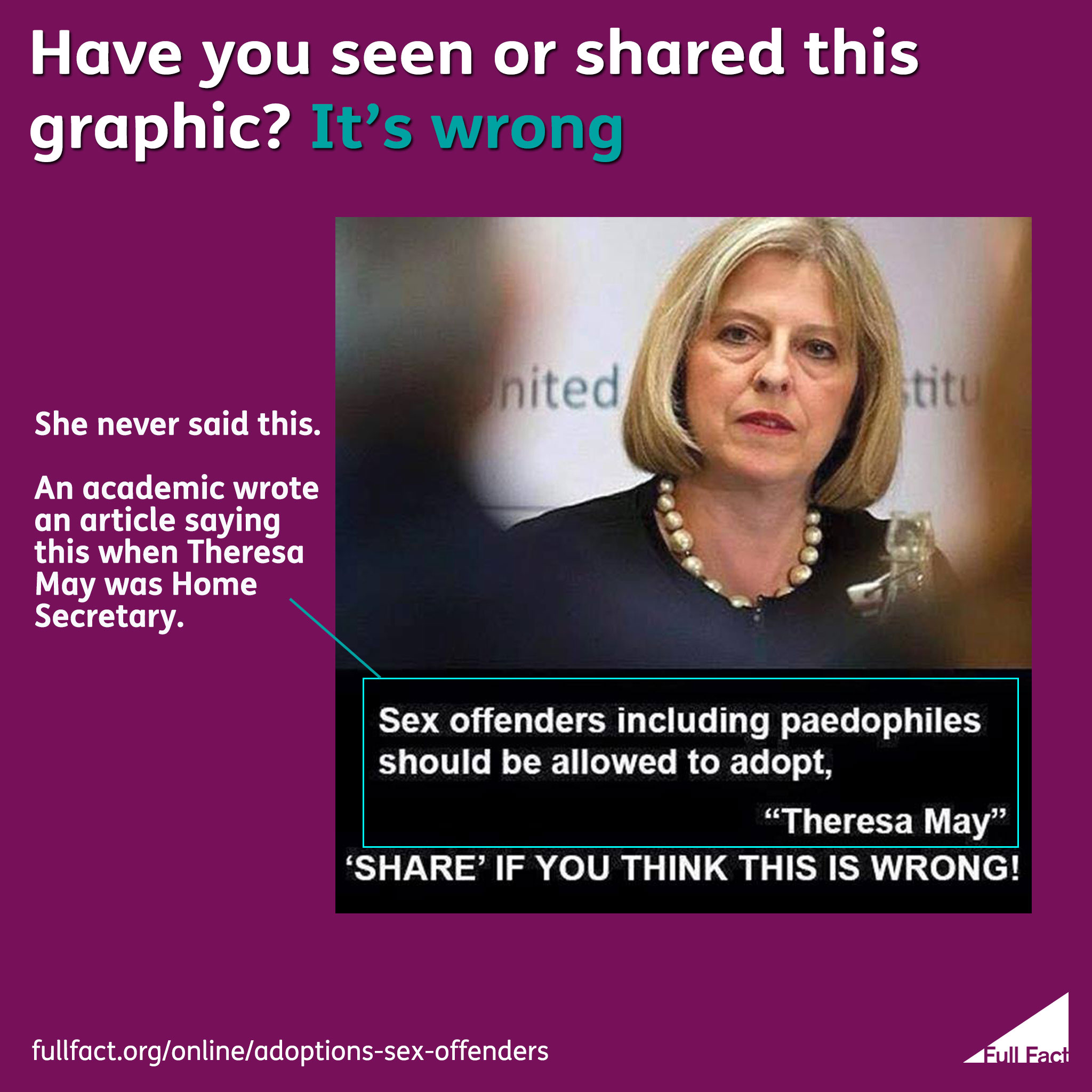 It's not true. In 2010, an academic wrote in a law journal that the rules stopping sex offenders from adopting should be relaxed. This was reported in the Telegraph, with the headline: "Sex offenders including paedophiles should be allowed to adopt, Theresa May told". This is identical to the wording that is used in the image, with the exception of the word "told" which has been left out—changing the meaning entirely.
At the same time, a government review was looking into the Vetting and Barring Scheme (which aimed to prevent "unsuitable people" working with children). But the rules around adoption did not change—sex offenders cannot adopt children.
In response to the academic's article, a Home Office spokesman told the Telegraph "It is safe to say that the vetting review will not be considering allowing paedophiles to adopt." In 2016, a petition to "forbid Theresa May to allow paedophiles and sex offenders to adopt" was submitted to parliament.
It was rejected because "It's already the case that sex offenders and child sex offenders are not allowed to adopt children. We're not sure what else you want the Government to do."
This article is part of our work factchecking potentially false pictures, videos and stories on Facebook. You can read more about this—and find out how to report Facebook content—here. For the purposes of that scheme, we've rated this claim as a false because the claim is wrong.
Can you help protect this election from the influence of bad information? Support Full Fact
This election, clear, accurate facts won't always be a guarantee. False and harmful claims are spread every day by our public figures and media. Intentional or not, they have the power to shape the choices we make. We all deserve better than that.
That's why we're fighting to keep this election more honest and accountable. And we can't do it without you. In a fast-paced campaign, our supporters mean we can hold all candidates to the same three principles: get your facts right, back them up with evidence, and correct your mistakes.
Just a small monthly donation keeps us scrutinising the most harmful false claims around the clock, and challenging the people who make them.
If you, like us, don't want your vote to be influenced by bad information, can you help out?
---