In brief
Claim
In response to the New Zealand mosque attacks, Islamists have burned down a Christian church in Pakistan.
Conclusion
False. The video used as evidence for this statement shows an attack on a church in Egypt in 2013.
Conservative political activist Theodora Dickinson shared a video on March 18 along with the following caption:
"In response to the New Zealand mosque attacks, Islamists have burned down a Christian church in Pakistan. Why is this not being shown on @BBCNews?!".
Her tweet (since deleted) had received over 5,500 retweets. A Facebook post, making a similar claim, has been shared over 500 times.
The reason that the video is not being shown on BBC News is that it's not from this year, it's from 2013. It's also not from Pakistan; it was actually filmed in Egypt.
This YouTube video, uploaded in 2013, clearly shows the same footage—only less zoomed in than the version shared by Ms Dickinson.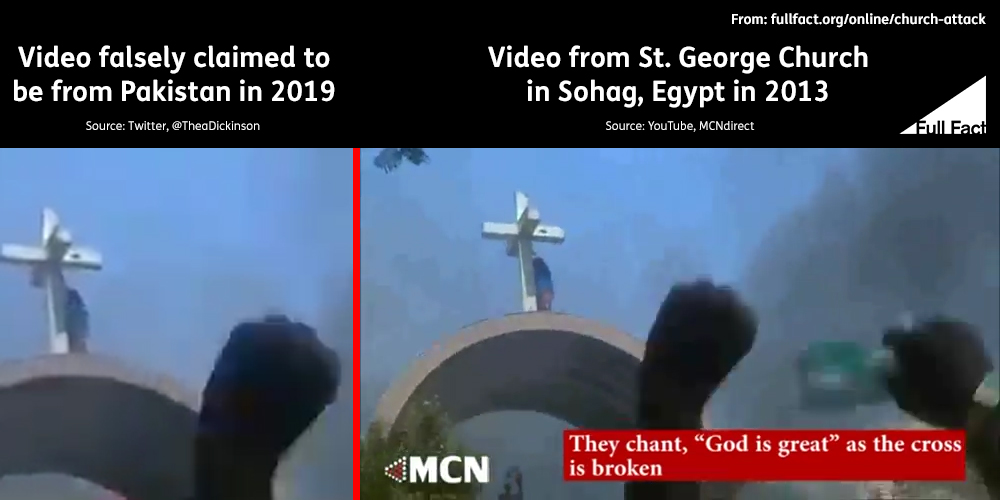 AFP Fact Check have done an excellent job of confirming that the church in the video is St George Church in Sohag, Egypt.
This finding is also consistent with a Human Rights Watch article which contains witness reports of an attack on the St George Church in August 2013. The appearance of the building in the video matches images from media reports of that attack at the time.
This article is part of our work factchecking potentially false pictures, videos and stories on Facebook. You can read more about this—and find out how to report Facebook content—here. For the purposes of that scheme, we've rated this claim as false and because the video doesn't show what the claimant says it does.
The integrity of our elections is in danger, and we need your help
You're probably here looking for facts. Thank you for that trust. But with the EU parliament elections on the way and more elections a possibility, we need to act now to make sure our elections are protected, before it's too late.
Could you help protect our elections by becoming a Full Fact donor?
Misinformation isn't new, but advancements in technology mean it can spread at an unprecedented scale. Our dangerously outdated election laws have not kept up with the digital age, putting our next elections at risk of abuse.
Currently, it's possible for a candidate to run a thousand different political ads to win the same seat, promising something different to each group it targets. At the same time, there's no law requiring those who publish online campaigns to disclose who they are or how they are funded. The opportunity for bad actors to manipulate election results is left wide open.
You may already know about our work to make public debate online more honest and transparent. Every day, we call out the most harmful misinformation on social media platforms when and where we see it. But right now, we're urging the government to overhaul our election laws to make sure political campaigning is held to the same level of scrutiny online as it is offline.
This work all depends on the generosity of hundreds of people who all believe that for democracy to work, we need transparency. Our monthly donors help strengthen our voice, and show our politicians that this really matters. Would you consider joining them?
Become a donor today to make sure our elections are protected.
---