Councils aren't using pre-filled postal ballots to suppress the youth vote
26th Nov 2019
Claim
Postal ballots date of birth section is being pre-filled with the year starting "19", and this could suppress young voter turnout.
Conclusion
Postal voters should receive a ballot with the correct first two digits of their year of birth prefilled; this is to prevent people from erroneously writing the wrong date. If they do receive a ballot with the wrong first two digits, they should just cross them out and write the correct ones.
We've seen a few posts going around social media today claiming that the date of birth section on postal ballots is being pre-filled with the year starting "19" like this.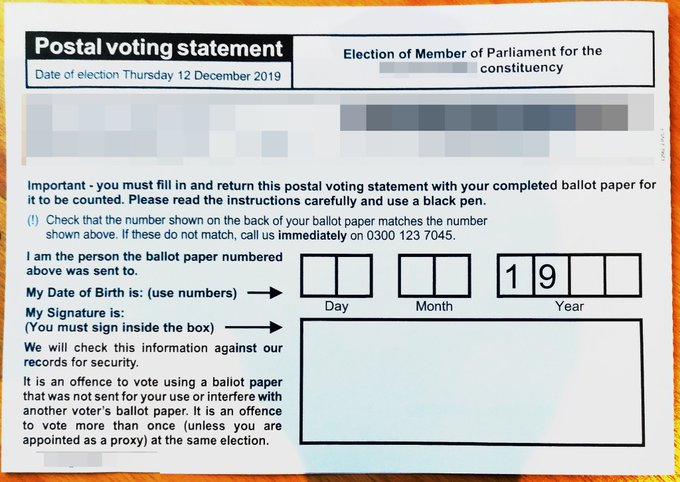 There's been concern raised that this could confuse and may even discourage voters born in 2000 and 2001 who are eligible to vote.
We don't think there's anything to be worried about here. We contacted Cheshire West and Chester Council (where one of the postal ballot photos came from). They said that they do pre-fill the date of birth on postal ballots, but that voters born in 2000 or 2001 would receive a ballot prefilled accordingly with "20.." 
That was also the response of Bromley Council (which was claimed to be the source of another of the questioned ballots). They told us that the chance of someone receiving an erroneously pre-filled ballot was very small, but that if anyone born in the 2000s does, they should just cross the "19" out and write their actual year of birth above. 
Postal ballots are pre-filled like this to discourage people from mistakenly writing in the current date, rather than their date of birth. 
This article is part of our work fact checking potentially false pictures, videos and stories on Facebook. You can read more about this—and find out how to report Facebook content—here. For the purposes of that scheme, we've rated this claim as partly false because it's true that some postal ballots have the first two numbers of the year filled in, but voters born in the 2000s should receive ones with the correct date.