In brief
Claim
If you call 999 in an emergency but can't speak, press 55 and they can track where you are calling from using new technology.
Conclusion
If you can't talk during a 999 call, dialling 55 should route your call to the police. But it won't automatically track your location, and it's not always possible to pinpoint your exact location if calling from a mobile.
A viral image claiming that if you have to make a 999 call but can't speak, you can dial 55 and your location will be tracked, has been shared around 20,000 times on Facebook.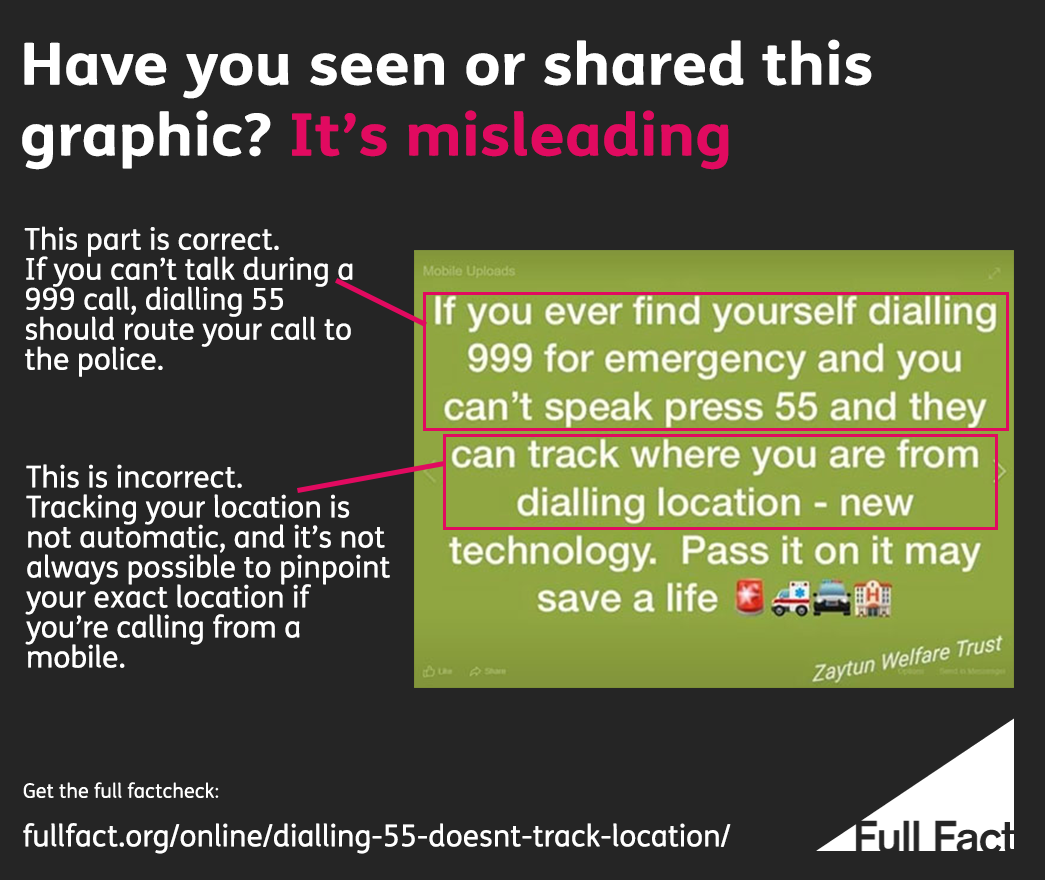 This isn't completely true. Dialling 55 after you call 999 doesn't mean your location can be automatically traced, especially if you are using a mobile phone.
The National Police Chiefs' Council told us that if you can't speak when you call 999, you should be asked to dial 55 if you want to be put through to the police. However, they won't necessarily be able to track exactly where you are calling from.
If a 999 caller doesn't speak, they will be asked to dial 55 to be put through to the police
We asked the National Police Chiefs' Council (NPCC), which deals with police matters across the UK's police forces, and it told us that when someone calls 999 and doesn't speak, the BT operators who initially pick up "will try to establish if the call received is genuine by asking questions".
It told us that if no one speaks, but the operator hears "suspicious noises or a disturbance", the call will be forwarded to the police, who will establish if officers are required.
But if no noise is heard, the BT operator will forward the call to an automated service that will ask the caller to dial 55 which will also route the call to the police. This service is called 'Silent Solutions' and has been in use since 2001. Then police call handlers will try and establish if there's an emergency by asking questions that can be answered by tapping the handset, or with yes or no responses.
The NPCC told us that dialling 55 at any point in the call (even before prompted) is likely to alert the operator that the caller needs to be put through to the police, as would doing something like tapping the handset to make a noise.
There's no guarantee that typing 55 will get a caller's location tracked
On location tracking, the NPCC told us that calls from landlines can be linked to an address, but calls from mobile phones will only show a general location at the time of the call. The NPCC told us that the police "can't get exact locations from mobile phone calls because of things like tower blocks or densely populated areas".
It added that the police don't always send officers to silent calls "so it is important for callers to try and provide as much information as they can—in any way they can". Police will use other information, such as previous calls, to inform their decision on whether to send officers.
It's an 'urban myth' that silent calls will always get a response
In 2014, Karen Catherall was murdered by a man she had met on a dating site. A silent 999 call lasting 12 seconds was made from her mobile the night she was attacked, but the call wasn't forwarded to any emergency service.
A report into her death published in 2018 said that it was an "urban myth" that silent 999 calls always produce an emergency response. The report added that "The volume of silent calls... means that any plan to trace them is not sustainable within the resources likely to be needed."
"The other point to make is that whereas a landline can be traced to an address, a mobile would only be traceable to an area covered by a mobile phone...for safety's sake it is important that the message is given nationally that silent 999 calls, especially from mobiles, are not guaranteed to bring help."
This article is part of our work factchecking potentially false pictures, videos and stories on Facebook. You can read more about this—and find out how to report Facebook content—here. For the purposes of that scheme, we've rated this claim as a mixture of accurate and inaccurate.
The integrity of our elections is in danger, and we need your help
You're probably here looking for facts. Thank you for that trust. But with the EU parliament elections on the way and more elections a possibility, we need to act now to make sure our elections are protected, before it's too late.
Could you help protect our elections by becoming a Full Fact donor?
Misinformation isn't new, but advancements in technology mean it can spread at an unprecedented scale. Our dangerously outdated election laws have not kept up with the digital age, putting our next elections at risk of abuse.
Currently, it's possible for a candidate to run a thousand different political ads to win the same seat, promising something different to each group it targets. At the same time, there's no law requiring those who publish online campaigns to disclose who they are or how they are funded. The opportunity for bad actors to manipulate election results is left wide open.
You may already know about our work to make public debate online more honest and transparent. Every day, we call out the most harmful misinformation on social media platforms when and where we see it. But right now, we're urging the government to overhaul our election laws to make sure political campaigning is held to the same level of scrutiny online as it is offline.
This work all depends on the generosity of hundreds of people who all believe that for democracy to work, we need transparency. Our monthly donors help strengthen our voice, and show our politicians that this really matters. Would you consider joining them?
Become a donor today to make sure our elections are protected.
---