The meme you've seen about Instagram privacy settings is not true
21st Aug 2019
Claim
Instagram is changing its rules so that any posts or messages on the platform will be public, can be used in court cases against you, and Instagram is now a public entity. If you share a certain image, Instagram will not be able to share your images or messages.
Conclusion
None of this is true.
If you frequent Instagram or Facebook, you may well have seen an image claiming that Instagram is changing its privacy rules tomorrow.
"Don't forget tomorrow starts the new Instagram rule where they can use your photos. Don't forget Deadline today!!! … Everything you've ever posted becomes public from today Even messages that have been deleted or the photos not allowed."
A number of celebrities in the UK and the US shared the image, even US energy secretary Rick Perry. Several of them, including Secretary Perry, have now deleted their posts. Some even mocked up their own versions of the meme poking fun at their fellow-stars.
Many people who shared it expressed the sentiment that even if the post's claims weren't accurate, it was better to be safe than sorry.
But the post isn't true. Instagram's settings haven't changed: it doesn't own your pictures and your messages aren't about to become public.
Instagram referred us to the profile of its head, Adam Mosseri, where he shared a story saying the meme was not true.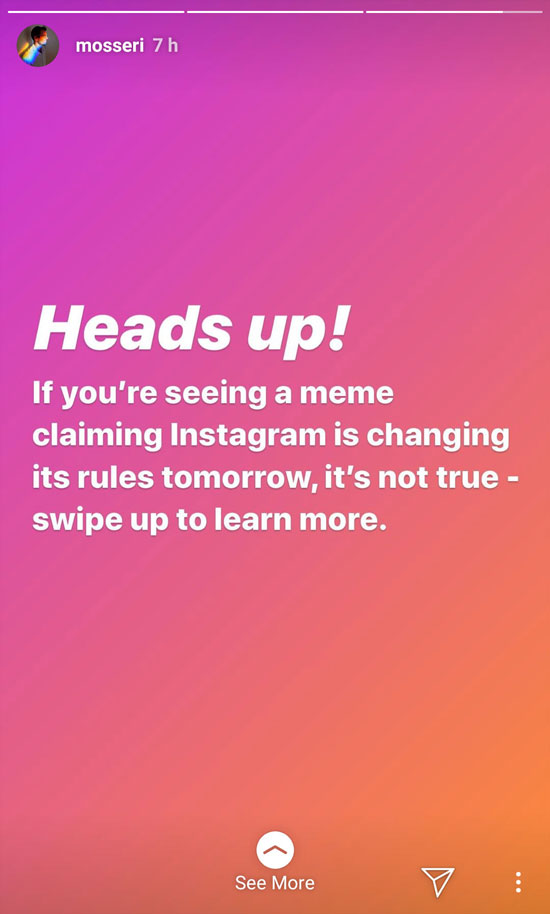 He also linked to an article in the fashion trade journal WWD, which quotes Instagram's brand communications manager Stephanie Otway saying there was no truth to the post.
Instagram certainly collects data about you, and can share that with other groups. But it doesn't actually own your photos. Its terms of service say:
"We do not claim ownership of your content, but you grant us a license to use it.
Nothing is changing about your rights in your content. We do not claim ownership of your content that you post on or through the Service. Instead, when you share, post, or upload content that is covered by intellectual property rights (like photos or videos) on or in connection with our Service, you hereby grant to us a non-exclusive, royalty-free, transferable, sub-licensable, worldwide license to host, use, distribute, modify, run, copy, publicly perform or display, translate, and create derivative works of your content (consistent with your privacy and application settings)."
It's based on an old hoax about Facebook that's appeared on and off for years
Very similar text posts have been seen as far back as 2012, although referring to Facebook, rather than Instagram. At the time Facebook clarified that the post wasn't true and did so again in 2016, saying "You own all of the content and information you post on Facebook, and you can control how it's shared through your privacy and application settings."
There are some clues it's not real
The image's text varies in size, which is one sign it isn't legitimate. The text of the word 'Instagram' also seems to have been overlaid on the image.
The wording of the message is also suspect—grammar mistakes and sporadic capital letters can be something to look out for when deciding whether a post is what it says it is.
This article is part of our work fact checking potentially false pictures, videos and stories on Facebook. You can read more about this—and find out how to report Facebook content—here. For the purposes of that scheme, we've rated this claim as false as the image has no truth to it.