In brief
Claim
Muslims who use living areas within their homes as a place of worship are exempt from paying council tax. This doesn't apply to other religions.
Conclusion
This is not correct, they wouldn't be exempt from council tax. Places of worship for all religions can be exempt from business rates, but only if they're officially recognised as such. The principal use of the site has to be worship.
A Facebook post has claimed that Muslims who use living areas "within their homes" as a place of worship are exempt from paying council tax. The post shows a picture of a 2013 petition saying this exemption "does not apply to other religions".
This is not correct.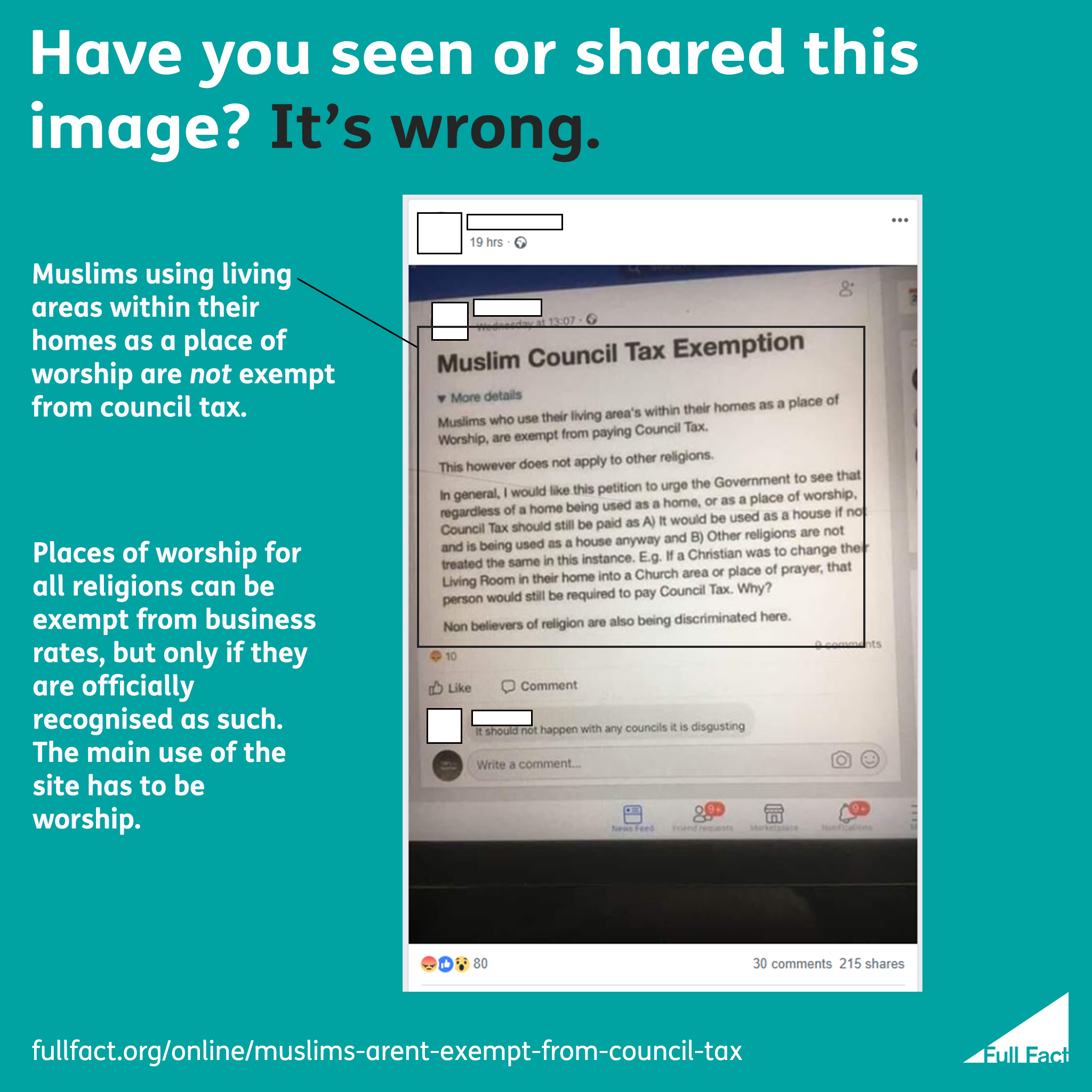 The House of Commons Library said in 2018 that this claim and others like it have "no basis in council tax law". It added: "It is not possible for owners of domestic property to avoid council tax by claiming that their property, or part of it, is used for religious purposes".
The briefing did note it would be "theoretically possible" for part of a home (not all of it) being used for public religious purposes to be to be "separately valued for business rates, and to be removed from the council tax valuation list". But it also said that in such a case, the Valuation Office Agency (the government body that supplies property valuations for tax purposes) "would have to be satisfied that this reflected the real use of the property". And it points out that this "would be unlikely to make more than a minimal difference to the council tax bill on the remainder of the property."
Council tax is charged on homes, and the only exemption or discount relating to religion is for members of "religious communities", for example nuns living in a convent.  There is no exemption that applies only to Muslims.
Buildings registered for public religious worship are exempt from business rates   
Buildings of public worship belonging to the Church of England (or Wales) and their church or chapel halls are automatically official places of worship.
In England and Wales, a place of worship for any other religion or denomination has to apply to the General Register Office to be classed as an official place of religious worship, and so be exempt from business rates.
The application needs to include things like a weekly timetable of activities and a floorplan of the site. To be granted this status "the Registrar General must be satisfied that [the place's] principal use is for worship".
In Scotland and Northern Ireland, places of worship can apply for business rate relief as part of the exemption for charities.
This article is part of our work factchecking potentially false pictures, videos and stories on Facebook. You can read more about this—and find out how to report Facebook content—here. For the purposes of that scheme, we've rated this false as the primary claim is incorrect.
The integrity of our elections is in danger, and we need your help
You're probably here looking for facts. Thank you for that trust. But with the EU parliament elections on the way and more elections a possibility, we need to act now to make sure our elections are protected, before it's too late.
Could you help protect our elections by becoming a Full Fact donor?
Misinformation isn't new, but advancements in technology mean it can spread at an unprecedented scale. Our dangerously outdated election laws have not kept up with the digital age, putting our next elections at risk of abuse.
Currently, it's possible for a candidate to run a thousand different political ads to win the same seat, promising something different to each group it targets. At the same time, there's no law requiring those who publish online campaigns to disclose who they are or how they are funded. The opportunity for bad actors to manipulate election results is left wide open.
You may already know about our work to make public debate online more honest and transparent. Every day, we call out the most harmful misinformation on social media platforms when and where we see it. But right now, we're urging the government to overhaul our election laws to make sure political campaigning is held to the same level of scrutiny online as it is offline.
This work all depends on the generosity of hundreds of people who all believe that for democracy to work, we need transparency. Our monthly donors help strengthen our voice, and show our politicians that this really matters. Would you consider joining them?
Become a donor today to make sure our elections are protected.
---