In brief
Claim
Wind turbines can never generate as much energy as the energy invested in building them.
Conclusion
Incorrect—this is based on a selective quotation. It could, in theory, be the case for turbines placed in poor locations. But studies show turbines pay their energy cost back quickly.
A viral post on Facebook claims that wind turbines cost more energy to produce than could ever be gained back from them.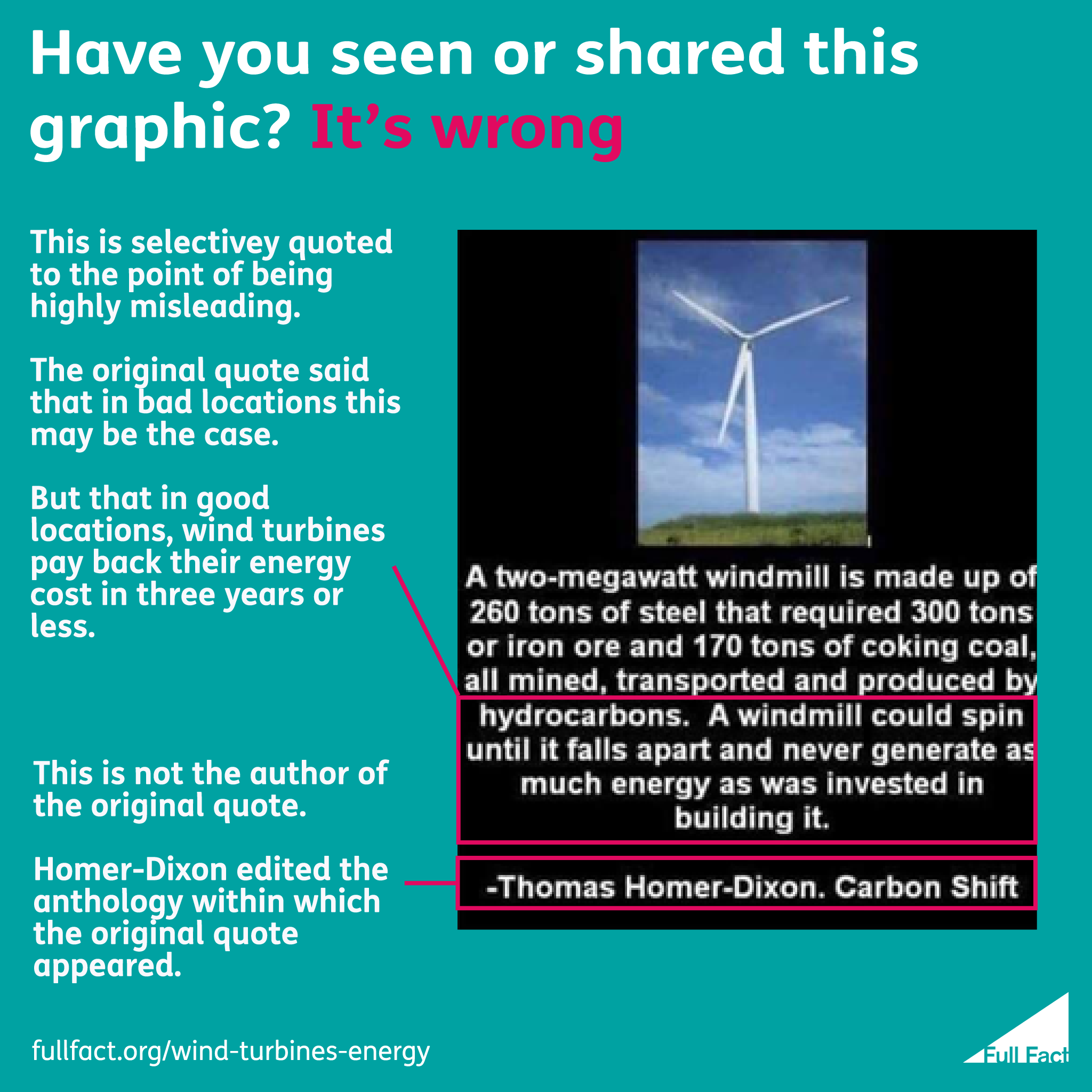 This is incorrect. This text is selectively quoted from an essay written by scientist David Hughes, and published in 2009 in an anthology edited by Thomas Homer-Dixon.
On his blog Mr Homer-Dixon writes: "The poster is fraudulent. I didn't write the text, the text itself is selectively quoted, and the argument it makes, taken in isolation, is meaningless."
The full quote from the book is:
"The concept of net energy must also be applied to renewable sources of energy, such as windmills and photovoltaics. A two-megawatt windmill contains 260 tonnes of steel requiring 170 tonnes of coking coal and 300 tonnes of iron ore, all mined, transported and produced by hydrocarbons. The question is: how long must a windmill generate energy before it creates more energy than it took to build it? At a good wind site, the energy payback day could be in three years or less; in a poor location, energy payback may be never. That is, a windmill could spin until it falls apart and never generate as much energy as was invested in building it."
So Mr Hughes was saying only that placing windmills in bad places may mean they don't generate enough energy to "pay back" the energy it cost to produce them, not that all turbines will fail to do so.
Mr Homer-Dixon adds, "it would be pointless to put wind turbines in poor locations".
A 2014 study which looked at the same issue found that 2-megawatt wind turbines installed in Northwest USA paid for themselves in 5-6 months.
A 2010 analysis of fifty separate studies found that the average wind turbine, over the course of its operational life, generated 20 times more energy than it took to produce. This level was "favourable" in comparison to fossil fuels, nuclear and solar power.
Many wind turbines have a designed service life of 20 years, although the actual operating lifespan of a turbine can vary depending on the environment they are in, and the maintenance strategy applied to them.
The integrity of our elections is in danger, and we need your help
You're probably here looking for facts. Thank you for that trust. But with the EU parliament elections on the way and more elections a possibility, we need to act now to make sure our elections are protected, before it's too late.
Could you help protect our elections by becoming a Full Fact donor?
Misinformation isn't new, but advancements in technology mean it can spread at an unprecedented scale. Our dangerously outdated election laws have not kept up with the digital age, putting our next elections at risk of abuse.
Currently, it's possible for a candidate to run a thousand different political ads to win the same seat, promising something different to each group it targets. At the same time, there's no law requiring those who publish online campaigns to disclose who they are or how they are funded. The opportunity for bad actors to manipulate election results is left wide open.
You may already know about our work to make public debate online more honest and transparent. Every day, we call out the most harmful misinformation on social media platforms when and where we see it. But right now, we're urging the government to overhaul our election laws to make sure political campaigning is held to the same level of scrutiny online as it is offline.
This work all depends on the generosity of hundreds of people who all believe that for democracy to work, we need transparency. Our monthly donors help strengthen our voice, and show our politicians that this really matters. Would you consider joining them?
Become a donor today to make sure our elections are protected.
---