12 May's BBC Question Time, factchecked
13 May 2016
Last night's Question Time was in Aberdeen. On the panel were Conservative secretary of state for Scotland David Mundell MP, the SNP's minister for Europe Humza Yousaf MSP, Scottish Labour leader Kezia Dugdale MSP, former SNP deputy leader Jim Sillars and editor-in-chief of MoneyWeek magazine Merryn Somerset Webb.
We checked their claims on Scottish public attitudes, election results, immigration and jobs.
Scottish public attitudes
"We do have social attitudes studies going back for years which show us that in fact Scotland is just as conservative with a small c as the rest of the country and when it comes to things like welfare, taxation, etc, they respond in exactly the same way as the rest of the UK."—Merryn Somerset Webb
Scotland is more social democratic in outlook than England, although the differences are "modest at best" according to a specific report on the question by NatCen Social Research (the people behind the surveys Ms Webb refers to).
Comparing the British and Scottish Social Attitudes surveys, the researchers found that people in Scotland were slightly more concerned than English respondents about income inequality, and slightly more in support of tax and spending, but concern for both had been falling over the last decade.
On the EU, polls have found people in Scotland are more likely to be in favour of remaining in the EU.
Polls in the past month have shown variations of 48-66% of Scots want to stay in the EU, and 18-35% want to leave. That compares to a much more neck and neck result for the UK as a whole, with 38-53% reporting they want to stay, and 34-50% reporting they want to leave. The remainder are people who have not made up their mind yet.
Scottish Parliament election
"Anybody who thinks that somehow or other we have had a great Tory victory, go and look at the results"—Jim Sillars
The Scottish Conservatives won a total of 31 seats from a possible 129 during the recent Scottish Parliament election.
This is an increase of 16 MSPs since the last election in 2011 and 13 more than at any time since Devolution in 1999.
These 129 seats are voted for in two ways. 73 of these are individual constituencies while the rest are regional seats which are voted for on the basis of parties rather than candidates.
The Scottish Conservatives won more regional seats than any other party, with 24 elected. In the constituency lists it won the second most number of seats, behind the SNP, with 7 elected. So, it gained most of its seats in the regional vote.
Its regional vote share was 22.9% and its constituency share was 22%.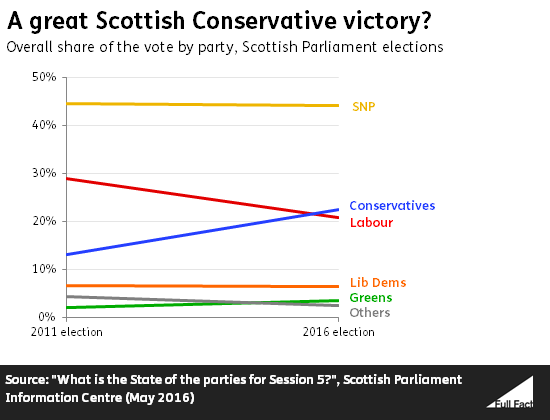 Immigrants and wages
"Do you believe that the number of immigrants that come in under the EU regulations has pushed wages down for people already living in Britain?"—David Dimbleby

"There is not enough evidence on this to say absolutely but yes I think it probably is true to a degree"—Merryn Somerset Webb
Merryn Somerset Webb is right to suggest there's no definitive evidence on this topic. Studies in the past have disagreed over whether there's a positive or negative impact of overall immigration on the wages of UK workers, partly because they use different methods to estimate the answer.
But studies do tend to agree that the impact is small, particularly with immigrants from other EU countries.
The impact isn't the same for everybody: lower-wage workers are more likely to be negatively affected than higher earners.
The Migration Advisory Committee, which advises the government, said in a recent review:
"We conclude that overall the impacts found are modest and tend to be positive at the top of the wage distribution and negative at the bottom. As we would expect workers in low-skilled jobs to be at the bottom end of the wage distribution, this suggests that the negative impact is likely to fall on those working in low-skilled jobs."
Jobs in Scotland
"330,000 people here in Scotland have jobs partially dependent on membership of the EU"—David Mundell MP
There's no evidence that these jobs are dependent on British membership of the EU.
The estimates look at how many jobs are linked to exports to the EU, and we don't know how these exports, and so the associated jobs, would be affected if the UK were no longer an EU member.
Around 330,000 is an old estimate by economic consultancy CEBR which has since been revised. It told us the most up to date figures on this come from the Treasury, which suggest about 250,000 jobs in Scotland are linked to trade with the rest of the EU.
This includes both how many jobs are in industries that export to the EU, and jobs that come about indirectly as a result of exporters' increased demand for products and their workers' wages.
What happens to exports if we leave depends on the trading and other economic arrangements made in negotiations after a vote to leave.
Round up posts like this—and those we publish for PMQs and major speeches by politicians—don't go into as much depth as our usual articles or cover every claim made in the show. Often they are done under a much shorter deadline, so we prioritise a clear conclusion above all else. As always we welcome feedback: please email the team on feedback@fullfact.org.