"'Astonishing' Turnout Breaks UK Voting Records" reported Sky News this morning as 84.6% of the total electorate cast a vote in the Scottish referendum.
Looking at the historical figures since 1918, compiled by the House of Commons Library, it's clear that this turnout is indeed record-breaking. The previous peak in Scotland was in the 1951 General Election, in which the turnout in Scotland was 81.2%.
In fact no national or regional election in the UK since 1918 beats this. According to the available data, only Wales in the 1950 general election had higher participation—the turnout was 84.8% there.
1918 makes some sense as a starting point, since before then women were not enfranchised to vote at any age, so the electorate was considerably smaller - although there have been further extensions since.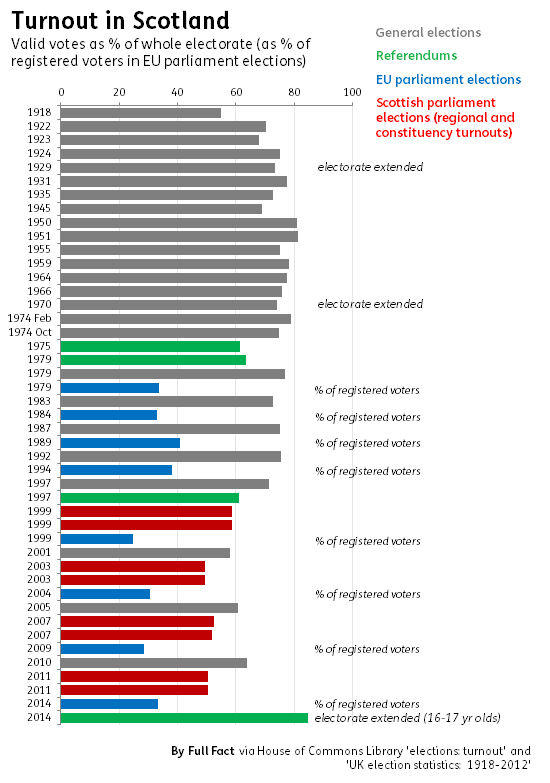 Front page image courtesy of Martin Deutsch on Flickr.
We need facts more than ever.
Right now, it's difficult to know what or who to trust. Misinformation is spreading. Politics and the media are being pushed to the limit by advancements in technology and uncertainty about the future. We need facts more than ever.
This is where you come in. Your donation is vital for our small, independent team to keep going, at the time when it's needed most. With your help, we can keep factchecking and demanding better from our politicians and public figures. We can give more people the tools to decide for themselves what to believe. We can intervene more effectively where false claims cause most harm.
Become a donor today and stand up for better public debate, on all sides, across the UK.
---