Ahead of the main UK party leaders campaigning in Scotland yesterday, Yes Scotland claimed that '49% of voters trusted First Minister trusts (sic) Alex Salmond to act in the best interests of Scotland compared with only 19% for David Cameron and just 17% for Ed Miliband'.
This was based on a poll it commissioned from Panelbase, which asked voters whether or not they trusted certain politicians 'to stand up for Scotland's interests'. It's worth noting that this isn't the same as trusting more generally, for example someone that did not trust Ed Miliband to stand up for Scotland's interests may trust him in other respects.
We looked at results for Alex Salmond, No campaign chair Alistair Darling and the Westminster leaders, and broke this down by which camp respondents fell into.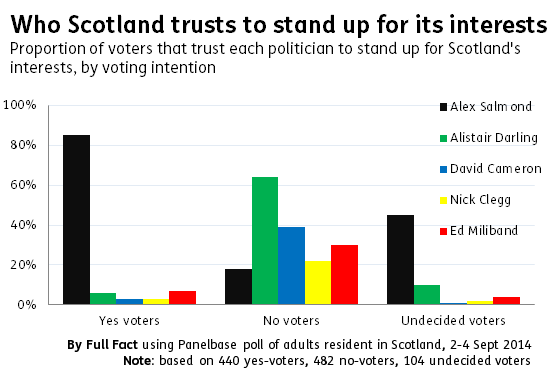 Unsurprisingly, among yes-voters First Minister Alex Salmond was the politician most trusted to stand up for Scotland's interests (85%), and among no-voters Alistair Darling was the most trusted, although he didn't perform quite as well (64% trusted him).
Interestingly, Alex Salmond was most trusted to stand up for Scotland's interests among undecided voters, with around half (45%) trusting him to do this, a far higher proportion than trusted Alistair Darling to do the same (10%).
Only small proportions of no- and undecided voters (1-7%) trusted each of the main UK party leaders to stand up for Scotland's interests, although higher proportions of no-voters trusted David Cameron (39%) and Ed Miliband (30%) than trusted Alex Salmond (18%).
With Brexit fast approaching, reliable information is crucial.
If you're here, you probably care about honesty. You'd like to see our politicians get their facts straight, back up what they say with evidence, and correct their mistakes. You know that reliable information matters.
There isn't long to go until our scheduled departure from the EU and the House of Commons is divided. We need someone exactly like you to help us call out those who mislead the public—whatever their office, party, or stance on Brexit.
Will you take a stand for honesty in politics?
---