BBC Question Time, factchecked
13 October 2017
"It was just a few years ago that the High Court ruled that Northern Ireland's abortion law was contrary to international human rights law. Now while that was recently appealed, and the appeal was won, that still goes to show how significantly women in Northern Ireland are suffering and this is a matter of public healthcare. Women in Northern Ireland can't be abandoned under the excuse of devolution."

BBC Question Time audience member, 12 October 2017
Abortion is prohibited in Northern Ireland except "where carried out in good faith for the purpose only of preserving the life of the mother."
A judge of the High Court in Belfast found in 2015 that abortion legislation in Northern Ireland breached Article 8 of the European Convention on Human Rights, which requires respect for a person's family life and personal autonomy.
The case was brought by the Northern Ireland Human Rights Commission, a public body which monitors human rights compliance. It says: "The Commission is seeking a change to the law so that women and girls in Northern Ireland have the choice of accessing a termination of pregnancy locally in circumstances of serious malformation of the foetus, rape or incest, without being criminalised for doing so."
As Full Fact explained at the time, in the High Court judge's view it was contrary to Article 8 to deny a mother an abortion at any time in the event of a fatal foetal abnormality. In the case of a woman who became pregnant as a result of sexual crime, in the judge's view it was a breach of Article 8 to deny an abortion up to the date when the foetus could survive outside the womb.
The decision was appealed by the government in Northern Ireland and overturned by the Court of Appeal in Northern Ireland. The three appeal judges gave separate judgments and came to different conclusions on key issues.
The judges noted that there was a debate on abortion in the Northern Ireland Assembly on 10 February 2016 after the first decision. The Assembly rejected by 59 votes to 40 an amendment legalising abortion where a registered medical practitioner diagnosed a foetal abnormality which was likely to be fatal.
The Appeal Court's decision has been appealed again to the UK Supreme Court, which has the final say. It is due to hear arguments from 24 to 26 October 2017.
---
"We have circumstances here where perhaps thousands of women are leaving the island of Ireland in its entirety because our law across the island of Ireland is very similar, to go to Britain for abortions."

John O'Dowd MLA, 12 October 2017
"John O'Dowd said that thousands of women are going to England for an abortion. Because of the proposed referendum in the South, they published figures today and said last year, 43 women went to England for an abortion. So these figures are greatly exaggerated."

BBC Question Time audience member, 12 October 2017
There were just under 4,000 women from Ireland and Northern Ireland who had an abortion in England or Wales in 2016.
724 women living in Northern Ireland had an abortion in England or Wales in 2016, along with another 3,265 from the Republic of Ireland. These made up 83% of all abortions to women who weren't living in England or Wales.
In Scotland there were seven abortions performed on women who weren't resident in the country in 2016—although there is no more information on where they were from. But the Scottish government says that women from outside Scotland might be counted as Scottish residents if they provide a temporary Scottish address.
Altogether over 190,000 abortions took place in England and Wales last year and 12,000 in Scotland.
The audience member may have been referring to the situation in one of Dublin's maternity hospitals, according to evidence given to a committee of Irish politicians by Dr Rhona Mahony. She told the committee that "60 women attending our service travelled to the UK for termination of pregnancy in the context of foetal anomaly in 2016, and to date this year at Holles Street [the National Maternity Hospital in Dublin], 43 women have travelled in this context."
Abortion is illegal in Northern Ireland unless it is done only to preserve the life of the mother. In Ireland a referendum on the eighth amendment to the Constitution (giving a mother and unborn child an equal right to life) is scheduled for 2018.
---
"We have the lowest unemployment since 1975."

Theresa Villiers MP, 12 October 2017
The UK does have the lowest unemployment since 1975, at 4.3% between May and July this year.
In Northern Ireland it's as low as it has been since the recession in 2008, but it was much lower before.
Unemployment in Northern Ireland is now at 5.3%. Just before the recession it had fallen to as low as 3.8%.
Unemployment measures people without a job who have been actively seeking work within the last four weeks and are available to start work within the next two weeks, or who have found a job and are waiting to start in the next two weeks.
---
"Our biggest market for sales, 60% of all sales, the sales done in Northern Ireland goes to Great Britain, to the rest of the UK."

Simon Hamilton MLA, 12 October 2017
59% of what Northern Ireland sold outside its own borders in 2015 went to the rest of the UK.
15% went to the Republic of Ireland, 8% to the rest of the EU, and 16% to the rest of the world.
In total Northern Irish sales added up to £73 billion worth of goods and services with £48 billion staying in Northern Ireland, £14.4 billion worth going to the rest of the UK, and £10 billion worth ending up elsewhere in the world.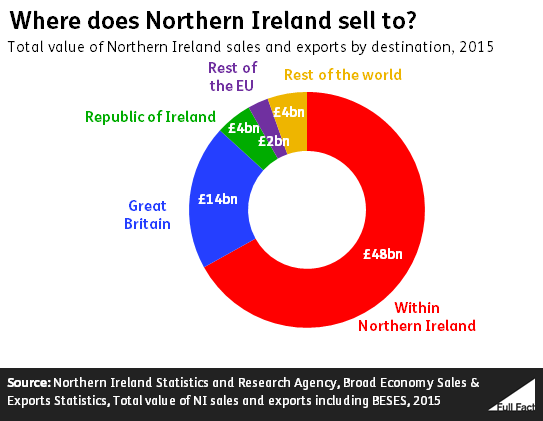 ---
"If Bombardier were to be lost to Northern Ireland it would be a cataclysmic blow to our economy here, it's fully 10% of the entire GDP of Northern Ireland."

Owen Smith, 12 October 2017
Plane and train manufacturer Bombardier itself claims it "produces around 10% of Northern Ireland's total manufacturing exports", not GDP as Mr Smith claimed. Bombardier's claim suggests it's closer to 2% of GDP.
It's very possible Mr Smith misspoke when he made the claim and meant to say this. We're trying to confirm whether Bombardier recognises Mr Smith's version.
Jobs at Bombardier are threatened due to a trade dispute. Bombardier is a Canadian company. Their plant in Belfast is involved in producing the C-Series plane.
US plane manufacturer Boeing claims that Bombardier was able to sell the C-Series to the US airline Delta at a reduced price because Canada and the UK had provided illegal state subsidies to the company.
The US Department of Commerce is investigating the case. If they decide against Bombardier, the cost of importing the plane the Belfast factory helps make to the US could rise sharply with "serious implications for the workers" at the Belfast plant, according to the UK government.
Based on published figures Owen Smith's statement that Bombarder makes up 10% of the Northern Ireland economy is unlikely to be right. We've asked his office for more details.
Bombardier and the Northern Irish economy
Northern Ireland's economy was worth about £34 billion in 2015, according to estimates from the Office for National Statistics. So 10%—as Mr Smith's claim suggests—is in the region of £3.4 billion.
Figures suggest that about 22% of the NI economy comes from manufacturing exports. If Bombardier does make up 10% of that, as the company itself says, then its exports would be worth about about £760 million and account for roughly 2% of the overall economy.
Separate figures suggest the manufacturing of transport equipment as a whole is worth just under 2% of the economy.
These calculations are very rough and neither will show Bombardier's exact contribution to Northern Ireland's economy. But they do suggest 10% is unrealistically high.