BBC Question Time, factchecked
20th Oct 2017
Question Time this week was in Dunstable. On the panel were transport secretary Chris Grayling MP, Labour's Lisa Nandy MP, Sal Brinton from the Liberal Democrats, Next chief executive Simon Wolfson and celebrity priest Richard Coles.
"We see this in numbers where I live of people visiting the food bank. Not just people out of work, but some people actually in work visiting food banks."

Reverend Richard Coles, 19 October 2017
Around 15% of households surveyed while using Trussell Trust food banks in Great Britain in late 2016 had one or more adults with some work or income from employment. That's according to research by King's College London and Oxford University. The majority of these people were in part-time work.
Around 1.2 million emergency food parcels were handed out by the Trussell Trust—which runs the UK's largest network of food banks—in 2016/17. This isn't the number of people using food banks. The Trussell Trust thinks that people need an average of two emergency food parcels a year.
84% of those in the survey had "no employment indicated". This meant that they were either economically inactive—not working because of illness or disability, studying or looking after someone else—or unemployed and looking for work. Around 70% of households surveyed said they received one of the main out-of-work benefits.
The survey covered over 400 people using Trussell Trust food banks across Great Britain. Those who participated were thought to be fairly representative of all kinds of people using Trussell Trust food banks, but as with any survey, the authors stressed there may be some differences not identified.
The Trussell Trust has told us before that it doesn't usually collect information on what kind of jobs people using its services have.
"What we're not going to do is to adopt the Labour policy which is to say: deal at any cost. Now what happens if they say give us 100 billion euros or no deal?"

Chris Grayling, 19 October 2017

"That is the cost. That's not our policy. That's nonsense, Chris. That's absolute nonsense. And you know it's nonsense."

Lisa Nandy, 19 October 2017
Neither the Government nor the Labour Party have officially stated the amount they are willing to offer as part of the Brexit deal. Labour has made it clear that 'no deal' is not an option. The government says it currently expects a deal to be reached, but is keeping no deal on the table.
Keir Starmer, the shadow secretary of state for exiting the European Union, stated the Labour Party position on a 'no deal' Brexit, in a speech in April:
"Theresa May has said that no deal is better than a bad deal. Boris Johnson has said no deal is no problem. Labour are very clear that no deal is the worst possible deal."

"(A Labour approach) means rejecting no deal as a viable option – a move that will give greater certainty for investors, workers and businesses."
This position was reiterated on 17th October, when he said in the House of Commons:
"We also need to drop the nonsense about no deal. Only fantasists and fanatics talk up no deal. No deal is not good for the UK, is not good for the EU and is not what the Secretary of State wants, but he must now realise that the slow progress of these talks raises the risk of no deal."
During this debate, David Davis mentioned that Mr Starmer and the shadow chancellor had said that weekend:
"Oh, we'll pay in perpetuity for access to the single market. We'll pay whatever it takes. £100 billion. £200 billion. Whatever it takes."
The shadow chancellor, John McDonnell appeared on the Andrew Marr show on Sunday, where they discussed the UK's liabilities to the EU:
JM: Listen, Andrew, this is the point I'm making. They're in government; they have the lawyers advising them. Civil servants, objectively advising them exactly what the legal position is. And we're saying to them publish that and let's do this on a cross party basis and we then know exactly what our legal liabilities are, then we can say to the European Union this is what our liabilities are and we'll pay for them.

AM: So if it turns out that it's something like 60 billion extra pounds Labour will be prepared to pay?

JM: I don't think it is anywhere near that.

AM: But you don't know, you haven't the advice, it might be. It might be a hundred billion.

JM: That's what I'm saying. I can't see it being that much objectively myself, just standing as an external observer. But what's wrong with just publishing the information? Because then we can say to our European partners this is exactly what our lawyers are telling us and that's what we'll stick to.

AM: And if you see those commitments there, you will pay that price?

JM: Oh, if they're legal liabilities we have to and we've always said that, but let's have that proper advice.
Mr Starmer appeared on Peston on Sunday and was asked about the amount Labour would pay as part of a Brexit deal, and said:
"We should keep it as low as possible, and it should be paid over a period of time."
He was also asked if Labour would be willing to pay for continued access to the customs union, and said:
"Ideally no, or keep it low. If economically it's better off to have an arrangement that works for our business and secures our economy, then we would do it."
"Yesterday they were given an opportunity to work with us, to pause this scheme and work with us to fix it, so that it could benefit people and not cause that real hardship. And not only did they refuse to do that, but they didn't even bother to turn up to defend their policy."

Lisa Nandy MP, 19 October 2017

"The government was there, we had ministers speaking in the debate, we had backbenchers speaking in the debate. Simply choosing not to vote against a Labour opposition day motion, which is not a binding motion, does not mean we failed to turn up."

Chris Grayling MP, 19 October 2017
On Wednesday MPs debated a Labour proposal to call "on the Government to pause the roll-out of Universal Credit full service".  Universal Credit aims to merge lots of different benefits into one system but it has had serious difficulties.
Both the Secretary of State who is responsible for Universal Credit, and the Minister for employment, as well as 43 other Conservative MPs spoke in the debate.
At the end of the day 299 mainly Labour MPs voted for the pause.
Only one Conservative MP, Dr Sarah Wollaston, voted. She voted for the pause.
No MPs voted against the proposal.
Conservative MPs were instructed not to take part in the vote by their party, according to at least one MP's undisputed account.
The Speaker of the House of Commons commented: "it is blindingly obvious that this is an unusual situation about which there is strong opinion, and I think it would be respectful to the House if a Minister, sooner rather than later, were to come to the House—perhaps after due consideration and collegiate exchange with other members of the Government—to give an indication of the Government's thinking."
The next day the government was questioned repeatedly by MPs about how it would respond to the vote. The Leader of the House, who represents the government to the House of Commons, argued that: "The debate yesterday specifically called for a pause in the roll-out of universal credit. I can reassure hon. Members that the roll-out schedule already includes a number of pauses. There has recently been one; the next is scheduled for January. The roll-out of universal credit is being done over a lengthy period."
As yet there is no further statement from the government scheduled. The Leader of the House said: "I can also assure colleagues that DWP Ministers will come back to the House... As soon as there is more to tell the House about the achievements that have been put in place."
You can find out who your MP is here, and see if they took part in the debate here.
"It's [Universal Credit] a huge reform, it has so far been applied to 8% of benefit claimants"

Chris Grayling, 19 October 2017
Chris Grayling's claim refers to the number of people currently claiming Universal Credit—a new benefit that is replacing lots of different social security benefits—compared to the number of people expected to be claiming it by the time it's fully introduced.
About 610,000 people are currently claiming Universal Credit.
It's being introduced gradually and is only expected to be fully rolled-out by 2022, five years behind schedule. The roll-out is now set to accelerate over the coming year. About seven million people are expected to be claiming the benefit by that time.
That means between 8% of the expected claimants by 2022 are currently on Universal Credit.
"The challenge the health service faces is that demand on it is growing all the time. We have an ageing population, more and more people seeking treatment, the number of people going into A&E departments every year is rising up and up and up."

Chris Grayling, 19 October 2017
"The population in the UK is getting older" according to the Office for National Statistics (ONS). 18% of people were aged 65 and over and 2% were aged 85 and over in 2016.
The proportion of people aged 65 and over rose from 14% in 1976 and by 2046, the ONS predicts that almost 25% of the population will be over 65.
In contrast the proportion of young people in the population is falling. People aged 15 and under fell from 25% of the population in 1976 to 19% in 2016. By 2046 the ONS predicts they will make up 18% of the population.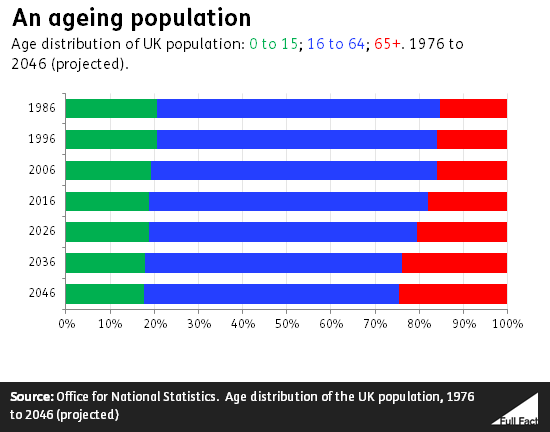 23.4m people went to Accident and Emergency in England between October 2016 and September 2017. This was 32,000 more people than the year before.
15.3 million of these people attended major A&E departments. This was around 12,000 more than the year before.
The number of people going to A&E has generally been increasing in recent decades.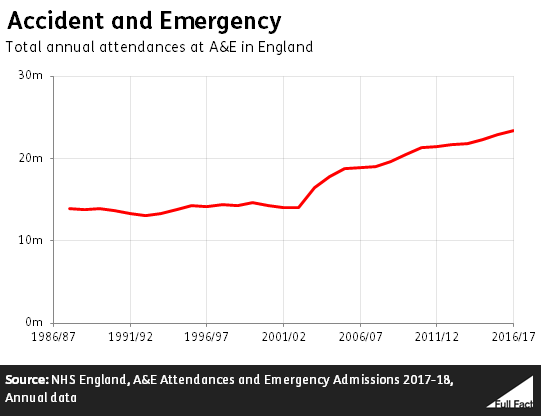 The UK government is only responsible for the NHS in England. There is separate data for Wales, Scotland, and Northern Ireland.
---