BBC Question Time: factchecked
15 June 2018
This week Question Time was in Caernarfon. On the panel were Conservative MP Dominic Grieve, Labour MP John Mann, Plaid Cymru leader Leanne Wood AM, journalist and author Isabel Oakeshott and TV presenter Matthew Wright. We factchecked claims on rail electrification and tidal lagoon projects in Wales, infrastructure funding in England and Wales, road conditions in England and Wales and whether the Chinese built a railway station over night.
"We've lost out on electrification, the tidal lagoon, there were investment promises made to this country that have now been withdrawn."

Leanne Wood AM, 14 June 2018
The planned electrification of the Great Western main line between Swansea and Cardiff was cancelled by the UK government in 2017. At the time the claim was made, it hadn't withdrawn funding for a planned tidal lagoon in Swansea Bay, but it was announced more recently that this too had been cancelled.
It's (not) electrifying!
Back in 2012, the Coalition government announced plans to extend the electrification of the Great Western main line (already planned to go from London Paddington to Cardiff) all the way to Swansea.
This was part of a £3 billion scheme to electrify a number of sections of railway line; also included were the routes between Bedford and Kettering, Corby, Nottingham and Sheffield, as well as track between Oxenholme and Windermere.
Analysis by the National Audit Office found that the proposed costs of electrifying the Cardiff to Swansea section of the line had risen in real terms from around £295 million in 2013 to £433 million in 2016.
All three schemes were cancelled by the Department for Transport in 2017. The government said that it was "delivering the largest upgrade of the rail network since Victorian times" along the lines earmarked for electrification, and that "new technologies mean that we can improve journeys for passengers" without electrification.
In response the Welsh government said it was "extremely disappointed" and that the scheme would have "delivered significant and much-needed improvements to journeys between Wales' two largest cities and to the communities along the route."
The tide is high...
The proposed tidal lagoon power plant in Swansea Bay would be able to generate electricity for 155,000 homes, according to the developer. It would be the "pathfinder project" and the first of six planned lagoons generating renewable electricity around England and Wales.
Although the funding for the project would come from private investment, it would require some subsidy from the government in the form of a Contract for Difference (CFD).
A CFD would fix "the prices received by low carbon generation, reducing the risks they face, and ensuring that eligible technology receives a price for generated power that supports investment. CfDs also reduce costs by fixing the price consumers pay for low carbon electricity", according to the House of Commons Library.
In March 2015 the government announced it had started negotiations on a CFD which "is affordable and value for money for consumers." In June that year it also announced that planning permission had been given to build the lagoon. There are also ongoing discussions with the Crown estate about leasing the seabed and with Natural Resource Wales on the granting of a marine licence.
At the end of 2016 an independent review was published looking into the feasibility of tidal lagoons in the UK. It recommended that for the Swansea Bay project the government should "move to a timely 'final-stage negotiation' to explore robust and satisfactory terms that might be acceptable to both the developer and the Government." The project could then be used to measure whether other such tidal lagoons would be feasible.
The House of Commons Library has written more about the costs and benefits of the project here.
The Welsh First Minister, Carwyn Jones, had written to the UK government proposing that the Welsh government provide £200 million funding for the project and setting out how he thinks CFD could work.
When the claim was made, the UK government had neither cancelled the project nor given it the go ahead. It was reported just over a week later that the project had in fact been thrown out by the UK government, on the grounds that it wasn't considered value for money.  It had previously said it was supportive of the tidal lagoon project but that it needed to prove this value for money.
---
"You're not getting what you deserve in infrastructure, not just in rail and transport. You in North Wales do not get your fair share, neither does my area."

John Mann MP, 14 June 2018
We don't know exactly who in the UK gets what out of infrastructure spending. There are two key reasons why: the available data is very bad at answering this sort of question, and for most projects it's not possible to single out who benefits. A lot of projects benefit people across the UK, others across several connected regions, like a long-distance railway for example.
The main published data also doesn't include all spending by devolved governments, so it's even more difficult to do comparisons outside of England.
We've covered the caveats on infrastructure spending before. For now, here's what we can say from the available figures.
Of projects allocated to specific regions, London and the North West currently receive more spending per head than other parts of England.
The government calculates that, comparing English regions, London is set to get around £2,500 per head from central and local government from 2017/18 to 2020/21, just counting funding that could be allocated to a specific place. The London figure includes spending by Transport for London, so the comparisons aren't very accurate.
The North West is similar at £2,300 per head, while the North East and Yorkshire are behind at around £1,300.
John Mann represents a constituency in the East Midlands, which does get relatively little funding per head from central and local government: about £1,400.
Other spending comes from private companies, which doesn't change the picture hugely (the South West gets a huge bump in private funding from the Hinkley Point C nuclear power station project—though that's also an example of a project which will be felt beyond the region it's allocated to).
Wales overall gets much less per head from central government, with North Wales taking most of that from a single construction project. But that leaves out all the money from the Welsh government.
Separate figures from the Welsh government suggests it plans to fund around £6.5 billion on projects currently in the pipeline. Not all of those have necessarily started yet. One example is the biggest single project listed: a new M4 Corridor around Newport, in South Wales, due to start construction at the end of this year.
It's much more difficult to pinpoint projects that go specifically to North Wales, and how that translates per head. As a very rough guide, and factoring in the devolved funding, Wales as a whole is on a better footing than most English regions but still some way behind London and the North West, in terms of their public infrastructure spending per head.
The Welsh government told us that while Welsh and UK infrastructure spending figures aren't directly comparable, the types of project and the information they hold is broadly similar.
It said better figures were provided by the Treasury on spending comparisons per head between UK regions, although this only gives current funding for projects and not expected future financing.
---
"[The roads in north Wales are] much better than in Buckinghamshire... the truth is, our road repairs have been very, very bad and it is deteriorating."

Dominic Grieve MP, 14 June 2018
It's possible Mr Grieve was speaking from personal experience when he criticised the condition of Buckinghamshire's thoroughfares. That said, statistics do exist on the quality of roads in England and Wales—we're trying to find out how comparable the two sets of figures are.
Buckinghamshire
Maintenance needed to be considered on 4% of Buckinghamshire's A roads in 2016/17, according to the Department of Transport. 5% of the county's B and C roads were designated as roads where maintenance should be considered.
Across the whole of England, the figure that year for A roads was 3% and for B and C roads, it was 6%.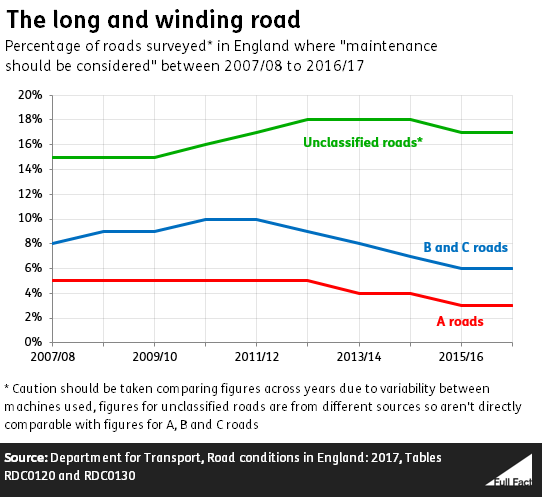 This data is collected using a number of automated road condition survey machines, called SCANNER vehicles, and there can be variability between results from each machine machine, so caution should be taken when comparing the figures across years. The Department of Transport specifies that each year at least two fifths of roads need to be surveyed, the exact figures vary slightly depending on the type of road.
Rather than specifically recording whether or not there are potholes in a road, the machines look for various levels of deterioration.
A slightly different type of survey is done to check unclassified roads. These are "local roads intended for local traffic", and make up 60% of the UK's thoroughfares. In 2016/17, the survey found maintenance should be considered on 28% of Buckinghamshire's unclassified roads.
Wales
In Gwynedd, North Wales—where Question Time was this week—11% of A, B and C roads were "in poor condition" in 2016/17. That figure for the whole of Wales was just under 11%.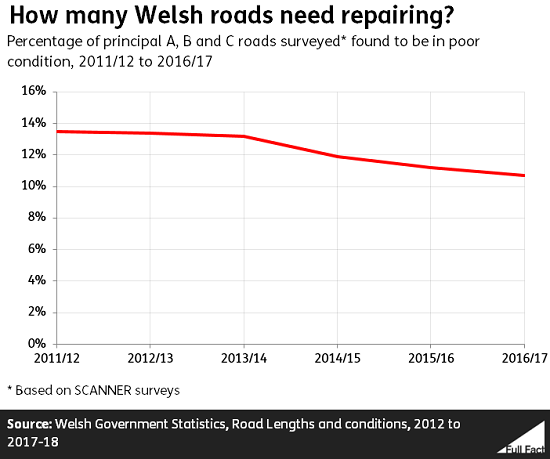 Although the two countries phrase it slightly differently, both figures are for roads that have scored RED (100 or higher) on the SCANNER survey. They are comparing roads differently—for England the figures are split into A roads, B and C roads, then unclassified roads, while the Welsh figures group A, B and C roads together.
We've asked the Welsh government for more information on how comparable the figures between England and Wales are.
---
"The Chinese… were able to build a whole new station in this space of nine hours by flooding it with thousands of workers."

Isabel Oakeshott, 14 June 2018
A video of an overnight construction project at a railway station in Longyan, in southeastern China's Fujian Province, went viral in January 2018 (it was originally produced by Chinese news video site Pear Video).
Some outlets reported it as showing an entire new railway station being constructed in the space of nine hours, using around 1,500 workers, 23 excavators and seven trains. (A tweet from entrepreneur Elon Musk may have helped this version spread.)
But according to both the Chinese captions on the video itself and other Chinese media reports, while it's accurate that the project was completed in that time (reportedly starting at 6:30 pm on Friday January 19 2018 and finishing by 3am the next morning) and involved that many workers, it wasn't building a whole new station.
It was an upgrade to an existing station, laying a section of track to connect three current rail lines with a new high-speed line running between Longyan and Nanping. The reports say that the new line is expected to open fully by the end of 2018.
This article in Slate and this from Global Construction Review give a bit more background on how the nine hour turnaround was achieved—using pre-fabricated sections of line installed simultaneously by seven groups of workers operating in parallel.