In brief
Claim
Government direct subsidy of the railways is around £5 billion per year, an increase of over 200% since privatisation.
Conclusion
Correct. The five year average to 2017/18 was about three times more than the five years to 1991/92, before privatisation. Large projects like HS2 and Crossrail have affected this amount.
Fares across all operators are 20% higher in real terms than they were in January 1995.
Correct. This is for the average price across all regions and ticket types.
Claim 1 of 2
"Government direct subsidy of the railways is around £5 billion per year, an increase of over 200% since privatisation… Fares across all operators are 20% higher in real terms than they were in January 1995."

The Labour Party, 5 November 2018
Both of these claims are correct for Great Britain.
The government (on average) now subsidises the railway industry by about three times as much as in the years just before legislation to privatise it came into place, almost 25 years ago exactly. That's taking into account inflation, which is the change in how much things cost over time.
Between 1995 and 2018, rail tickets on average went up 20% in price, taking into account inflation.
Government subsidies for the railway have tripled
Net government support to the rail industry in Great Britain for 2017/18 was £6.4 billion, of which £2.1 billion was for HS2. This financial support is the level of funding the government provides towards "operating, maintaining, renewing and enhancing the railway".
As we've discussed before, government support for the railways varies widely year on year, depending on the financial demands of big projects like Crossrail and HS2. That's why it's a good idea to look at five-year averages.
In the five years to 2017/18, the government subsidy for the railways has been around £5.3 billion a year on average (in 2017/18 prices). This doesn't include loans to Network Rail.
The Railways Act passed in November 1993 allowed passenger railway services to be franchised. Data from the time before privatisation only goes back to 1985/86.
In the five years to 1991/92 (ending the year before the act was passed) the average government subsidy per year was £1.7 billion. The most recent five year average to 2017/18 was about three times more than that at £5.3 billion, which is equivalent to a 212% increase (or tripling). These are both in 2017/18 prices.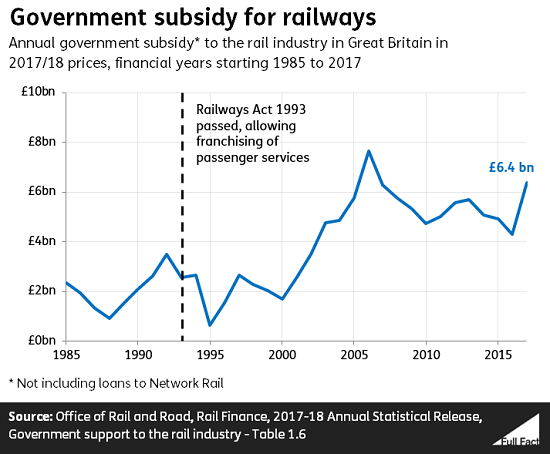 Our use of the railways has also increased since privatisation. The number of kilometres travelled per year in Great Britain has doubled from around 32 billion in 1992 to 66 billion in 2017.
We don't know the extent to which these changes (in fares and government subsidy) have come from privatisation—as we don't know what would have happened if the railways had stayed in public hands. All we can really do here is look at what has happened since passenger services were franchised.
Not all of the railway industry has been privatised. Network Rail, which runs railway infrastructure, like tracks, bridge, signals, and some large stations, is a public sector body. Loans to Network Rail from the government amounted to £5.9 billion in 2017/18.
And as we've looked at before, government subsidies aren't the same as total public spending on the rail industry. For 2017/18, the government spent a total of £17 billion on the railways. This includes spending on Network Rail, Crossrail and some parts of Transport for London.
The average fare has increased
The average rail fare in Britain has increased by over 20% in real terms (which takes into account inflation) since 1995. This is an average for the whole of Great Britain, so won't reflect the experience of all train travellers.
First class ticket prices have increased by 55%. The average price across both types of standard class tickets (for commuter routes where prices are regulated by the government and those that aren't) has increased by 17%.
We've written more about how ticket prices have increased here.
The integrity of our elections is in danger, and we need your help
You're probably here looking for facts. Thank you for that trust. But with the EU parliament elections on the way and more elections a possibility, we need to act now to make sure our elections are protected, before it's too late.
Could you help protect our elections by becoming a Full Fact donor?
Misinformation isn't new, but advancements in technology mean it can spread at an unprecedented scale. Our dangerously outdated election laws have not kept up with the digital age, putting our next elections at risk of abuse.
Currently, it's possible for a candidate to run a thousand different political ads to win the same seat, promising something different to each group it targets. At the same time, there's no law requiring those who publish online campaigns to disclose who they are or how they are funded. The opportunity for bad actors to manipulate election results is left wide open.
You may already know about our work to make public debate online more honest and transparent. Every day, we call out the most harmful misinformation on social media platforms when and where we see it. But right now, we're urging the government to overhaul our election laws to make sure political campaigning is held to the same level of scrutiny online as it is offline.
This work all depends on the generosity of hundreds of people who all believe that for democracy to work, we need transparency. Our monthly donors help strengthen our voice, and show our politicians that this really matters. Would you consider joining them?
Become a donor today to make sure our elections are protected.
---