Pay rises: how much do nurses, the police, teachers and MPs get paid?
7th Sep 2018
Claim
MPs' salaries have increased from £66,000 in 2010 to £77,000 in 2018.
Conclusion
These figures don't take account of inflation since 2010. In 2018 prices MPs' pay has remained stable compared with 2010 at around £77,400.
A fully qualified nurse's starting salary has not increased since 2010 when it was £22,000.
These figures don't take account of inflation. In 2018 prices, it was £25,000 a year in 2010, and in 2018 it's £23,000.
A newly qualified teacher's salary was £21,500 in 2010 and £22,000 in 2018.
These figures don't take account of inflation since 2010. In 2018 prices, a new teacher's salary in a local authority-run school in England and Wales (outside of London) was £25,400 in 2010, and is now £23,000.
The police starting salary was £24,000 in 2010 and £23,000 in 2018.
These figures don't account for inflation. In 2018 prices their starting salary has fallen from the equivalent of £27,400 in 2010 to around £23,300 in 2018.
Claim 1 of 4
A tweet which has been shared almost 20,000 times has made several claims about how pay packets have changed for police, teachers, nurses and MPs over the last eight years.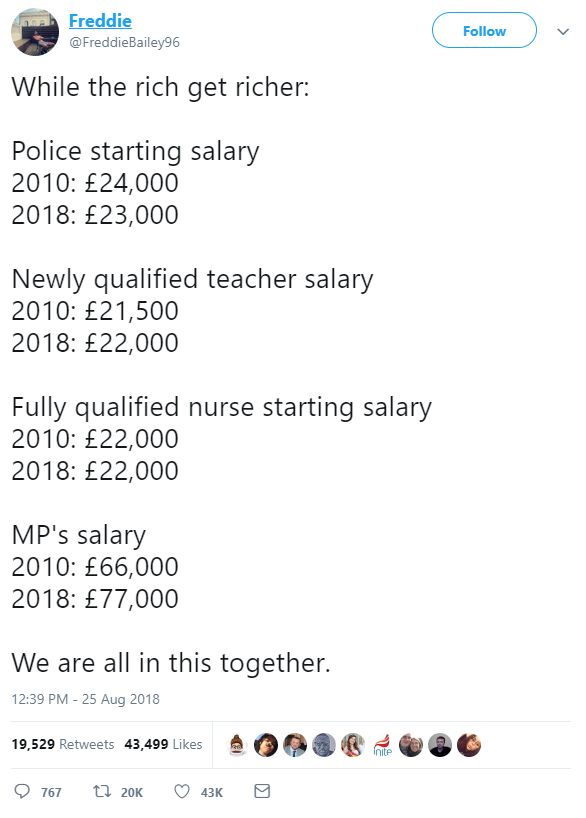 All of the figures are in roughly the right ballpark in cash terms—meaning that they don't account for the fact that prices have also changed since 2010. To see how far these salaries will go, we need to account for inflation.
Taking that into account, all of these groups have had a reduction in pay (some more than others). We used the CPIH measure for inflation here , taking an average of the four most recent quarters, and you can read more on ways of measuring inflation in our blogpost on RPI.
Police have had the largest real wage drop—around £4,300 in eight years. Newly qualified teachers now earn around £2,500 less, followed by newly qualified nurses whose wages have dropped by £1,900. MPs' salaries have effectively risen in line with inflation.  Using our inflation calculation they got a slight pay reduction of £50, though if you do the calculation slightly differently it comes out as a marginal pay rise.
Teachers, nurses or police constables who were new starters in 2010 are likely more experienced eight years on, so may well have progressed up the career ladder or have been given individual pay rises. Here, we're comparing the salaries of people who started these careers in 2010, to those starting out eight years later.
From 2011 to 2012, public sector pay was frozen. From 2013, there was a 1% per year cap on public sector pay rises, but that was ended last year—you can read our factcheck on that here.  
Newly qualified police
From September 2010, the starting salary for a new police constable was £23,300 in England and Wales.
From September 2017, when the Home Office last changed police pay , new constables can get paid up to £23,100.  
Taking into account inflation between 2010 and 2018 (using the CPIH measure), this was a reduction in pay of 16% (£4,300) in the space of eight years.
Not all new constables will start on £23,100. The exact figure depends on skills and experience—those with "no qualifications" can get paid a minimum of just under £20,000. This drop in new starter wages was brought in from April 2013, after recommendations from the Winsor review into police pay and conditions.
These wages do not include the London weighting or benefits, like free travel for certain forces.
Newly qualified teachers
In 2010, the starting salary for teachers in England and Wales outside of London was £21,600.
As of September 2017, a newly qualified teacher's minimum salary is £22,900. Although this looks like a modest increase, taking into account inflation, it's actually a reduction in of around £2,500, or 10%.
This does not include those in the London area, and is for teachers in local authority-run schools. Academies and free schools don't have to follow the government pay structure, although some do. Around 52% of England's full-time equivalent qualified teachers at state-funded schools were employed at local authority-run nurseries, primary or secondary schools, as of November 2017. The rest mostly work in academies and free schools.
Pay rises were announced earlier this year for both teachers and the police, though only the teachers' pay increase will rise above inflation.
Fully qualified nurse starter salaries
When nurses qualify they start on Band 5 of the NHS pay scale. From April 2010, newly qualified nurses in England got paid a starting salary of about £21,200.
From 2018, new nurses should start on £23,000. We've written about the new pay deal announced this year for some NHS staff, including nurses, here.
Taking into account inflation, new starter nurses are now earning around £1,900 less than they might have in 2010. That's an 8% reduction in pay over eight years.
MPs
In April 2010, MPs earned around £65,700 and from April 2018 earn £77,400.
Their wage has broadly kept in line with inflation over the last eight years, meaning that the real terms reduction in their pay works out at around £50—less than 0.1% of their wage.
This does not include expenses, or extra money that MPs with additional roles, like being government ministers, may be eligible for.
Correction 18 September 2018
We amended this article to reflect that the minimum wage for newly qualified teachers is for those in local authority-funded schools, rather than academies or free schools.