We'll be paying the divorce bill until 2064—but most of the bill will be paid off by 2021, according to estimates from the financial watchdog, the Office for Budget Responsibility. The latest estimate for the divorce bill is £39 billion.
All our payments from 2029 onwards will be for meeting the cost of pensions.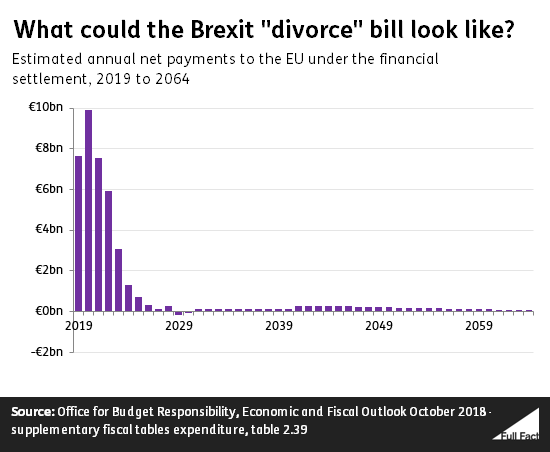 This article is part of our Ask Full Fact series on Brexit, answering your questions about Brexit and the latest negotiations between the UK and the EU.
You can see all the questions we've answered so far here. If you want to ask us your own question, do that here.
We need facts more than ever.
Right now, it's difficult to know what or who to trust. Misinformation is spreading. Politics and the media are being pushed to the limit by advancements in technology and uncertainty about the future. We need facts more than ever.
This is where you come in. Your donation is vital for our small, independent team to keep going, at the time when it's needed most. With your help, we can keep factchecking and demanding better from our politicians and public figures.We can give more people the tools to decide for themselves what to believe. We can intervene more effectively where false claims cause most harm.
Become a donor today and stand up for better public debate, on all sides, across the UK.
---