"The truth is that cancer is the biggest killer in every age group, from young babies all the way through to the very elderly, so it's wrong to think of this as purely a disease of very old people"

Harpal Kumar, CEO of Cancer Research UK, BBC Today Programme, 29 April 2014
This week Cancer Research UK published what it described as "landmark figures". 50% of people diagnosed with cancer today will survive their disease for at least ten years: the first time the measure has shown at least half.
Its CEO, Harpal Kumar, spoke about the figures on the Today programme, mentioning that cancer is the biggest cause of death in every age group.
A lot depends on how you categorise causes of death, but neither the figures provided by Cancer Research UK nor the one's we've found back up the claim. Transport accidents kill more young people than cancer (though only for young men, not young women).
All other age groups showed cancer as the dominant cause, if you combine them all together and don't combine other types of disease.
Counting causes of deaths
Just over 160,000 people across the UK died from cancer in 2012, combining separate figures from England and Wales, Scotland and Northern Ireland.
The biggest cancer killer is lung cancer: accounting for about 23% of male cancer deaths and 21% of female cancer deaths across the UK.
But cancer is only on top when you combine all cancers together: heart disease, for instance, kills more than twice as many men and women than lung cancer in the UK (74,000 deaths from heart disease compared to 35,000 for lung cancer).
It also differs by age group. Accidents kill more young people aged under 34 than cancer. It's only after that point that the number of cancer deaths eclipses deaths from accidents.
Sex is another factor: transport accidents (a subset of all accidents) kill more men aged 15-39 than does cancer, but for women cancer is ahead at every age.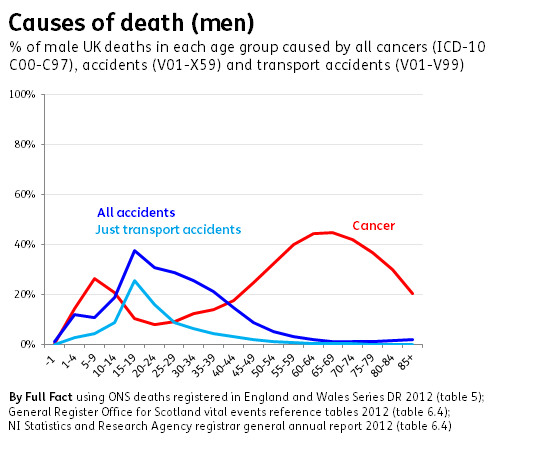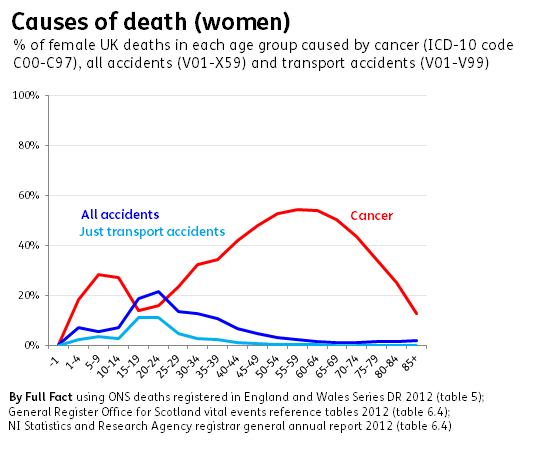 Cancer Research UK sent us the figures it used this week. They use slightly different age breakdowns: cancer is the leading cause of death among children aged 1-14 and adults aged over 25.
Again, the group that bucks the trend is teenagers and young adults aged 15-24: accidents are the main cause of death for this group.
We need facts more than ever.
Right now, it's difficult to know what or who to trust. Misinformation is spreading. Politics and the media are being pushed to the limit by advancements in technology and uncertainty about the future. We need facts more than ever.
This is where you come in. Your donation is vital for our small, independent team to keep going, at the time when it's needed most. With your help, we can keep factchecking and demanding better from our politicians and public figures.We can give more people the tools to decide for themselves what to believe. We can intervene more effectively where false claims cause most harm.
Become a donor today and stand up for better public debate, on all sides, across the UK.
---