How is the NHS funded?
6th Jul 2018
Claim
We pay for the NHS with taxes.
Conclusion
The NHS in England is funded mostly through general taxation and National Insurance contributions. A much smaller proportion is collected through patient charges, for things like prescriptions and dentistry.
"In terms of general taxation, we pay for the NHS through our taxes and that will always continue."

Priti Patel MP, 5 July 2018
In 2017/18, around £110 billion was spent on the NHS England budget. Including things like hospitals, public health initiatives, education training and IT, the cost was £125 billion.
This is paid for mainly through general taxation, and National Insurance contributions from employees, employers and the self-employed.  
General taxation funds about 80% of the budget, and National Insurance contributions cover most of the rest. Total NI contributions to the NHS in 2017/18 were estimated to be just under £24 billion, which is just under 20% of the total budget.
A small amount of cash is generated by patient charges, like those for prescriptions and dental care, which were introduced in the 1950s. In 2016/17, £555 million was charged for prescriptions in England. In total, £1.6 billion was collected in patient charges in 2016/17.
In Scotland, Wales and Northern Ireland, there are no charges for prescriptions. Health is a devolved matter, so these governments decide how much to spend on health from the block grant they receive from central government.
National insurance contributions became a much bigger part of the contribution to health spending in 2003 (from 12% in 2002 to 20%) when rates of contribution were increased to accommodate proposed increases to health spending.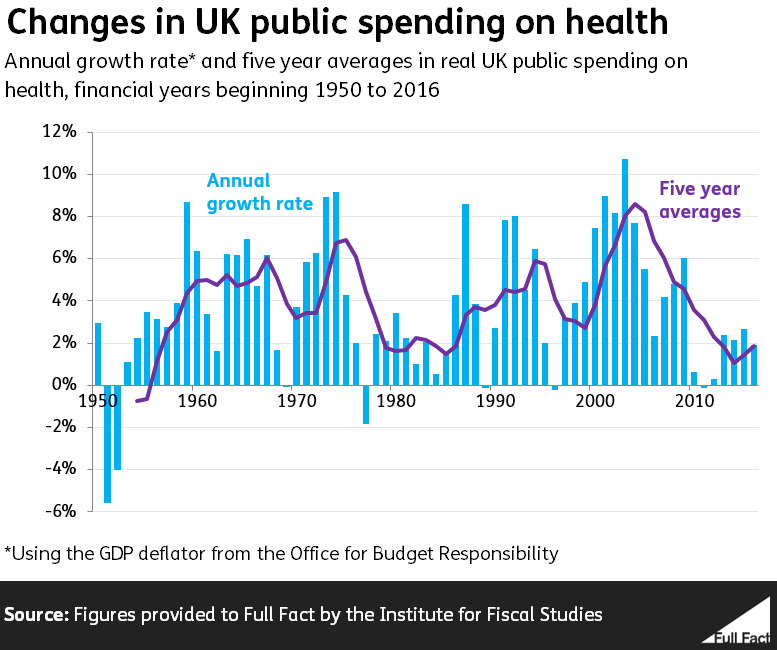 Theresa May announced recently that the NHS in England would get a real terms funding increase of just over £20 billion by 2023/24. She said this was a 3.4% annual increase, accounting for inflation.
She said part of this would come from a "Brexit dividend", although extra money following ceasing payments to the EU are not guaranteed. She also said that "taxpayers will have to contribute a bit more in a fair and balanced way to support the NHS", implying some of it would come from taxation. You can read more about how this increase might be funded in our factcheck.
This fact check is part of a roundup of BBC Question Time: factchecked. Read the roundup.