"The 18 week target has now been missed for 10 out of the last 12 months, under the Tories."—Andrew Gwynne MP, 11 June 2015
This is true of one of the three 18 week waiting targets which apply to the NHS in England.
The three targets apply to different groups of patients.
Two of them are about how long patients who have begun treatment have waited for it. 90% of patients whose treatment involved an admission to hospital should be treated within 18 weeks—this is the target that's been missed in ten of twelve months. For non-admitted patients, the target is 95%, and it's been missed in two of the months.
The other target is about how long patients who have not begun treatment have waited. 92% of them should have waited 18 weeks or less. This applies to all patients on the waiting list, whether they're going to be admitted or not. It's been met in every month since its introduction in 2012.
It's argued that the first two targets are actually causing longer waits for some patients, because they mean that hospitals could have an incentive not to treat people who've already crossed the 18 week line in case this pushes them below target.
On that basis it was announced that the targets would be deliberately missed last year, the idea being to focus on treating the longest waiters. This could explain some of the deterioration in performance, although that's difficult to measure, and the target wasn't being met when the change in policy was announced.
They're now to be scrapped, leaving only the target on patients who are waiting, something that's been welcomed by experts.
Worsening performance for patients who've been admitted for treatment
90% of patients who've been admitted for treatment in any given month should have waited for less than 18 weeks, according to NHS England's standards. That target has not been met in ten of the twelve months from May 2014 to April 2015—the exceptions are May 2014 and December 2014.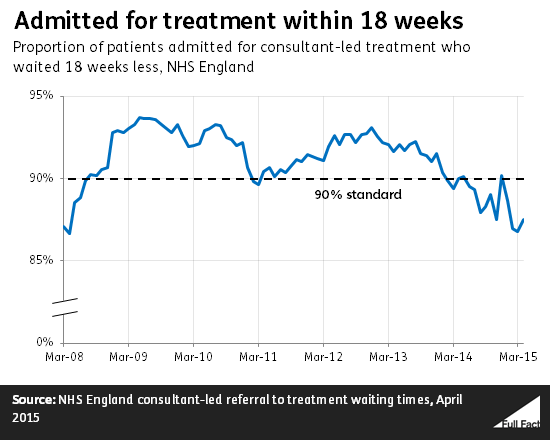 This is the time waited from a GP referral to any treatment for which a consultant is responsible, even if that consultant doesn't treat each patient personally.
In August 2014 the government announced that NHS England would put greater priority on treating more long-waiters that autumn. It said this would mean a temporary rise in the number of patients beginning treatment after waiting longer than 18 weeks, and so would cause trusts to "undershoot" the target.
For non-admitted patients, the target is that 95% of those beginning treatment should have waited less than 18 weeks. This has been broken twice since coming into force in 2008, and joins the admitted target in having been scrapped.
The remaining 18 week target is for all patients who are still on the waiting list, whether they're waiting for admitted or non-admitted care. At least 92% of them should have waited 18 weeks or less. The standard has been met since it was introduced in 2012.
A note of caution on all of the above figures. It's normal for some trusts not to report the data - seven of them didn't in April.
We aim for our factchecks to be as accurate and up-to-date as possible. If you think we've made an error or missed some relevant information, please email
team@fullfact.org
.