Boris Johnson still giving mixed messages on trustworthy statistics
29 May 2012
Last week former Green mayoral candidate Jenny Jones pressed the Mayor during Mayor's Questions to sign up to trustworthy statistics for London:
"Following calls from Full Fact during the election campaign, will you review your decision not to commit the GLA group to following the Code of Practice for Official Statistics, which I suggested to you in March 2011? Signing up would help to promote public trust in the use of statistics."
Prompting the reply:
"Please refer to my answers to MQ 3890 /2011 (Meeting date 14/12/2011) and MQ 638 /2012 (Meeting date 22/02/2012)."
This restates both the Mayor's refusal to sign up to the Code in the 2011 answer and his indication of an ongoing review in his 2012 answer.
The important rules of the Code ensure that Official Statistics that are used by Government and politicians are accessible to the public, fairly used, and independently evaluated with their limitations made clear.
Before the London elections Full Fact called upon candidates to sign up to the UK Statistics Authority's Code of Practice on Official Statistics. However Boris Johnson has previously refused to sign the Greater London Authority (GLA) up to the Code on the grounds that it is not a central government department already producing Official Statistics.
Full Fact does not believe this exempts the GLA from rising to the standards promoted and ensured by the Code.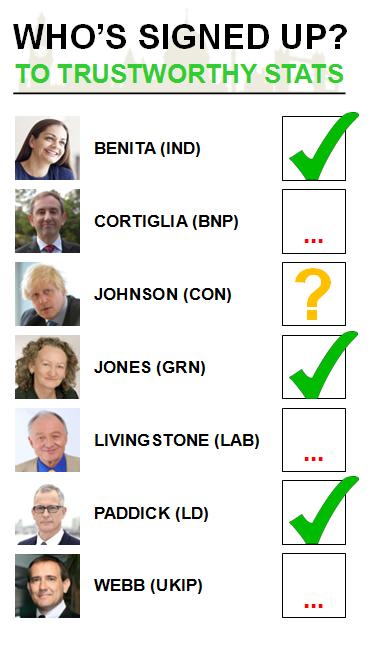 At best, the latest response gives off mixed messages about the Mayor's ongoing intentions towards London's statistics.
Full Fact urged the Mayor in an open letter to give a clearer statement of the GLA's position and what the status of the 'review' is, and we are still awaiting a response. 
We hope the recently re-elected Mayor will clearly and unambiguously commit to the highest standards in City Hall, and will continue to press the case for the GLA's inclusion into the Code.