"Britain is actually an outlier overall, it's one of only four countries where it is legal to do this [smack children]."

Owen Jones, 2 November 2017
"The four European countries where it is still legal to smack your child are Italy, Switzerland, the Czech Republic and the UK #bbcqt"

BBC Question Time Twitter, 2 November 2017
The UK is becoming more unusual in not having a ban on parents smacking children, and is one of a small number of EU countries that don't. That particular list of four countries doesn't check out.
There's not one UK rule on parents smacking children. The starting point is that it has been legal as "reasonable chastisement" or in Scotland as "justifiable assault".
The UK government has rejected international calls to ban parents smacking children, and that is what applies in England and Northern Ireland. The Scottish Government is supporting a bill to ban "the physical punishment of children by parents". The Welsh Government is committed to changing the law too.
Around the world, opinion seems to be changing fast. 53 states have prohibited corporal punishment of children in all settings, including the home. The governments of at least 55 other states have expressed a commitment to enacting full prohibition.
The Council of Europe says that the banning of corporal punishment of children in all settings has gone from "a minority" of its member countries, to 32 out of 47 now. These member countries range from Andorra to Russia.
The Global Initiative to End All Corporal Punishment of Children tracks what they describe as progress towards prohibiting all corporal punishment. The have partnered with the Council of Europe to monitor the legal status of corporal punishment in its member countries. The Council says this will support its campaign to persuade all its members to ban it, including in the home. Their research is also relied upon by the NSPCC.
Where in the world is corporal punishment banned?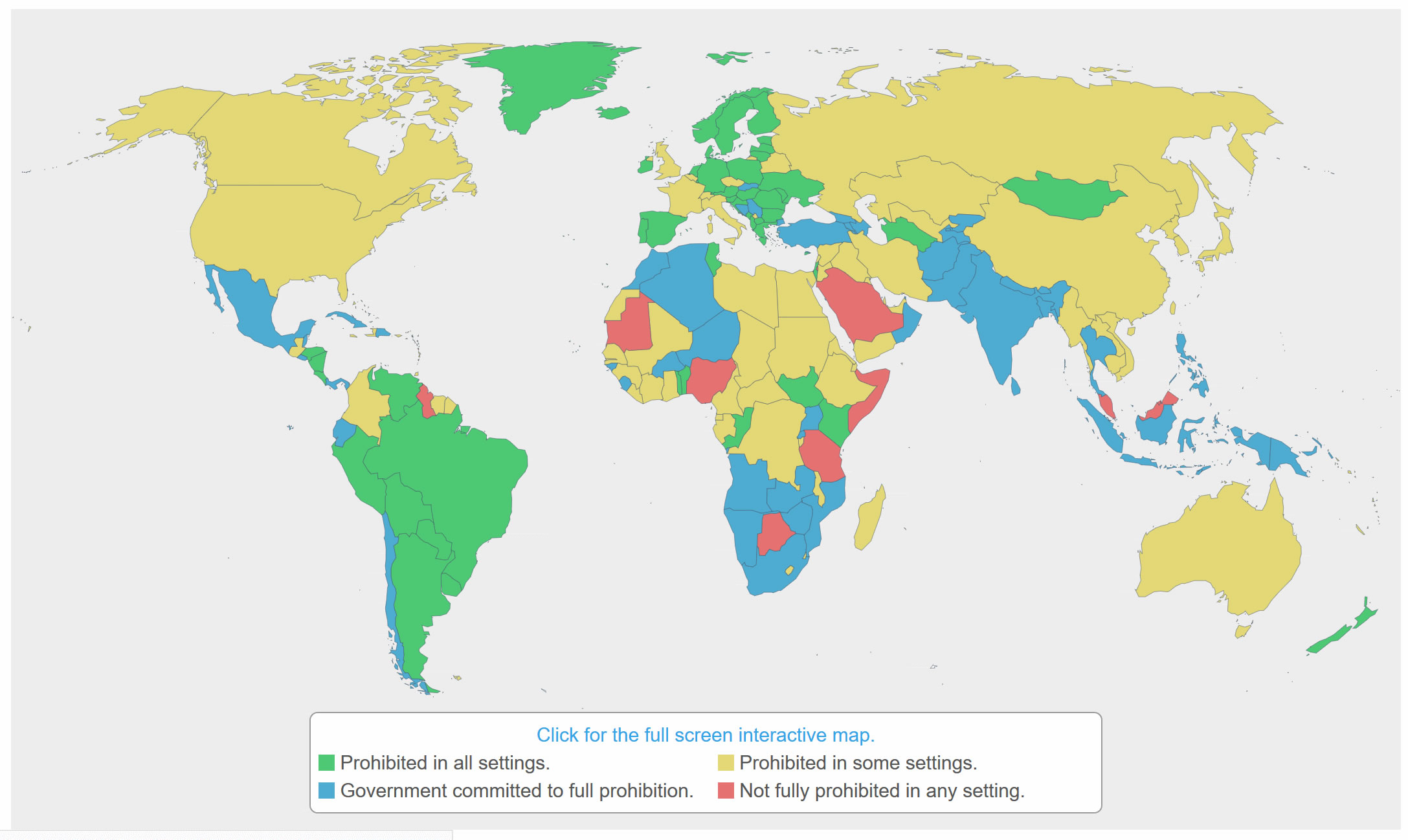 Of the 28 EU states, the Global Initiative says that Belgium, the Czech Republic, France, Italy (debatably) and Slovakia, as well as the UK, do not prohibit parents physically disciplining their children.
Of those neither the UK nor the Czech Republic have any plans for a ban. All the others are in some stage of considering a ban but not necessarily with clear timetables. France even enacted a ban that was overturned for technical reasons by the courts.
In Italy, a 1996 Supreme Court judgment outlawed violence in child-rearing but this has not yet been confirmed through changes in legislation. A complaint that Italy has "no explicit and effective prohibition of all corporal punishment of children in legislation, as well as because Italy has allegedly failed to act with due diligence to eliminate such a punishment in practice" was rejected by the European Committee of Social Rights.
In Switzerland, mentioned by BBC Question Time, a court has ruled against habitual and repeated corporal punishment, but there is no ban.
It's fair to say that the parts of the UK that are considering a ban on parents smacking children are going with the international flow more than the ones that aren't.
This factcheck is part of a roundup of BBC Question Time. Read the roundup.
The integrity of our elections is in danger, and we need your help
You're probably here looking for facts. Thank you for that trust. But with the EU parliament elections on the way and more elections a possibility, we need to act now to make sure our elections are protected, before it's too late.
Could you help protect our elections by becoming a Full Fact donor?
Misinformation isn't new, but advancements in technology mean it can spread at an unprecedented scale. Our dangerously outdated election laws have not kept up with the digital age, putting our next elections at risk of abuse.
Currently, it's possible for a candidate to run a thousand different political ads to win the same seat, promising something different to each group it targets. At the same time, there's no law requiring those who publish online campaigns to disclose who they are or how they are funded. The opportunity for bad actors to manipulate election results is left wide open.
You may already know about our work to make public debate online more honest and transparent. Every day, we call out the most harmful misinformation on social media platforms when and where we see it. But right now, we're urging the government to overhaul our election laws to make sure political campaigning is held to the same level of scrutiny online as it is offline.
This work all depends on the generosity of hundreds of people who all believe that for democracy to work, we need transparency. Our monthly donors help strengthen our voice, and show our politicians that this really matters. Would you consider joining them?
Become a donor today to make sure our elections are protected.
---