London riots: Have police officer numbers increased under Boris Johnson?
10 August 2011
"If you look at the position in London, obviously we've been able to make significant savings and been able to move money around and we've been able to expand numbers...
...Even though we've been able to boost numbers in London I think it would be a good thing if the Government had another look at that"
Boris Johnson, Mayor of London, BBC Today Program, 10 August 2011
"Boris Johnson may want to look like a critic of the government for police cuts but this is fake and hypocrisy as he has been ramming through overall police cuts in London and undermining neighbourhood policing himself."
Ken Livingstone, former Mayor of London, kenlivingstone.com
With the London and now wider riots still in the spotlight, the Mayor of London, Boris Johnson, caused a stir this morning by suggesting that the Government should rethink its plans to cut police numbers.
He also re-opened an old rift with former Mayor Ken Livingstone and the Labour Party over police officer numbers in London.
One side insists the number of police has increased; the other attacks 'cuts' to police numbers under Mr. Johnson's mayorship. Who's right?
Analysis
Full Fact looked back through accounts of the Metropolitan Police Authority (MPA) which measured year-on-year total police officer numbers since the financial year 2000-01, when Ken Livingstone became Mayor.
The MPA figures show that, when Mr. Johnson entered office in May 2008, police officer numbers stood at 31,398 (for the 2007-08 financial year). In 2008-09 this number rose by 1,145. In 2009-10 numbers further rose by 717, although in 2010-11 they fell by 801.
Along with projections from a 'Policing London Business Plan' published in March, the numbers are graphed as follows: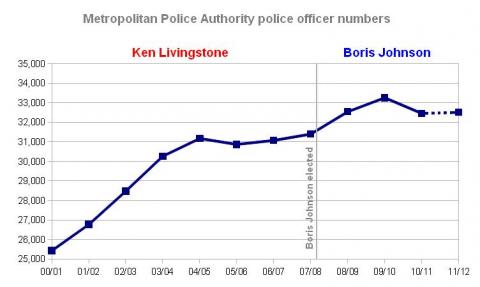 The approximate number of officers expected for the 2011-12 financial year is put at 32,510, which will also be at the end of Mr. Johnson's term in office. Compared to his inheritance of 31,398, this would mean police officer numbers will have increased by 1,112 under Mr. Johnson's premiership.
This backs up a claim made by Mr. Johnson in a London Assembly meeting earlier this year that his term in office would end with higher numbers of officers than when he entered in 2008.
However, several aspects of Mr. Johnson's more recent comments could easily lead to confusion.
The problem is that if the last financial year is considered alone, the number of police officers will be seen to have fallen from 33,260 the year before to 32,459, which is the steepest cut in numbers since even Mr. Livingstone came to office in 2000.
Mr. Johnson's comments to the BBC this morning do not make this timescale clear, which might leave many believing that no cuts have occurred since the Mayor came to office.
Further examination of the figures also suggests that comments made by London Assembly member John Biggs, attributing some credit for the numbers increase to former Mayor Ken Livingstone, may hold some truth.
The reason for this is that the 2008 Greater London Authority budget, published in February that year, influenced police numbers for the 2008-09 financial year. This was the final budget published under Mr. Livingstone's premiership.
This means that, while Mr. Johnson inherited police officer numbers measured from the 2007-08 financial year, his first budget only applied to the 2009-10 financial year, with his first year in office being influenced by the former Mayor's budget.
If all the credit for the 2008-09 year is given to Mr. Livingstone's budget, this would mean that Mr. Johnson's genuine influence over police numbers would only have started following his budget in 2009.
Since the number of officers at the time of Mr. Johnson's first budget totalled 32,543, this would mean that expected numbers of 32,510 next year would amount to a cut in police numbers since Mr. Johnson's first budget.
However, since it is difficult to apportion responsibility when one Mayor is in power and another 's budget is in force, this measurement should be treated with extreme caution.
Conclusion
Mr. Johnson is very likely correct to claim that police officer numbers will be higher when his term ends next year to when he entered office.
His comments on the BBC however failed to point out that numbers since last year have fallen by 801, possibly leaving listeners confused as to the current direction of police numbers in London.
However even Mr. Johnson's correct claims should not necessarily afford him full credit for the increase, as the steepest rises in recent years happened in part under Mr. Livingstone's last budget.
At the same time, Mr. Livingstone's claims that the current Mayor is 'ramming through police cuts' should also not be misread. Until 2009-10 numbers continued to increase, and numbers will also marginally increase by next year.
How much credit is due to either side will doubtless be a theme in next year's Mayoral contest.