Most people in Scotland are struggling to find trustworthy information ahead of referendum
27 August 2014
"The option impossible is missing" — just one response to a Sky News tweet on Monday night on how difficult voters are finding it to get hold of trustworthy information on next month's Scottish independence referendum.
The response to the graphic, which came from a question we asked Ipsos MORI Scotland to put to voters, suggests Monday night's televised debate hasn't solved the trustworthiness problem.
The poll sought the opinions of 1,006 Scots from 28th July to 3rd August.
61% said they found it fairly or very difficult to find trustworthy information. 63% found impartial information hard to find, and 55% said the same for 'factual' information. 44% agreed 'helpful' information was fairly to very difficult to come upon ahead of polling day.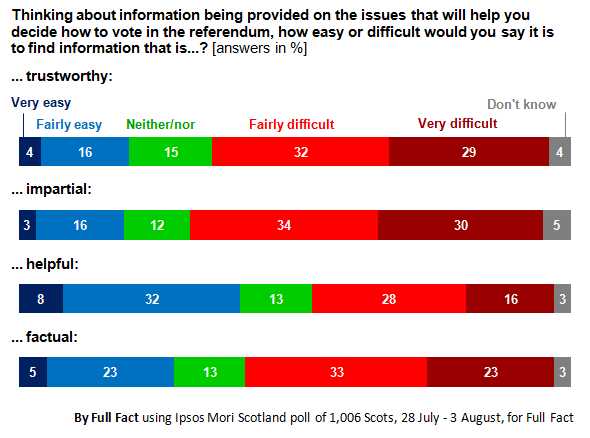 People's answers vary most depending on their voting intention. Only half of Yes voters (those in favour of independence) said trustworthy information was difficult to find, compared with almost 70% of No voters.
If you missed us on Sky News on Monday you might want to check out our summary article of some of the statements made during the debate on the Sky News website. We've also got a series of spotlights and factchecks on some of the key issues on our Scotland hub.