Theresa May's resignation speech: factchecked
24 May 2019
This morning Theresa May announced she was resigning as leader of the Conservative Party on 7 June 2019. This will then trigger a leadership contest within the party and Mrs May has said she will resign as Prime Minister once this is concluded and a new leader has been chosen.
Back when she became prime minister in 2016, we factchecked a series of claims she made in her first speech. We thought we'd do the same for the claims she made in her resignation speech. Here's a look at some of the things she said:
"I have done everything I can to convince MPs to back that deal. Sadly, I have not been able to do so. I tried three times."
It's true that Theresa May's EU withdrawal agreement has been rejected by the House of Commons three separate times between January and March of this year.
"We have completed the work that David Cameron and George Osborne started: the deficit is almost eliminated, our national debt is falling and we are bringing an end to austerity."
The deficit is down and is only a fraction of what it was at its recent peak in the immediate aftermath of the recession, but it's still some way off being eliminated.
Public sector net borrowing, the main measure of the deficit in the UK, was just under £42 billion in 2017/18, the last year we have definite figures for. That's down from a peak of about £175 billion in 2009/10 (in 2017/18 prices).
This year (2019/20) the deficit is forecast to be £28 billion, falling to £12 billion by 2023/24 according to the latest figures from the Office for Budget Responsibility.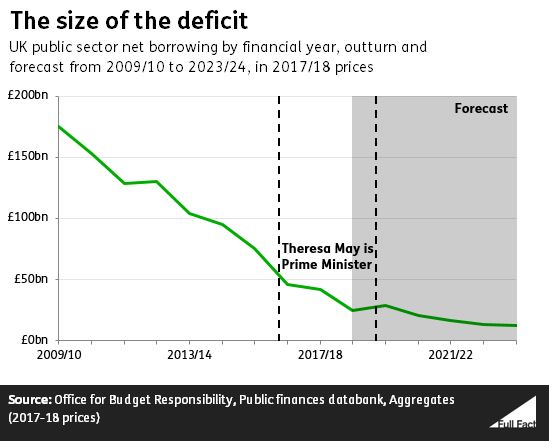 As a percentage of the size of the economy, the deficit has fallen from a high of 9.9% in 2009/10 to 2% in 2017/18. By 2023/24 it's forecast to be 0.5%.
As for debt, the government owed around £1.8 trillion in 2018/19, down about £10 billion on the year before once inflation is accounted for, according to forecasts from the Office for Budget Responsibility. That's using a measure of public sector debt that excludes public sector banks.
But as the size of the UK economy is continually changing it's common to look at the debt as a percentage of this. The debt amounted to 83.1% of the UK economy in 2018/19, that's down from 84.6% in the previous year. The debt is currently forecast to continue falling down to 73% in 2023/24.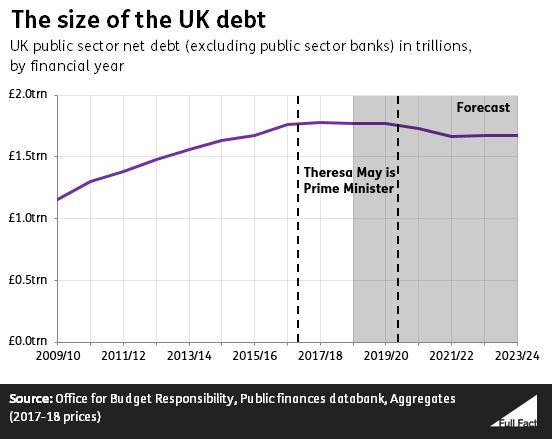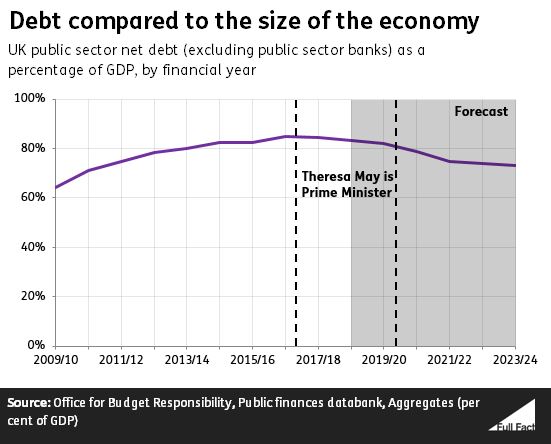 "We have helped more people than ever enjoy the security of a job."
It's correct that record numbers of people have a job.
The number of people in work is at its highest since comparable records began in the 1970s. That means it's the highest ever, but that's partly because the population has also increased.
The percentage of people aged 16-64 in work is also at a record high at 76%, and has been since late last year.
Another measure of employment is the proportion of people who are employed as a share of the total labour force (everyone who is seeking or in work, regardless of age). Currently 96% of the labour force is in employment, which is close to, but not quite, the highest level on record.
Mrs May also mentioned the "security" of a job, and exactly what this means is open to interpretation.
Work doesn't always pay enough to keep people out of income poverty, for example. Several different measures suggest working-age people in poverty are increasingly likely to be in working families.
You could also look at whether jobs give people guaranteed hours. As of late 2018, 94% of the labour force were in a job with guaranteed hours, slightly lower than in the mid-2000s when it reached 95%.
"We are building more homes and helping first-time buyers onto the housing ladder so young people can enjoy the opportunities their parents did."
Housing is devolved to Scotland, Wales and Northern Ireland, so the UK government is only responsible for housing in England.
House building in England has been rising almost consistently since 2013, and in 2017/18 195,000 new homes were built. That's the highest level since before the recession in 2008. Other figures, which go back to the mid-20th century but aren't quite as accurate as these, show house building is still much lower than the levels seen over 30 years ago. Concerns have also been raised in the past about whether we're building enough homes to meet future demand.
The government has introduced several schemes to help people to buy their first home, like high-interest ISAs or lending buyers money towards their purchase, though there is debate over some of the schemes' effectiveness.
According to figures provided to Full Fact by UK Finance, the number of first-time buyers in England has been mostly increasing since 2011, and was nearly 300,000 in 2018.
But young people in England are still generally less likely to own their own home now than they were 5-10 years ago. In 2017/18, a third of households where the 'householder' was aged 16-34 in England were owner-occupiers, slightly higher than in 2013 and 2014 but lower than rates of above 50% in the mid-2000s.
"And we are protecting the environment, eliminating plastic waste, tackling climate change and improving air quality."
This is a very broad area of policy, but here are some of the examples Mrs May could be referring to.
The government recently confirmed a ban on plastic straws (as well as drinks stirrers and cotton buds) will come into force in April 2020. Restaurants and bars will be able to provide plastic straws on request, and there will be exemptions for people with medical needs or a disability. A ban on the sale of products containing microbeads also came into effect last year.
There's not much we can say on Theresa May's record on tackling climate change and improving air quality, as she's been Prime Minister for less than three years.
In that time, between 2015 and 2018, urban background and roadside levels of the two main types of particulate pollution (which are small enough to be inhaled) was stable, having shown long term improvement since the early 1990s. Urban background nitrogen dioxide levels have reduced since 2016.
Government estimates suggest UK greenhouse gas emissions have been decreasing since 1990, and are down by around 10% since 2015, although these figures don't include emissions from international aviation or shipping. The UK is not on track to meet its targets for reducing its carbon emissions over the next 15 years.
"That is why I put proper funding for mental health at the heart of our NHS long-term plan."
Last year the government announced that the NHS in England will receive an extra £20.5 billion per year by 2023/24 compared to the amount it received in 2018/19, once inflation is accounted for. The Long Term Plan set out by the NHS says that mental health services will receive over £2 billion of that £20.5 billion per year by 2023/4.
The NHS in England planned to spend £12.2 billion on mental health in 2018/19 (although that isn't final as complete data hasn't been published yet). The oldest comparable data for mental health spending is from 2015/16, when £11.7 billion was spent, once inflation is taken into account. We've written more about this here.
"It's why I am ending the postcode lottery for survivors of domestic abuse."
It is correct that Mrs May has announced that a legal duty will be placed on councils to provide refuge for survivors of abuse, something she described at the time as "ending the postcode lottery". A consultation on these measures is now underway.
"It is why the race disparity audit and gender pay reporting are shining a light on inequality so it has nowhere to hide."
In 2017 the government published an audit into "how people of different ethnicities are treated across public services". The success of this audit has been contested.
In 2017, the government made it mandatory for organisations with 250 or more employees to publish data on their gender pay gap.
"It is why I set up the independent public enquiry into the tragedy at Grenfell Tower, to search for the truth, so nothing like it can ever happen again, and so the people who lost their lives that night are never forgotten."
Mrs May did order a public inquiry into the Grenfell Tower fire, which had been expected to publish its first report in Spring 2019. Last week it was announced that the first report into the fire would be delayed until October 2019—news which has upset survivors.
"I will shortly leave the job that it has been the honour of my life to hold – the second female Prime Minister."
It is correct that Mrs May is the second female Prime Minister of the UK, following Margaret Thatcher, who was Prime Minister between 1979 and 1990.
Update 31 May 2019
We've added the official employment rate to the article alongside the percentage of the labour force in employment.