Are 400,000 homes with planning permission lying unbuilt?
22 August 2013
"Almost 400,000 homes in England have been given planning permission but have yet to be built, research suggests." 
"[the figures are] misleading… only 60,500 sites are on-hold to be built" 
Mark Prisk, Housing Minister, 22 August 2013
With some newspapers claiming that the shortage of housing is reaching 'crisis' levels, the Local Government Association (LGA) today published research showing that there are nearly 400,000 plots of land that have been granted planning permission but have yet to be built on.
The LGA claims that the government needs to help councils unlock the money needed to ensure these projects progress, although the Housing Minister has contested these figures. So what do they refer to?
The 381,000 sites referenced by the LGA is the total size of the 'landbank': plots of land earmarked for potential development by builders. As we have seen in a previous factcheck, there is always a difference between the larger total 'landbank' and the smaller number of sites which are eventually built on.
The total number of completed properties in the 12 months to June 2013 was just shy of 110,000. So why are so many sites not being developed upon? One explanation is that property developers often gain planning permission for sites and then 'sit' on them until the value of the land increases — something Ed Miliband was in the news last month calling to crack down on.
The Housing Minister Mark Prisk claims the LGA's 381,000 figure is misleading because it refers to the total number of plots in the landbank instead of the number that are 'on hold', and therefore captures those sites where there is little or no interest in development.
He argues that instead we should look at the 'backlog' of sites where developers actually want to build and are just waiting for the go ahead from councils to start. Latest figures shows this number to be considerably lower - 60,000, of which around 6,000 have been dealt with in the last year. So while there is still a gap between the number of sites 'on hold' and the number starting construction, the gap is a lot smaller than the 400,000 figure touted in many headlines.
The Housing Minister also claimed that the "Coalition had restored confidence to the housing market" pointing to last week's official statistics which showed housing starts increasing by 7% year-on-year. While this is true, this increase might not be as impressive as this sounds, as the number of projects beginning construction has slumped in recent months, and is merely returning to the levels last seen in 2012.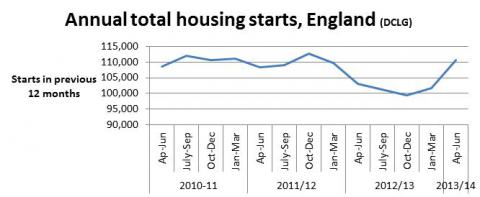 So while the number of sites where development is being hindered may not be as high as 400,000, the overall picture for house building isn't that rosy either, and the number of starts and completions hasn't changed much for several years.
The 400,000 sites sitting in landbanks have been earmarked for potential development, but this doesn't mean that developers currently want to build on the land.
There are however 60,000 projects which are currently live and waiting on council planning decisions for specific developments, and it is this backlog which might prove the more immediate source of joy for officials looking to increase the number of homes being built - if they can manage to clear it.