In brief
Claim
Home ownership is at its lowest level in a generation.
Conclusion
This is correct, taking a "generation" as around 30 years. The proportion of households owning their own home is at its lowest since 1984.
"Home-ownership [is] down to the lowest level in a generation"

John Healey MP, Shadow Minister for Housing and Planning, 4 January 2016
This claim is correct, assuming (reasonably enough) that a period of 30 years can be described as a "generation".
63% of English households own the home they live in. The last time the proportion was lower than this was in 1984, according to government statistics.
The rest rent privately (19%) or from a social housing provider like a council or housing association (17%).
The number of owner-occupiers has fallen every year since peaking in 2005.
The English Housing Survey notes that trends in home ownership have changed "radically" over the past century.
Most households seem to have rented until the early 1970s. Since then, home ownership has become the norm, but peaked in 2003 when almost 71% of households owned their property.
Young people in particular are increasingly unlikely to own a home.
Increasing barriers to first-time buyers are likely to be a cause of the decline, according to government analysis. Prices have increased, caused by greater demand for housing among a rising population, and supply hasn't kept up.
It also points to banks being less willing to provide mortgages. The proportion of households owning with a mortgage is now the lowest on record, at 31%. Meanwhile, those owning outright make up a higher share of households than ever before.
As we've discussed previously, there may be other factors behind the decline in home ownership, such as people spending longer in education.
Labour's claim comes in response to a government announcement on building more affordable homes. The opposition also said that there have been "fewer homes built over the last five years than under any peacetime government since the 1920s".
This is correct, although it was also the case under the previous Labour government.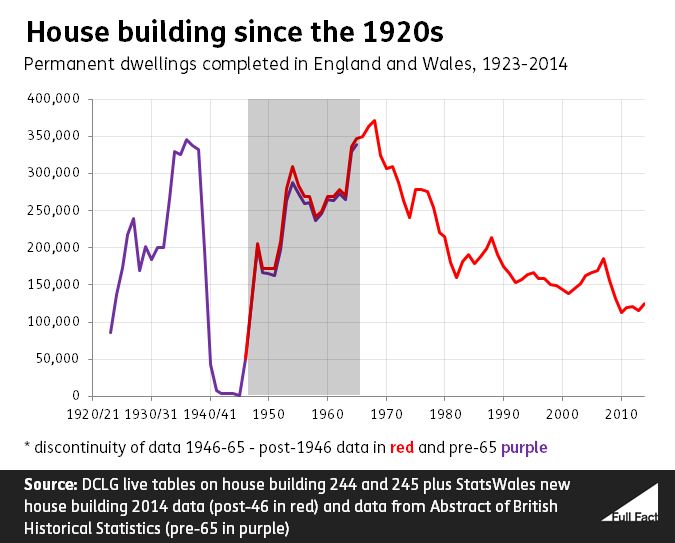 We need facts more than ever.
Right now, it's difficult to know what or who to trust. Misinformation is spreading. Politics and the media are being pushed to the limit by advancements in technology and uncertainty about the future. We need facts more than ever.
This is where you come in. Your donation is vital for our small, independent team to keep going, at the time when it's needed most. With your help, we can keep factchecking and demanding better from our politicians and public figures.We can give more people the tools to decide for themselves what to believe. We can intervene more effectively where false claims cause most harm.
Become a donor today and stand up for better public debate, on all sides, across the UK.
---