In brief
Claim
The UK spends 0.7% of its GDP on aid, which is more than any other G7 country.
Conclusion
Correct for the UK in 2017, though it's based on a slightly different figure that includes overseas income. Germany spends just under 0.7%, but slightly less than the UK.
This image, posted by a Facebook page called Battle for Britain, has been shared over 900 times on Facebook at the time of writing.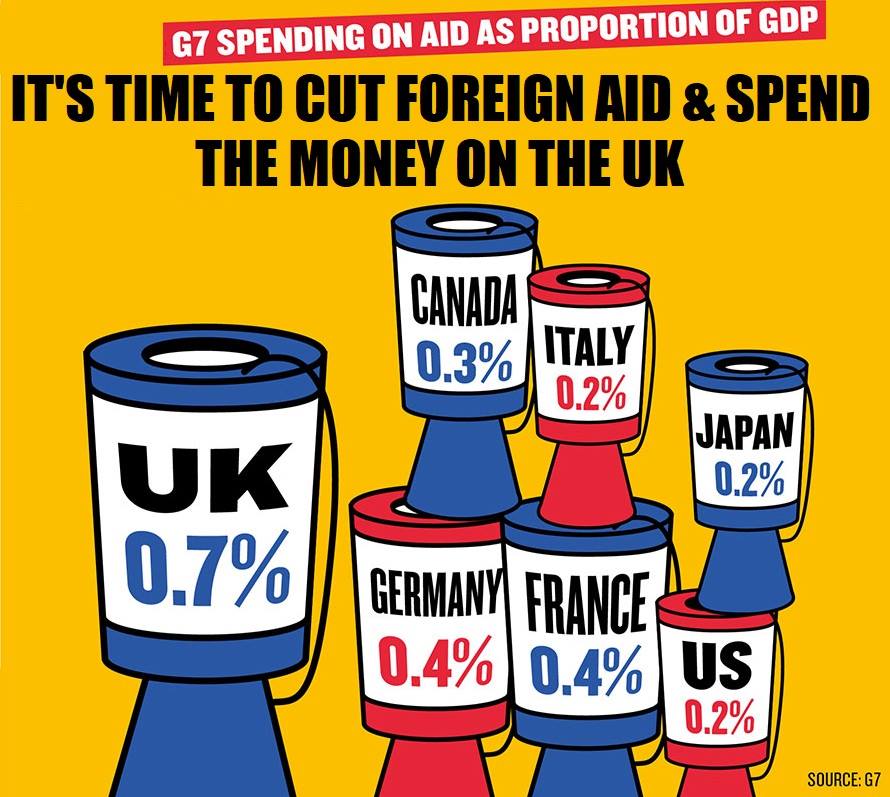 For aid spending in 2017, the figure for the UK is correct, although it's the proportion of a slightly different measure—it was aid spending as a fraction of each country's Gross National Income as opposed to their GDP.
The image's figure is not correct for Germany. In 2017 it spent closer to 0.7%, although slightly less than the UK.
The figures for Canada, Italy, Japan, France and US are largely correct.
How much is given as aid?
The Organisation for Economic Co-operation and Development (OECD) publishes figures on how much each of the 30 countries in its Development Assistance Committee spend annually on aid.
The OECD does this in both total dollars spent, and as a proportion of the country's Gross National Income (GNI), which is its annual output of goods and services, plus any income it gets from abroad. GDP on the other hand doesn't include income from abroad.
In its latest release, the OECD said the UK spent the equivalent of 0.7% of its GNI on aid in 2017. France spent around 0.4%, Italy and Canada about 0.3%, and Japan and the US spent roughly 0.2%, which is broadly what the image shows . 
Germany spent 0.66% of its GNI on aid, which is closer to the UN target of 0.7% than the image says. Germany's contribution hasn't been as low as the image shows since 2014, when it spent the equivalent of around 0.4% of its GNI then on aid. The image is broadly correct for each country's 2014 aid spending figures.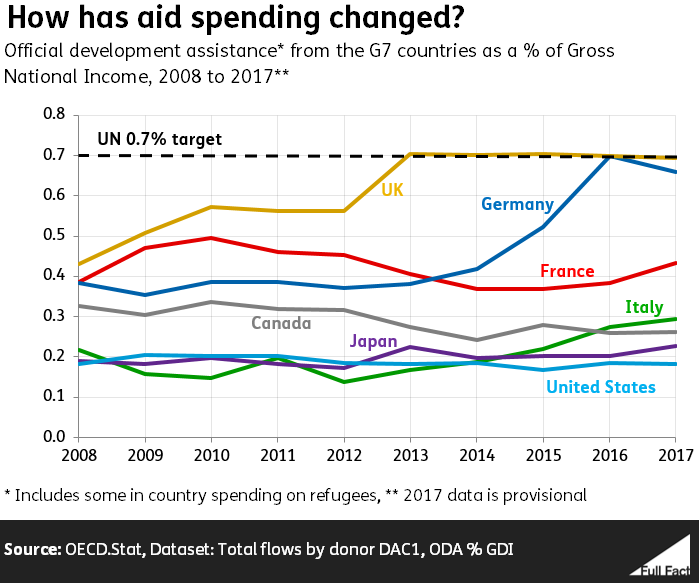 How much does the UK give in comparison to other countries?
The OECD's Development Assistance Committee is a forum of 30 advanced and emerging economy countries, plus the European Union, that work on developing aid policy. Ranking them for aid spending relative to the size of their economies, the UK came fifth after Sweden, Luxembourg, Norway and Denmark.
Out of just the G7 countries, the UK spends the largest proportion of its GNI on aid. In terms of actual cash spent, using 2016 prices and exchange rates, Germany (£17 billion) and the US (£26 billion) spent more than the UK, which spent about £14 billion.    
You can see how all 30 countries' aid spending has changed over time using the OECD's interactive tool here.
The UK government has a target, enshrined in law, for "official development assistance" to equal 0.7% of GNI. The legal duty can't be enforced through the courts but the International Development Secretary has to explain themselves to parliament if it isn't met.
You can read more about how the UK's aid budget is spent in our explainer.
What counts as aid?
The OECD's definition of 'official development assistance' is "government aid designed to promote the economic development and welfare of developing countries". It includes bilateral aid, from donor to recipient, and multilateral aid, that's channelled through a development agency like the UN. It can be in the form of a grant or concessionary loan.
The UK government explains more about the different types of aid here.
The aid must be "administered with the promotion of the economic development and welfare of developing countries as its main objective" and can be in the form of grants, 'soft loans' with lenient terms for the borrower, or technical assistance.
It cannot include loans for military purposes, and has to go to certain middle and low-income countries. Some countries, like Thailand and Turkey, both provide aid and receive it.
Not all aid money gets spent overseas. Some countries, like the UK, include money spent on refugees within their own borders during the first 12 months of their stay as official development assistance.
We need facts more than ever.
Right now, it's difficult to know what or who to trust. Misinformation is spreading. Politics and the media are being pushed to the limit by advancements in technology and uncertainty about the future. We need facts more than ever.
This is where you come in. Your donation is vital for our small, independent team to keep going, at the time when it's needed most. With your help, we can keep factchecking and demanding better from our politicians and public figures.We can give more people the tools to decide for themselves what to believe. We can intervene more effectively where false claims cause most harm.
Become a donor today and stand up for better public debate, on all sides, across the UK.
---