"New figures show 49 per cent rise in long-term unemployment for black and minority ethnic young people since 2010" Labour Party, 11 March 2015
Labour's claim has led to criticism of the government for supposedly abandoning Black and Minority Ethnic (BAME) young people.
The House of Commons Library estimates that the number of long-term unemployed BAME 16-24 year olds is 41,000, a rise of about 50% since 2009-10. But due to inherent uncertainty in the figures, it's hard to be sure the number actually rose during this period.
Difficult to measure
As we've pointed out before, youth unemployment isn't simple to interpret because many young people are students and aren't always included in the figures. In addition, there's more than one way to measure long-term unemployment.
The most recent estimate puts the figure for national unemployment at 1.9 million, so the 41,000 long-term unemployed BAME young people is a very small portion of this total. The Office for National Statistics (ONS) cautions that using the survey to estimate such small groups leads to large errors, which are even larger when splitting the data by ethnicity.
In fact, the ONS recently investigated exactly this issue and advised caution: their quarterly figures for long-term unemployment amongst BAME 18-24 year olds were so uncertain that each estimate could have varied by over 40%. So the ONS couldn't be certain the number of long-term unemployed BAME 18-24 year olds rose between 2010 and 2014; from the data available it could equally have fallen.
Because Labour used annual rather than quarterly data, their sample is larger so should be more accurate, but the headline figures still hide this uncertainty.
A better estimate
Looking at overall unemployment is less restrictive than looking at long-term unemployment. Numbers are larger, so figures for unemployment are more accurate than for long-term unemployment. The House of Commons Library estimates that unemployment for BAME 16-24 year olds has now dropped back to its 2010 level after a rise from 2010 - 2012. But raw numbers don't tell the whole story; looking at the unemployment rate puts the numbers in the context of the wider population. It looks like things are still far from equal.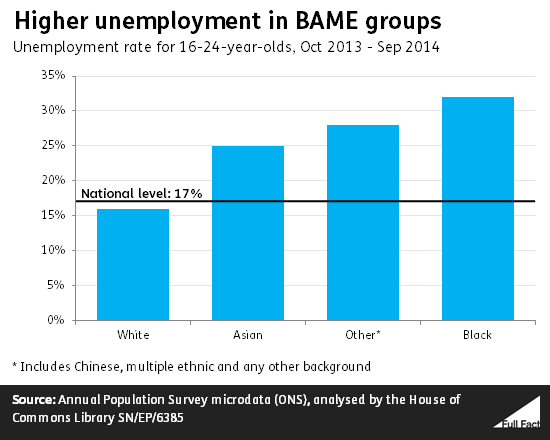 The integrity of our elections is in danger, and we need your help
You're probably here looking for facts. Thank you for that trust. But with the EU parliament elections on the way and more elections a possibility, we need to act now to make sure our elections are protected, before it's too late.
Could you help protect our elections by becoming a Full Fact donor?
Misinformation isn't new, but advancements in technology mean it can spread at an unprecedented scale. Our dangerously outdated election laws have not kept up with the digital age, putting our next elections at risk of abuse.
Currently, it's possible for a candidate to run a thousand different political ads to win the same seat, promising something different to each group it targets. At the same time, there's no law requiring those who publish online campaigns to disclose who they are or how they are funded. The opportunity for bad actors to manipulate election results is left wide open.
You may already know about our work to make public debate online more honest and transparent. Every day, we call out the most harmful misinformation on social media platforms when and where we see it. But right now, we're urging the government to overhaul our election laws to make sure political campaigning is held to the same level of scrutiny online as it is offline.
This work all depends on the generosity of hundreds of people who all believe that for democracy to work, we need transparency. Our monthly donors help strengthen our voice, and show our politicians that this really matters. Would you consider joining them?
Become a donor today to make sure our elections are protected.
---