"New figures show 49 per cent rise in long-term unemployment for black and minority ethnic young people since 2010" Labour Party, 11 March 2015
Labour's claim has led to criticism of the government for supposedly abandoning Black and Minority Ethnic (BAME) young people.
The House of Commons Library estimates that the number of long-term unemployed BAME 16-24 year olds is 41,000, a rise of about 50% since 2009-10. But due to inherent uncertainty in the figures, it's hard to be sure the number actually rose during this period.
Difficult to measure
As we've pointed out before, youth unemployment isn't simple to interpret because many young people are students and aren't always included in the figures. In addition, there's more than one way to measure long-term unemployment.
The most recent estimate puts the figure for national unemployment at 1.9 million, so the 41,000 long-term unemployed BAME young people is a very small portion of this total. The Office for National Statistics (ONS) cautions that using the survey to estimate such small groups leads to large errors, which are even larger when splitting the data by ethnicity.
In fact, the ONS recently investigated exactly this issue and advised caution: their quarterly figures for long-term unemployment amongst BAME 18-24 year olds were so uncertain that each estimate could have varied by over 40%. So the ONS couldn't be certain the number of long-term unemployed BAME 18-24 year olds rose between 2010 and 2014; from the data available it could equally have fallen.
Because Labour used annual rather than quarterly data, their sample is larger so should be more accurate, but the headline figures still hide this uncertainty.
A better estimate
Looking at overall unemployment is less restrictive than looking at long-term unemployment. Numbers are larger, so figures for unemployment are more accurate than for long-term unemployment. The House of Commons Library estimates that unemployment for BAME 16-24 year olds has now dropped back to its 2010 level after a rise from 2010 - 2012. But raw numbers don't tell the whole story; looking at the unemployment rate puts the numbers in the context of the wider population. It looks like things are still far from equal.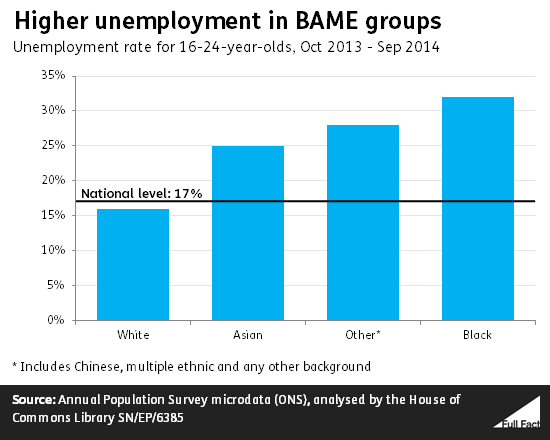 We need facts more than ever.
Right now, it's difficult to know what or who to trust. Misinformation is spreading. Politics and the media are being pushed to the limit by advancements in technology and uncertainty about the future. We need facts more than ever.
This is where you come in. Your donation is vital for our small, independent team to keep going, at the time when it's needed most. With your help, we can keep factchecking and demanding better from our politicians and public figures.We can give more people the tools to decide for themselves what to believe. We can intervene more effectively where false claims cause most harm.
Become a donor today and stand up for better public debate, on all sides, across the UK.
---