In brief
Claim
£1 billion has been taken out of youth services.
Conclusion
Correct in England. This is a 73% reduction in local authorities' spending on youth services in England between 2010/11 and 2019/20. The wider budget for children and young people has fallen by about £1.4 billion or by 13%.
"The Tories have slashed £1 billion from youth services"

Jeremy Corbyn, 5 November 2019
There's no single, definitive figure for spending on youth services in England, as there are different parts of local authority spending you could include to build a picture. But £1 billion is a reasonable figure to use, based on the data we've seen.
Local spending on youth services has fallen since 2010
When it comes to local councils' spending on youth services, it's possible to look at the total budget for children and young people, or for "services for young people" specifically, which is a part of the wider budget. The first of these covers everything from Sure Start centres and youth clubs, to fostering and family services, while the second focuses on "educational and recreational leisure-time activities" like youth clubs, sports or arts activities for young people.
Labour hasn't been consistent on which measure it uses: in the past it's looked at the total budget for children and young people (also finding a £1 billion reduction since 2012), and this time it's just looking at the subset on young people's services. 
Between 2010/11 and 2019/20, spending on the total children and young people's budget is set to have fallen by about £1.4 billion, taking inflation into account, or by 13%. It was the equivalent of £10.8 billion in 2010/11 and has an expected spend of £9.4 billion this year.
Meanwhile, over the same period spending on services for young people is set to have fallen by about £1 billion with inflation, or by 73%, from the equivalent of £1.4 billion in 2010/11 to £375 million planned for this year. These figures don't include relatively small income generated by councils to offset this, but the scale of spending reductions is similar either way.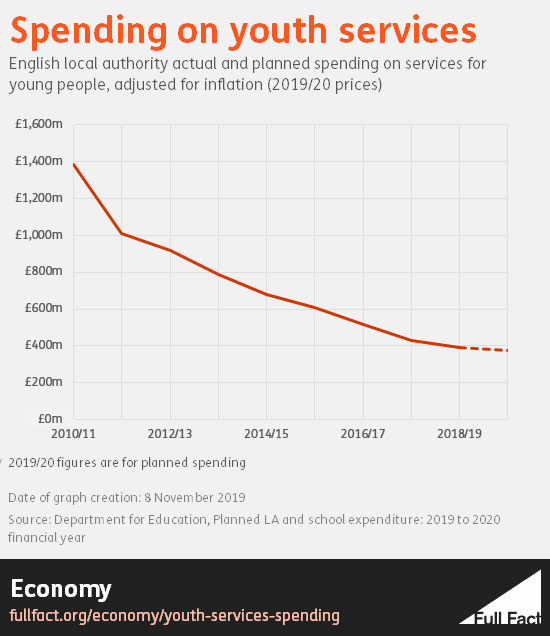 The reason the two measures show such a different scale of reduced funding is because, within the total budget for children and young people, spending reductions have fallen mostly on the youth services element, and in particular funding for Sure Start children's centres. Spending on looked after children, by contrast, has gone up since 2010, according to the National Audit Office.
Can you help protect this election from the influence of bad information? Support Full Fact
This election, clear, accurate facts won't always be a guarantee. False and harmful claims are spread every day by our public figures and media. Intentional or not, they have the power to shape the choices we make. We all deserve better than that.
That's why we're fighting to keep this election more honest and accountable. And we can't do it without you. In a fast-paced campaign, our supporters mean we can hold all candidates to the same three principles: get your facts right, back them up with evidence, and correct your mistakes.
Just a small monthly donation keeps us scrutinising the most harmful false claims around the clock, and challenging the people who make them.
If you, like us, don't want your vote to be influenced by bad information, can you help out?
---