"Replace the out-dated Barnett Formula with a fair funding formula based on need"
Most of the spending by the devolved governments in Scotland, Wales and Northern Ireland is funded by grants from the UK government. The amount they get is largely worked out by the '

Barnett formula

'.

When the UK government changes the funding for a service in England, the Barnett formula tries to achieve a similar change in funding per person in the devolved administrations. So population is the only 'need' that is taken into account.

There have been many calls for a change in

the Barnett formula

.

Some—such as the

Calman Commission

in Scotland—have criticised the formula for not funding the UK countries according to their needs.

Others

are unhappy with current differences in public spending per head across the UK countries, which are partly the result of using the formula over the years.

Funds within England tend to be

allocated

based on indicators of need, such as demographic characteristics, deprivation and cost. The

Holtham Commission

found that Wales would receive more money if UK funds were allocated to Wales in the same way that English funds are allocated within England.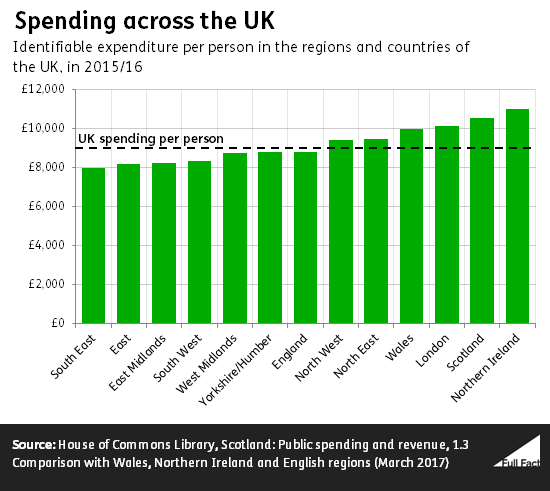 This factcheck is part of a roundup of UKIP manifesto launch. Read the roundup.
Full Fact wants to see greater accountability for public figures who mislead us—and we need your help.
Political debate in the UK is in flux right now. The UK's exit from the European Union is approaching, we will soon have a new prime minister and potentially a general election.
We want politicians to tell the truth, and while the best politicians realise that their work should be done honestly, some aren't taking their responsibilities seriously. Both sides in the EU referendum campaign let voters down, from deceptively designed leaflets to some of the arguments made on each side. The public rightly expects more from politicians.
We want to see greater accountability for public figures who mislead. Full Fact will continue to advocate for higher standards and call out those who don't uphold them.
But we rely on the generosity of our supporters to make sure we can spot the most harmful misinformation when we most need to.
Can you help us?
Support better public debate today.
---