"Replace the out-dated Barnett Formula with a fair funding formula based on need"
Most of the spending by the devolved governments in Scotland, Wales and Northern Ireland is funded by grants from the UK government. The amount they get is largely worked out by the '

Barnett formula

'.

When the UK government changes the funding for a service in England, the Barnett formula tries to achieve a similar change in funding per person in the devolved administrations. So population is the only 'need' that is taken into account.

There have been many calls for a change in

the Barnett formula

.

Some—such as the

Calman Commission

in Scotland—have criticised the formula for not funding the UK countries according to their needs.

Others

are unhappy with current differences in public spending per head across the UK countries, which are partly the result of using the formula over the years.

Funds within England tend to be

allocated

based on indicators of need, such as demographic characteristics, deprivation and cost. The

Holtham Commission

found that Wales would receive more money if UK funds were allocated to Wales in the same way that English funds are allocated within England.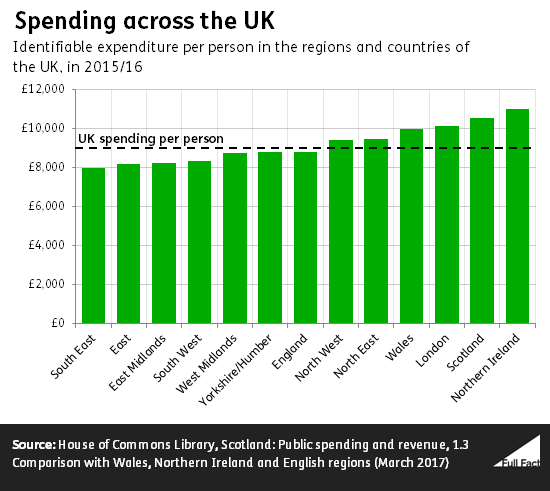 This factcheck is part of a roundup of UKIP manifesto launch. Read the roundup.
With Brexit fast approaching, reliable information is crucial.
If you're here, you probably care about honesty. You'd like to see our politicians get their facts straight, back up what they say with evidence, and correct their mistakes. You know that reliable information matters.
There isn't long to go until our scheduled departure from the EU and the House of Commons is divided. We need someone exactly like you to help us call out those who mislead the public—whatever their office, party, or stance on Brexit.
Will you take a stand for honesty in politics?
---