In brief
Claim
A third of teachers leave state education within five years of qualifying according to new figures.
Conclusion
That is correct, but the figures haven't changed a great deal for the last 15 years.
"Almost a third of teachers quit state sector within five years of qualifying". 

Guardian, 24 October 2016

"Nearly a third of teachers who began work in England's state schools in 2010 were not in the classroom five years later, official figures show."

Telegraph, 24 October 2016

"Third of teachers quit within five years of finishing training, shocking figures show".

Sun, 26 October 2016
It's a story you may have seen.  It's certainly been featured in almost every major newspaper this week after the figures apparently came to light when a Minister in the Department for Education  provided the information to a fellow MP.
But the fact that a third of teachers leave state schools five years after qualifying isn't new. It's been very close to that for the last 15 years.
Information on how many teachers remain in state schools in England each year after they have qualified is published annually and goes as far back as 1996.
Although the number of teachers qualifying has been generally increasing since figures began in 1996, the drop-off rate after this period has remained roughly similar. There have been changes in when the data is collected, so the comparison over time isn't perfect.
The figures also don't tell us anything about what happened to these teachers. We know they weren't working in state schools, but they may have moved into private education or they may have given up the profession altogether. Even more simply it may also mean that the teachers have moved to work in state schools which are outside of England, but still within the UK.
They might also come back to work in state schools in England again later in their career. The figures don't tell us what proportion of teachers do this, but they do tell us that they still count teachers who don't have "continuous service".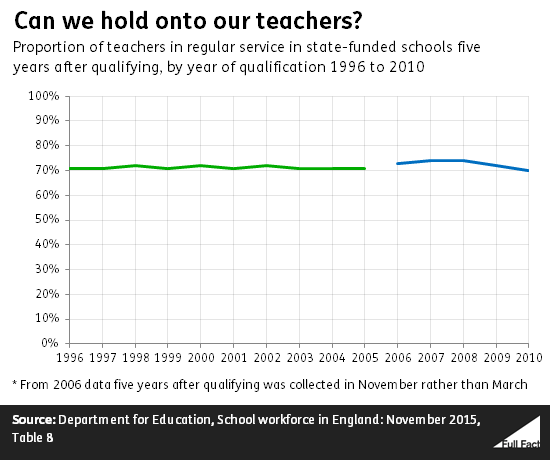 Politicians shouldn't get away with misleading us—can you help?
As the UK's independent factchecking charity, Full Fact relies on our supporters' generosity to hold public figures to account and push for higher standards of debate.
But with a new prime minister on the way, and the possibility of a general election, we need your help more than ever to ensure that everyone can get the facts they need, on the issues that matter most.
---