In brief
Claim
If we Vote Leave… We will trade with Europe without handing over permanent control to people we cannot vote out […] If we Vote Leave… We will control our own economy and trade
Conclusion
We'll still trade with Europe if we leave the EU. That trade will be controlled by, and may be affected by, any agreement we reach with the EU.
If we vote 'remain'... The EU will continue to control… trade
Trade policies for EU members are decided at EU level, so the UK can't negotiate its own trade deals.
Claim 1 of 2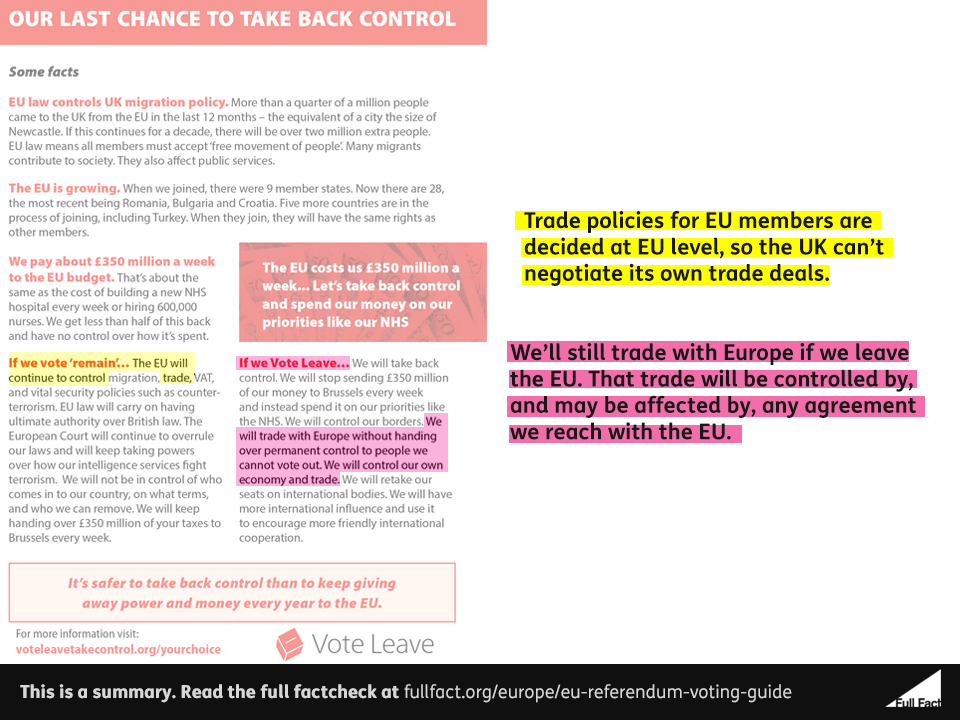 The EU controls British policy on trade. The EU is responsible for negotiating international trade and investment agreements, which means the UK can't negotiate its own while it is in the EU.
Whether the UK would do better pursuing an independent line than as part of a bigger bloc of countries is a matter of judgment, but we would certainly have more control.
Ultimately, if we leave the EU our trade will be controlled by the agreements we have or make with other countries, including our World Trade Organisation membership.
When it comes to our trade with the EU, one option is to leave the single market and seek to negotiate our own free trade deal with the EU.
It's also possible to remain in the EU's single market while having freedom of action on trade. Norway and, to a lesser extent, Switzerland both do this. But they have to still adapt to EU laws, or copy them wholesale. This includes rules guaranteeing the free movement of people.
Without a free trade deal with the EU, there would be some tariffs, or import taxes, on our trade with the EU. The average EU tariff has fallen over the years, but for certain products they are significant.
With Brexit fast approaching, reliable information is crucial.
If you're here, you probably care about honesty. You'd like to see our politicians get their facts straight, back up what they say with evidence, and correct their mistakes. You know that reliable information matters.
There isn't long to go until our scheduled departure from the EU and the House of Commons is divided. We need someone exactly like you to help us call out those who mislead the public—whatever their office, party, or stance on Brexit.
Will you take a stand for honesty in politics?
---