In brief
Claim
The maximum weekly state pension is £141 in the UK, £507 in Germany, £304 in France, and £513 in Spain.
Conclusion
The figures for the UK, Spain and France are in the right ballpark, but differences between their pension systems means it's not a fair comparison. Germany doesn't have a maximum amount for its state pension.
An image claiming that French, German, and Spanish maximum weekly state pensions are between double and triple those in the UK has been shared around 11,000 times on Facebook at the time of writing.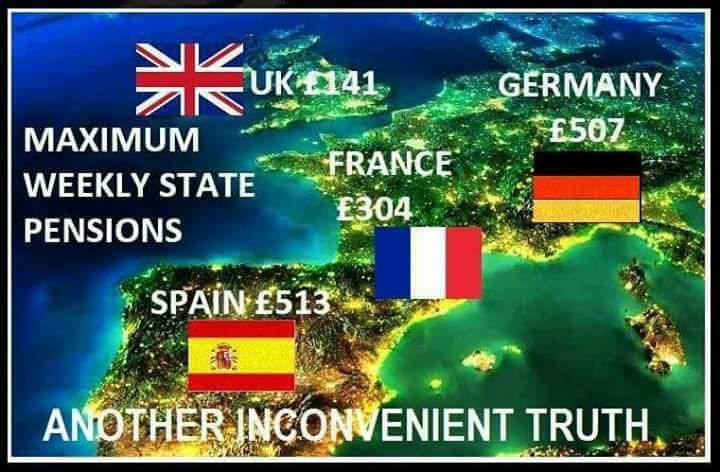 The figures for the UK, Spain and France are in the right ballpark, but differences between their pension systems means it's not a fair comparison. Germany doesn't have a maximum amount for its state pension.
Compared to these other countries, the UK state pension is essentially a flat rate with the exact amount dependent on years of contributions and age. Spanish, German and French pensions are calculated using more complex formulas that depend on previous earnings, so their maximum weekly pensions appear higher as those would be for the countries' higher earners.
Many UK workers pay into additional non-compulsory workplace pensions as well, and those are dependent on earnings.
So what are these pensions worth?
The figures in this viral image have appeared in the media before, albeit in annual terms. We think they originate from a table in a Which? article published in 2013. It's no longer online, but Which? provided us with a copy.
The table cites the Organisation for Economic Co-operation and Development (OECD) and the International Social Security Association (ISSA) as sources. The OECD told us it was not the source of the monetary figures. We've asked the ISSA for more information as we can't find the exact figures the table refers to.
The EU collects data on social security in 32 countries, including information on pension systems and payments. As of January 2018, it reported that Spain had a minimum means-tested pension, which works out at around £155 a week for a single person, while the maximum possible is around £535 a week.
The minimum French pension is £130 a week and the maximum is around £340 a week.
In Germany, most workers' pension insurance payments are compulsory but there is no statutory minimum, maximum or full pension.
The full state pension in the UK is now between £125 and £165 a week, depending on when you were born and your national insurance contributions. This doesn't include any additional state pension, pension credit, or other benefits a pensioner might be eligible for.
A fairer comparison
As well as the pensions schemes discussed above, France, Spain and Germany all have safety net social assistance payments for the elderly, where income and assets are taken into account so poorer pensioners get more. The OECD last collected this information in all four countries for the year 2016.
Using the 2016 exchange rate, this type of payment could top up pensioners' income to around £150 a week in France and Germany, and £80 a week in Spain.
The OECD told us these amounts are comparable to pension credit in the UK, which is an income-related benefit that (in 2016) could top up a single pensioner's weekly income to £155 a week if their state pension and other earnings were below that. For 2015/16, the government estimates that 40% of families eligible for pension credit weren't claiming it, leaving up to £3.3 billion of available pension credit unclaimed.
So in this respect, UK pensioners can expect slightly more money from the government than their European counterparts, although comparing gross figures doesn't take into account different average incomes and cost of living in these four countries.
Where do pensioners' earnings come from?
Comparing each country's social assistance payments with the UK's pension credit, doesn't take into account the range of financial benefits available to UK pensioners.
Winter fuel payments (between £100 and £300), free prescriptions, and free TV licences for the over 75s (worth £150.50 a year) are some of the subsidies offered to pensioners in the UK.
The OECD also looks at how different income sources contribute to the average pensioners' total earnings. Out of the four countries being compared in the viral image, the proportion of pensioners' earnings from publically provided benefits is the smallest in the UK, at just 43%. In France, Germany and Spain, it's closer to 70%.
Occupational transfers, like a private workplace pension, make up 30% of older people's earnings in the UK, compared to 5% in Germany and a negligible amount in Spain and France.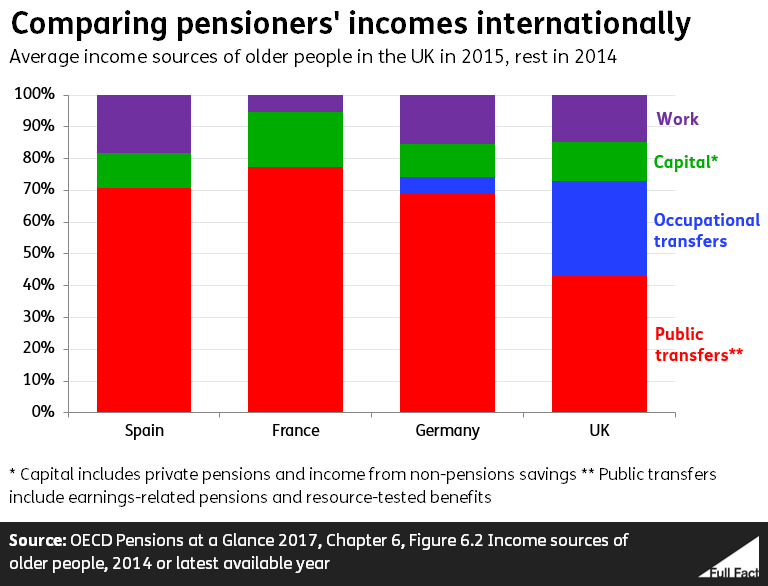 What do other comparisons show?
Another measure gives pension entitlement as a percentage of pre-retirement average earnings, and takes into account income taxes and social security contributions.
In 2017 the OECD said this figure was 82% for Spain, 75% in France, 51% in Germany and 29% for the UK. These figures have also been made into a viral image.
Retirement ages
People are able to retire at 65 in the UK and Spain right now, although that's set to shift to 67 in both countries.
In France the retirement age is 62. The statutory retirement age is in the process of moving from 65 to 67 in Germany.
The integrity of our elections is in danger, and we need your help
You're probably here looking for facts. Thank you for that trust. But with the EU parliament elections on the way and more elections a possibility, we need to act now to make sure our elections are protected, before it's too late.
Could you help protect our elections by becoming a Full Fact donor?
Misinformation isn't new, but advancements in technology mean it can spread at an unprecedented scale. Our dangerously outdated election laws have not kept up with the digital age, putting our next elections at risk of abuse.
Currently, it's possible for a candidate to run a thousand different political ads to win the same seat, promising something different to each group it targets. At the same time, there's no law requiring those who publish online campaigns to disclose who they are or how they are funded. The opportunity for bad actors to manipulate election results is left wide open.
You may already know about our work to make public debate online more honest and transparent. Every day, we call out the most harmful misinformation on social media platforms when and where we see it. But right now, we're urging the government to overhaul our election laws to make sure political campaigning is held to the same level of scrutiny online as it is offline.
This work all depends on the generosity of hundreds of people who all believe that for democracy to work, we need transparency. Our monthly donors help strengthen our voice, and show our politicians that this really matters. Would you consider joining them?
Become a donor today to make sure our elections are protected.
---