Conservative party manifesto launch, factchecked
18 May 2017
"We will introduce the first new Mental Health Bill for 30 years, to put parity of esteem at the heart of treatment and end the stigma of mental illness once and for all."
---
"What we also see is that those people who... have done the right thing and saved through their lives [for adult social care], and are worried that savings will dwindle to nothing, we're quadrupling the threshold at which assets will be protected to that £100,000."
Whether your local authority pays for your social care depends partly on how much money you have. If you have less than

£23,250

you can be paid for (in part or in full). If not, you pay for yourself.

If you are in

residential care

'how much money you have' can include the value of your home.

If you are cared for at home,

it doesn't

.

The Conservatives

propose

that the cut off point should change from £23,250 to £100,000.

They also propose that the value of your home should be counted whether you are still living in it or not.

As the average home in England is worth

£236,000

, that means that people receiving social care at home may find themselves above the means test threshold, when before they might not have been.

Sir Andrew Dilnot, who chaired a commission into adult social care in 2011,

said today

that "what's being done on the means test will help some people though many people, the majority of people who are getting care—not in a residential care home but in their own homes—will find themselves worse off."

People meeting certain criteria

would be

able to

defer payments on their care. This is "essentially a loan given by the local authority secured on the value of the person's property", according to the House of Commons Library.

Councils can

charge

a fee for this, as well as interest on the loan during a person's lifetime. The council's loan can be repaid in

three ways

: the full amount of this loan is paid back by the person or on their behalf, from the sale of the property, or from the value of the person's estate after their death.
---
"It is right that we want to bring net migration to sustainable levels ... because of the impact that uncontrolled migration has on people … it puts pressures on public services."
Immigrants contribute to demand for public services. If foreign-born people in the UK used public services in the same way as similar UK-born people, they

would be expected

to make less use of health and social care, but greater use of education.

Some public services

rely heavily

on immigrant workers. Foreign born people are overrepresented in

social care

and in the

NHS medical workforce

, for example. However, it

is not possible to measure

exactly what impact this has on the availability and cost of these services, because of the very large number of assumptions that would be required.

It is

not possible

to say with certainty what the implications of immigration are for the cost, availability and quality of specific public services. These impacts vary by area and depending on the type of public service.

Most studies suggest the overall impact of immigration on public finances is small. In the long-run the OBR projects higher net migration would reduce pressure on the government debt, since immigrants are more likely to be of working age than the population in general.
---
"It is right that we want to bring net migration to sustainable levels... because of the impact that uncontrolled migration has on people, particularly at the lower end of the income scale, because it can hold down people's wages, it can mean a displacement of jobs…"
Research

does suggest

immigration reduces the wages of lower-paid workers in the UK, and the extent of this varies from study to study.

Immigration only has a small impact on average wages overall.

Immigrant workers in the UK are the most likely to see their wages fall when more new immigrants arrive.

Studies

don't generally find

significant effects on unemployment. The exception they've found is during economic downturns, when UK-born workers are more likely to be affected by immigrants from outside the EU.

We've

summarised

the key studies along with the Migration Observatory at the University of Oxford.
---
"Now, what we see as a result of the changes that have been made, in relation to the basic state pension, [is] an increase of £1,250 per year."
The real increase is

less than half

what Theresa May suggests, as we've

said before

.

In real terms the increase adds up to about £560 extra per year, not £1,250.

Things

cost more

in 2017 than in 2010 and the claim ignores inflation.

If you do ignore inflation, pensioners who get the full basic state pension this year (2017/18)

are getting

£1,250 more in cash terms per year than they did when the Coalition government came to power (2010/11).

This only applies to pensioners receiving the full basic state pension (not everyone does) and on the old system. To get the full state pension on the old system that you

must have

paid National Insurance or received National Insurance Credits for at least 30 years.
---
"I was working on this [immigration target] for six years as Home Secretary and we saw the figures start to come down and then they went up again and now they've started to come down again."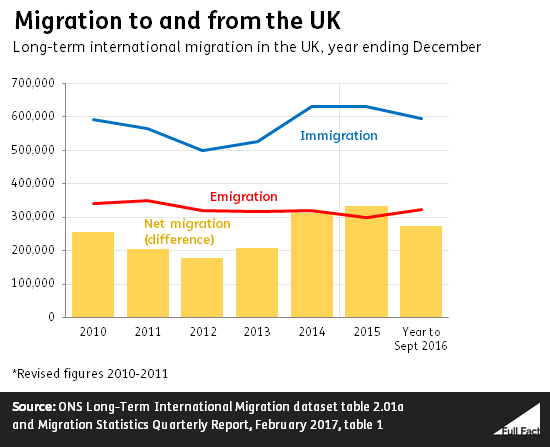 ---
"Since 2010, 2.9 million jobs have been created. We see employment at record levels. Employment [is] higher now than since records began. And unemployment lower than it's been since the mid 1970s."
There are

2.9 million

more people in employment comparing the first three months of this year to the three months before the 2010 election. This isn't the same as

2.9 million jobs created

. Some people could be working in multiple jobs or multiple people could be working in one job.

At the same time, there are also estimated to be around 2.6 million more adults in the UK since that period.

The employment rate accounts for that—it looks at the proportion of the population aged 16-64 in work. It's nearly 75%, which is the highest since comparable records began in 1971.

The unemployment rate—which looks just at people who either have a job or are actively seeking one—is at 4.6% and is the lowest since 1975.
---
"What we want is to have a comprehensive trade agreement with the European Union [...] But you can't be a member of the single market without effectively still being a member of the European Union."
Technically a non-EU member can be in the single market, but that does require following a lot of EU rules.

The

European Economic Area Agreement

makes Norway, Iceland and Liechtenstein

part of the single market

but not members of the EU. The EEA countries also take part in various EU programmes and agencies.

They

keep out of

activities such as the Common Agricultural and Fisheries policies, and can make their own trade agreements.

But this arrangement means accepting rules set by the EU.

A major report for the Norwegian government

has said

that "Norway is in practice bound to adopt EU policies and rules on a broad range of issues without being a member and without voting rights".

In particular, EEA membership includes accepting

free movement of people

(except for

Liechtenstein

) and

paying

—

aspects of EU membership often said to have been rejected in last June's referendum.