In brief
Claim
NHS 111 has directed triple the number of people to GPs and A&E in 2014 compared to 2013.
Conclusion
Referrals have doubled in that time, but so have calls. That's partly due to the service being rolled out fully in 2013.
"Referrals from NHS 111 to A&E increased from just under 400,000 calls in 2013 to over a million in 2014. Similarly, referrals to GPs went up from just under 3 million to 8 million between 2013 and 2014." — BBC News, 4 February 2014
News that the NHS 111 phoneline has been sending triple the number of patients to GPs and to A&E might seem to offer an explanation to recent pressures on the NHS. But it's not true.

The story is based on a press release from the British Medical Association (BMA). The time periods referred to in the release were incorrect, and this
meant the size of the increase was overstated. The BMA have said the error was caused by misleading labelling in the original data published by NHS England. They've also issued a second press release which no longer contains the error.
The correct figures show the number of people directed to GPs and A&E doubled rather than tripled, but even this comparison might be misleading without the full context. The number of calls handled also doubled in the same time period—in part because the 111 service was in the process of being rolled out at the time.
The error
Data published by NHS England on 111 calls includes a table labelled 'YTDdata'. YTD usually stands for 'year to date'. So you could be excused for thinking YTD data for October 2013 would give you information on calls from January to October that year.
But that's not the case. The table actually covered all callers since the service began its pilot in August 2010, right the way up to October 2013. Those calls resulted in about 3 million people being directed to a GP surgery.
These calls were then compared to the equivalent figure for October 2014, which came to 8 million. A jump from 3 million one year to 8 million the next would be almost a tripling when you account for some rounding up and down.
But remember - the 3 million callers up to October 2013 were already counted in the 8 million who called between August 2010 and October 2014.
So the jump was more like 3 million (over a three year period) to 5 million over a one year period.
We've told the BMA we believe they should issue a correction and pass that to the newspapers and other outlets that printed these incorrect figures. They've told us they'd be happy to do so if it's demonstrated that their figures were seriously wrong. We're pursuing this.
As 111 was rolled out across England it referred more people
It's perhaps unsurprising that there was a big jump in referrals from January-October 2013 and the same period in 2014. The 111 phone service was scheduled to replace NHS Direct by April 2013 but problems meant it wasn't fully rolled out until the end of that year.
So the increase takes in three months when the service wasn't supposed to be operating fully (from January to April 2013) and compares it to a period in 2014 when it was.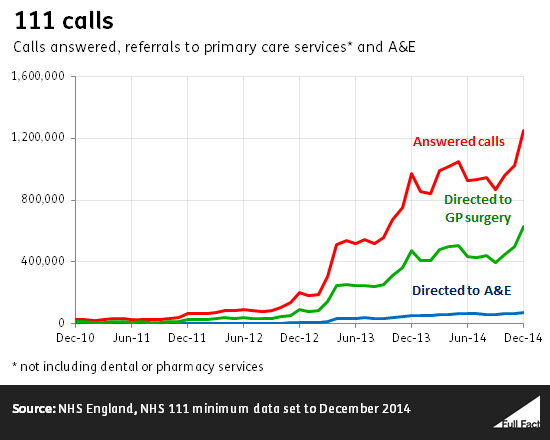 Over 9 million calls were answered in the January-October 2014 period. Of these, around half ended in the patient being directed to a GP surgery or other primary or community service* and 600,000 to A&E.
That's a doubling of the number of calls (up 106%), of referrals to GPs (up 109%) and A&Es (up 114%) compared to the same period of 2013.
So the comparison doesn't suggest that there was a big jump in the rate of referral from 111, just that it handled more people than before in roughly the same way.
*these figures don't include those referred to a pharmacy or dentist.
The integrity of our elections is in danger, and we need your help
You're probably here looking for facts. Thank you for that trust. But with the EU parliament elections on the way and more elections a possibility, we need to act now to make sure our elections are protected, before it's too late.
Could you help protect our elections by becoming a Full Fact donor?
Misinformation isn't new, but advancements in technology mean it can spread at an unprecedented scale. Our dangerously outdated election laws have not kept up with the digital age, putting our next elections at risk of abuse.
Currently, it's possible for a candidate to run a thousand different political ads to win the same seat, promising something different to each group it targets. At the same time, there's no law requiring those who publish online campaigns to disclose who they are or how they are funded. The opportunity for bad actors to manipulate election results is left wide open.
You may already know about our work to make public debate online more honest and transparent. Every day, we call out the most harmful misinformation on social media platforms when and where we see it. But right now, we're urging the government to overhaul our election laws to make sure political campaigning is held to the same level of scrutiny online as it is offline.
This work all depends on the generosity of hundreds of people who all believe that for democracy to work, we need transparency. Our monthly donors help strengthen our voice, and show our politicians that this really matters. Would you consider joining them?
Become a donor today to make sure our elections are protected.
---