David Cameron just told the Today Programme that the government has increased spending on the NHS by £12.7 billion.
NHS spending is up by about £13 billion. Spending went up from £100bn in 2010/11 to a planned £113 billion in 2014/15.
If you factor in inflation — as the spending commitment made in the Coalition Agreement did — the rise is £5.5 billion in 2014/15 prices.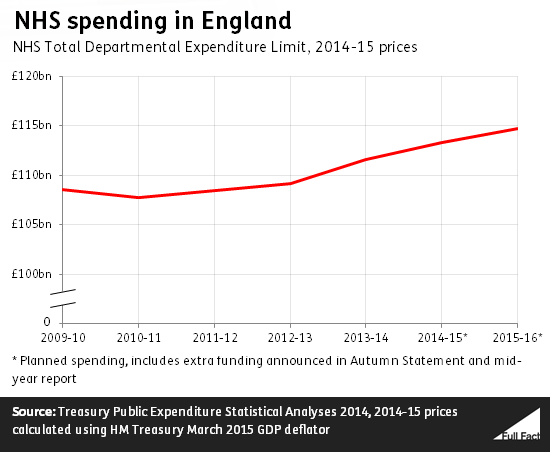 These figures apply to NHS England only - spending for Scotland and Wales is devolved.
Can you help protect this election from the influence of bad information? Support Full Fact
This election, clear, accurate facts won't always be a guarantee. False and harmful claims are spread every day by our public figures and media. Intentional or not, they have the power to shape the choices we make. We all deserve better than that.
That's why we're fighting to keep this election more honest and accountable. And we can't do it without you. In a fast-paced campaign, our supporters mean we can hold all candidates to the same three principles: get your facts right, back them up with evidence, and correct your mistakes.
Just a small monthly donation keeps us scrutinising the most harmful false claims around the clock, and challenging the people who make them.
If you, like us, don't want your vote to be influenced by bad information, can you help out?
---