"This term 'winter crisis', if we go back in time to when we had a Labour government, I don't remember that term ever showing up. It's something that in the last few years, every year, someone says winter crisis, winter crisis."

BBC Question Time audience member, 28 September 2017
The term "winter crisis" does seem to have become more common in the past few years.
A crude search for articles containing both "NHS" and "winter crisis" in a newspaper database since 1993 shows the term was relatively common in newspapers in the UK in the first five or six years of the Labour government (1997-2002). There was a big spike in the year 2000, the year of a serious flu outbreak.
"Winter crisis" was heard of very little after 2002, until it re-emerged as a common talking point under the Coalition and then Conservative governments from 2013 onwards.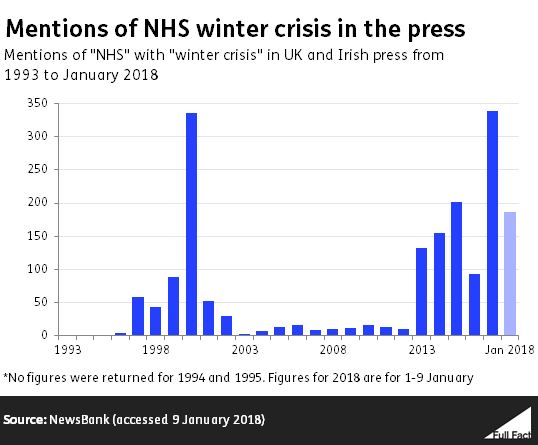 Update 9 January 2018
We updated this article to include the complete figures for 2017.
This factcheck is part of a roundup of BBC Question Time. Read the roundup.
With Brexit fast approaching, reliable information is crucial.
If you're here, you probably care about honesty. You'd like to see our politicians get their facts straight, back up what they say with evidence, and correct their mistakes. You know that reliable information matters.
There isn't long to go until our scheduled departure from the EU and the House of Commons is divided. We need someone exactly like you to help us call out those who mislead the public—whatever their office, party, or stance on Brexit.
Will you take a stand for honesty in politics?
---