BBC Question Time: Recap and Factcheck
14 September 2018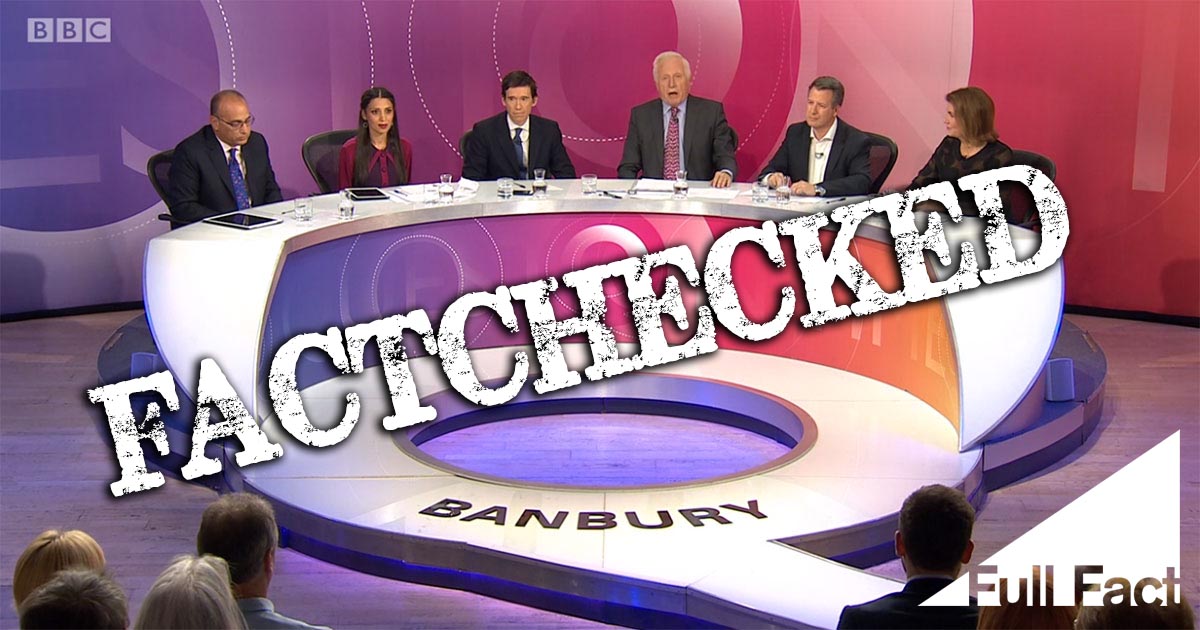 To the relief of an argument-starved nation, Question Time returned last night after the summer break, and the first stop on the long Dimbleby Farewell Tour was the Oxfordshire market town of Banbury. As always, we were live-tweeting the show—here's our roundup of some of the main claims, and how well they stood up.
Topics covered included the Salisbury poisoning, Brexit, some more Brexit, the Archbishop of Canterbury, prisons and Serena Williams.
On the panel this week: from the Conservative party, prisons minister Rory Stewart; from the Labour party, former shadow chancellor (and prominent Corbyn-sceptic) Chris Leslie. Think tank director Faiza Shaheen is not currently a Labour MP, but she is their prospective parliamentary candidate in Chingford & Woodford Green. Also on: presenter and columnist Julia Hartley-Brewer, plus businessman and former dragon Theo Paphitis.
Obscure fact about Banbury tangentially related to politics: nineteenth century prime minister William Gladstone used to sing "Ride a Cock-Horse to Banbury Cross" to his children every day, letting them ride his foot like a horse while feeding them spoonfuls of black coffee.
Stay informed
Be first in line for the facts – get our free weekly email
Question 1: Salisbury and Russia
The first question was whether any of the panel had been to Salisbury and if they'd "recommend it for a day trip". That's a reference to the interview given by the suspects in the Skripal poisoning case to Russian state broadcaster RT, in which they claimed they were simply tourists who visited Salisbury twice in two days because they wanted to see Salisbury Cathedral, on the grounds that it's "known for its 123m-tall spire". (It is true that the spire is that height.)
There weren't many checkable factual claims in this bit of the show: all the panellists broadly agreed that the suspects' story was implausible, and that Russia should suffer some form of consequences.
Julia Hartley-Brewer claimed that one of the reasons other countries were unwilling to stand up to Russia is their energy dependence, saying that "30% I think of [German] gas" comes from Russia.
The latest official figures show that just under 40% of Germany's total gas supplies were imported from Russia and the Commonwealth of Independent States (a group of former-USSR countries) in 2014.
Between 50% and 75% of Germany's natural gas imports from outside of the EU came from Russia in 2017. Around 13% of electricity production in Germany came from natural gas in 2017. It's been reported that natural gas makes up around 20% of all Germany's energy consumption, according to commodity broker Marex Spectron.
Meanwhile Theo Paphitis called for financial penalties on Russian assets in the UK, claiming that we "allow money to come in and out of the UK, more than any other financial centre in the world".
A committee of MPs heard evidence that around £100 billion of Russian money had come through the UK in the last 20 years, most of which was described as "legitimate" and not linked to "corruption and crime". Though the committee also said that "Attempting to quantify the extent of the problem remains challenging, because it is difficult to establish for certain that individuals of concern obtained some or all their wealth through corrupt practices."
Questions 2 & 3: Brexit
The next two questions were, in shock news, both about Brexit. The first was "Does the Tory party need to throw out Theresa May to save Brexit?". The second was "Should the public have a say on the final Brexit options before March 2019?"
As is often the case with Question Time debates about Brexit, there wasn't a lot in the way of direct factual claims we could check. There were a couple that caught our eye, though.
Chris Leslie said: "Now we hear a Conservative government Chancellor...saying that if we have no deal in 15 years time we will see £80 billion less revenue coming in for the exchequer."
It's correct that the Chancellor said that a no-deal Brexit would lead to the UK potentially having to borrow £80 billion a year more by 2033/34 than under the status quo because the economy is expected to grow more slowly in this scenario—though the economy isn't expected to become smaller than it is now.
The analysis assumes that the level of spending and taxation remains the same and we are trading with the EU under World Trade Organisation rules.
The figure comes from civil service analysis published in January 2018, which doesn't model the public finance impact of the government's preferred deal set out at Chequers. 
The Chancellor also said the analysis "did not estimate the path the economy and different sectors might take under no deal and the potential for short-term disruption."
Chris Leslie also said "The Government have recently contracted for hundreds of portable lavatories to be placed all along the M20 in the case of a no-deal Brexit."
This was reported by various news outlets, though subsequently one of the agencies responsible, Highways England, said: "There is no secret plan to put toilets across the M20. It is standard procedure to put toilets down in the event of Operation Stack, as we did in 2015. There are currently no toilets out there and we have no plans to put any out." Kent County Council has also previously confirmed it provides temporary welfare facilities when Operation Stack is in place.
Operation Stack is a procedure where lorries are allowed to park on sections of the M20 when there are disruptions to travel to Europe out of the Kent ports or Eurotunnel.
It was implemented on average more than twice a year between 1997 and 2015, on each occasion for an average of 5-6 days.
A bit later, Faiza Shaheen claimed that "The Chequers deal...doesn't cover 80% of the economy—services."
It's correct that 80% of the UK economy is service based (though services make up 40% of our exports to the EU and 24% of our imports from the EU) in 2017.
However, it's not quite right to say that the Chequers deal "doesn't cover" services at all. The Chequers deal, fleshed out in an official government white paper, says the government is "proposing new arrangements for services and digital that would provide regulatory flexibility... This means that the UK and the EU will not have current levels of access to each other's markets."
Ms Shaheen later told us that her comment referred to her view that the Chequers deal "only skirts over services" and acknowledges future limits to the trade of financial services. (She has said she will provide us with more detail on exactly what she meant.)
Julia Hartley-Brewer and David Dimbleby also got into an argument about whether it was a misquote of Nigel Farage to claim that he'd said before the vote that, if Leave lost, they'd "go on fighting" (Hartley-Brewer claimed that what he actually said was that it "would not settle the matter", which she said was "not the same thing").
What was the actual quote? In the run up to the EU referendum in 2016, Farage was quoted as saying that "In a 52-48 referendum this would be unfinished business by a long way. If the remain campaign win two-thirds to one-third that ends it." (During interviews earlier this year Mr Farage said that he might be starting to think the UK should have a second referendum as he felt the proportion voting to leave would be larger than in 2016. He also said he feared we may have to have a second referendum if Parliament rejects the final deal with the EU.)
Question 4: The Archbishop of Canterbury and zero hour contracts
The fourth question was "As head of the Church of England, should the Archbishop of Canterbury be getting involved in politics?", prompted (as David Dimbleby explained) by a speech Justin Welby had given in which "he said the gig economy was the reincarnation of an ancient evil", and criticised zero hours contracts.
Rory Stewart said that while Welby was "fully entitled" to hold those views, he disagreed with him on the gig economy and zero-hours contracts, saying: "Matthew Taylor wrote a very good report on this. He discovered that 58% of people working on zero-hours contracts do not want more hours, it suits their lives, they have flexible lives."
He was referring to the Taylor Review into modern working practices led by Matthew Taylor, Chief Executive of the Royal Society of Arts, in 2017. The report said that 68% of people in the UK on zero hours contracts didn't want more hours, rather than 58% as Mr Stewart claimed. But it's a little bit more complicated than that.
The figures in the report were from the Labour Force Survey published by the Office for National Statistics (ONS) in March 2017. It found that 68% of people on zero hours contracts between October and December 2016 who specified a view said they didn't want more hours. Out of everyone on the contracts (including those who didn't say what they wanted), 57% didn't want more hours.
However, newer figures are available from the ONS covering the period from April to June 2018. They show that 72% of people on a zero hours contract expressing a preference said they didn't want more hours, or 63% of everyone on the contracts (including the unknowns).
We've written a more in-depth piece about this here.
Question 5: Prisons
The fifth question was simply "Have we lost control of our prisons?"
There was a lot of conversation about Rory Stewart's pledge (first made on August 17) to resign as prisons minister if in 12 months he hadn't turned violence and drugs statistics around in 10 target prisons.
David Dimbleby pushed him on what exactly that meant: "How will you measure whether you have been successful and whether you should resign or carry on?"
The minister replied: "The key indicator is going to be violence, judge me on violence... The ten prisons that I have selected, which range from Nottingham and Wormwood Scrubs, through to prisons like Leeds, have violence statistics that you can see now in August. My attempt over the next 12 months is to turn round the situation where, for the last five years, violence has been rising every quarter and to begin to bring that violence down through the three measures I put forward. If I do not succeed in doing that, I will resign."
The ten prisons in question are: Hull, Humber, Leeds, Lindholme, Moorland, Wealstun, Nottingham, Ranby, Isis and Wormwood Scrubs.
Violence is an issue at all 10 prisons. Four of them are rated as having "serious concerns" over the levels of assaults on staff, and two over the number of prisoner-on-prisoner assaults.
There's no clear correlation between prisons' performance ratings and whether they're publicly-run or contracted out to the private sector. Contracted prisons are among the highest rated prisons (Dovegate in Staffordshire and Ashfield near Bristol) and among the worst (Peterborough male prison and, until it was recently taken back by the government, Birmingham).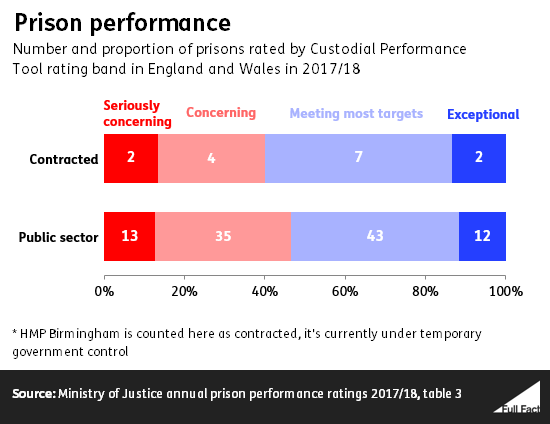 But there is a clear trend—prison performance overall is getting worse (even leaving aside difficulties in comparing ratings over time).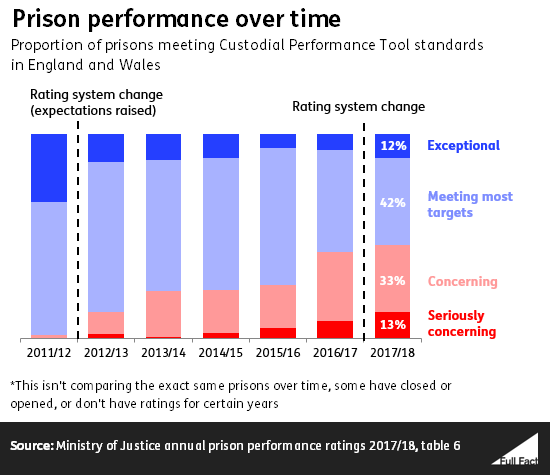 We recently took a closer look at the figures on rising levels of assualts, self-harm and positive drug tests in prisons.
Question 6: Serena Williams
The rarely-seen sixth question was "Serena Williams: was the umpire sexist, or was she being hysterical?" Faiza Shaheen said that women (particularly women of colour) often face being treated differently; Julia Hartley-Brewer said that Williams was a "rude bully" and a "sore loser".
None of the men were allowed to answer because at that point the show finished.