BBC Question Time: Recap and Factcheck
30 November 2018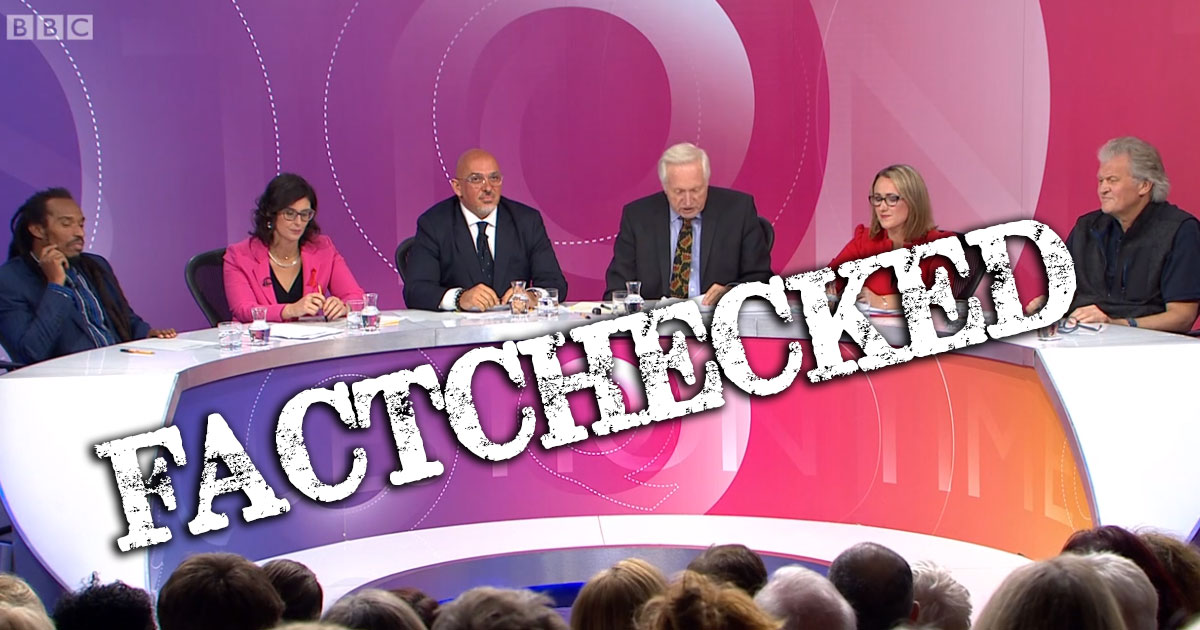 This week's Question Time came from Penzance in Cornwall.
The topics covered this week included the Brexit withdrawal agreement, the upcoming Commons vote on Brexit, the Brexit TV debate, and young people's mental health.
On the panel were Conservative education minister, Nadhim Zahawi, Labour's shadow business secretary, Rebecca Long-Bailey, Lib Dem MP Layla Moran, poet and Peaky Blinders actor Benjamin Zephaniah, and chairman of the Wetherspoon pub chain, Tim Martin.
Your obscure fact about Penzance not even vaguely related to politics is that the town was the birthplace of Sir Humphry Davy, noted chemist and inventor of the miner's safety lamp.
Question 1: Brexit
The show started off with a literal pow, in the form of the latest offering from David Dimbleby's farewell tour tie collection.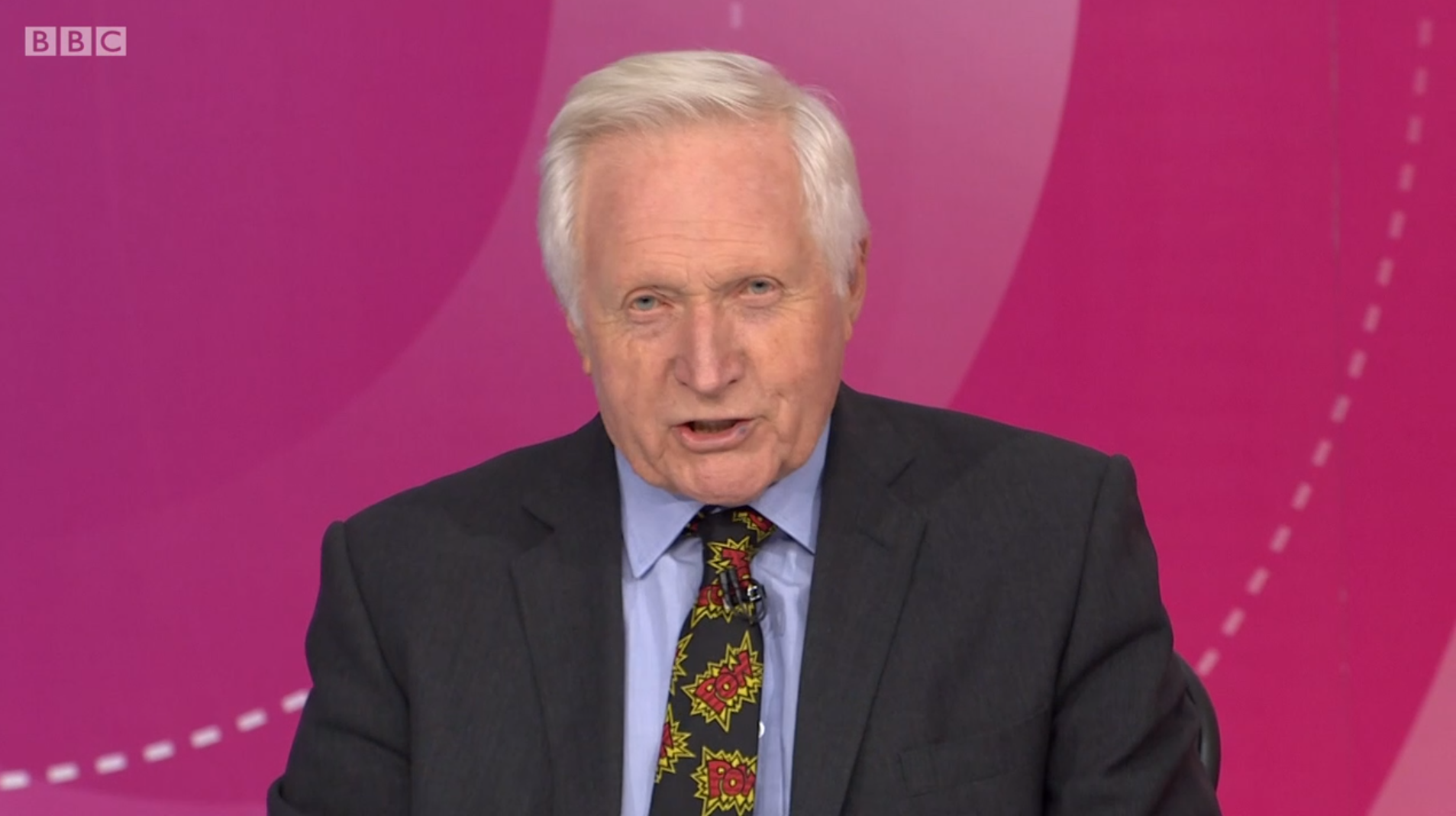 The first question was: "If 'all forms of Brexit will leave the UK worse off', why are we carrying on with it?"
The panellists had a long, wide-ranging discussion about Brexit and whether we'd be better or worse off.
Tim Martin said: "On the 29th of March, if we have no deal... you will immediately be better off by £39 billion."
"No deal" occurs if we fail to agree a withdrawal deal with the EU before we officially leave on 29 March next year. The UK's commitment to paying a "divorce bill" (which would cost an estimated £39 billion) is set out in the draft withdrawal agreement.
The "divorce bill" will pay for outstanding budget contributions other and liabilities, like pension contributions, that the UK owes the EU.
But in the case of "no deal", there would be no withdrawal agreement between the UK and EU and so no commitment to paying the divorce bill. But it's still unclear whether we would have to pay the divorce bill in this scenario—reportedly government ministers have disagreed on this. Theresa May herself has suggested circumstances regarding payment of the divorce bill might change in the case of no deal.
Even if we didn't pay a penny, we would not "immediately be better off" to the tune of £39 billion. The divorce bill is set to be paid over a number of years, and the economic impact of a no deal Brexit is expected to cost significantly more than £39 billion.
Layla Moran, who advocates for a second referendum, said the government and independent researchers had said we were going to be worse off. We've talked more about what economic models can and can't tell us here.
When David Dimbleby put the question to Benjamin Zephaniah, the poet said: "Look, it doesn't matter if we have Brexit, Remain or Leave, however you look at it, trust me, the workers will get screwed anyway."
Question 2: The Brexit vote
The next question an audience member posed to the panel was: "If the Brexit vote in the Commons is defeated, what's next?"
He was referring to the upcoming parliamentary vote on 11 December when MPs will vote on whether to accept the withdrawal agreement negotiated by the UK and EU.
Nadhim Zahawi said if the withdrawal agreement was voted down in parliament there'd be uncertainty and that "we end up at square one again, that's not where I want my country to be."
Rebecca Long-Bailey called the deal shambolic, and perhaps unsurprisingly said she would want a general election if the deal wasn't to pass.
She said "We've got the backstop situation that locks us into a permanent customs union pretty much without any say, without any legal teeth to be able to argue about future trade deals."
The draft withdrawal agreement makes provisions for a transition period after Brexit during which we can negotiate a future trade deal with the EU. If we can't agree on a trade deal, the withdrawal agreement also sets out rules for EU-UK trade after the transition period, to ensure there is no hard border between Northern Ireland and Ireland.
This is the backstop Ms Long-Bailey was referring to and we've written more about this here.
Under the backstop the UK would be in a "single customs territory" with the EU—this has been described as similar to a customs union.
We can't leave these arrangements of our own accord—it needs to be under terms agreed between the UK and the EU.  
If the backstop arrangements kick in, the UK can still try to negotiate a future trade deal with the EU and other countries. Although the scope of the trade deals we strike with other countries in the future will depend largely on what any deal with the EU looks like.  
We've written more about the backstop here and the entire Brexit process here.  
Tim Martin said he didn't know what would happen, but that he wanted Boris Johnson as PM.
Question 3: Labour and Remain
The next question from an audience member was: "Is it not time for Labour to take up opposition and represent the 48%, and growing, who wish to remain?"
There were also some questions from the audience about a second referendum and the potential for a new Prime Minister.
Nadhim Zahawi said: "The largest survey that was done, I think last week by Channel 4, 26,000 people, you had the BBC's guru on this—John Curtice—who said actually the people who voted for Brexit haven't changed their mind, people who voted for Remain haven't changed their mind. The new voters are actually voting more for Remain than for Brexit."
In early November, Channel 4 broadcast a programme called "Brexit: What The Nation Really Thinks", which analysed the results of a survey of 20,000 people between 20 October and 2 November by polling company Survation. This was before the UK and EU agreed a draft withdrawal agreement in mid-November, so we don't know how this might have affected people's views.
One of the questions the poll asked was the same as in the EU referendum:
Imagine there was a referendum tomorrow with the question "Should the United Kingdom remain a member of the European Union or leave the European Union?" How would you vote?
54% said they would vote Remain, while 46% said they would vote Leave. These findings echo other recent polls.
In an article about the Survation poll, Professor John Curtice (a political scientist at Strathclyde University and the National Centre for Social Research) emphasised that relatively few voters had switched from Leave to Remain, or vice versa. "While 10% of those who voted Leave in 2016 said that they would now vote Remain, this movement was almost counterbalanced by the 7% of Remain voters who indicated that they would now vote Leave."
The biggest source of swing from Leave to Remain, Professor Curtice says, came from people who did not vote in 2016 but now said they would vote. He says 41% of this group say they would vote Remain while 20% say they would vote Leave. People who voted Leave in 2016 are also much more likely to say they would not vote again in another referendum than remain voters.
Professor Curtice concluded, "the central message of the poll is that, if there were to be another referendum, much would depend on who did and who did not make it to the polls."
Question 4: Brexit and fishing
An audience member asked the panel: "Will Brexit be a good deal for UK fisherman or will they be sold down the river again?"
Rebecca Long-Bailey said coastal communities had been promised a better deal, and claimed: "The fishing industry receives a lot of funding in terms of subsidies from the European Union."
We're looking into this, and hopefully we'll have something for you soon.

After that the Labour and Conservative MPs clashed on Labour's stance on the Common Fisheries Policy, and Benjamin Zephaniah said he believed all fish should be in the sea. We can't say much on that, so onto the next question.
Question 5: The Brexit debate
A member of the audience asked "Will the debate between Theresa May and Jeremy Corbyn be a waste of prime time TV?"
That's referring to the TV debate reportedly scheduled for Sunday 9 December—before parliament votes on whether to accept the withdrawal deal. Theresa May has agreed to take part in a debate on the BBC, while Jeremy Corbyn has said that having the debate on ITV seemed sensible "because it's not inconveniencing people who may wish to watch other things", presumably referring to the I'm a Celebrity final.
Whatever channel it's on, we'll (of course) be factchecking it live.
Benjamin Zephaniah said the debate was "just a bit of fun", Rebecca Long-Bailey said Mrs May needed to be held to account, Nadhim Zahawi said the debate would get more viewers if it was on the BBC after Strictly Come Dancing, and Tim Martin, again, advocated for Boris Johnson.
"You can't end every answer like that!" said David Dimbleby.
Question 6: Young people's mental health
The next question was "What should be done to tackle the crisis of young people's emotional and mental health?"
For context, David Dimbleby said: "According to the NHS, one in eight children over the age of five now has a mental health disorder." That's correct looking at 5-19 year-olds in England, and it includes emotional, behavioural, and hyperactivity conditions, as well as conditions like autism and eating disorders. Historic data for 5-15 year-olds shows the prevalence of mental health disorders has slightly increased over the past 20 years.  
Nadhim Zahawi said that "we're investing 12 billion a year in mental health". That's correct looking at the most recent year: NHS England spent £12 billion on mental health services in 2017/18. (We tweeted the out-of-date planned figure during the show last night—that was £11.9 billion in 2017/18). That's an increase of 5% in real terms (or accounting for how prices have changed in that time) since 2015/16, the earliest comparable figures we have available.
Around £10 billion was spent by clinical commissioning groups (CCGs), that's groups of GPs, other doctors and nurses who buy health services for their local area. The rest was spent on specialised services by NHS England—which are often services that there is less widespread demand for.
Then he said: "1.9 million more children go to good or outstanding schools because of the reforms that we have brought in."
It's technically correct that there were 1.9 million children attending state-funded schools rated "good" or "outstanding" in England between August 2010 and 2017, but this "does not give a full picture", as stressed by the UK Statistics Authority. We've recently stated that the government should stop using this figure too.
There is uncertainty around the number for two main reasons. First, there are more students in general, so it's better to look at the percentage of pupils in good or outstanding schools, which increased from 66% in 2010 to 88% in 2017.
A second cause for uncertainty is inspection practices. According to the Education Policy Institute, 579,000 pupils attend schools rated good or outstanding that haven't been inspected since at least 2010", so we can't know for sure if they still deserve the same rating. Additionally, changes to ratings and expected standards in 2012 may mean inspectors are more likely to award a rating of "good".
Rebecca Long-Bailey said that "Since 2010 we've seen £600 million cut from our mental health budget". We're looking into this one too.

Ms Long-Bailey also went on to say that since 2010 "we've lost 5,000 mental health nurses". This is correct looking at the number of full-time equivalent nurses working specifically in mental health in the NHS in England—their number decreased by around 4,800 between August 2010 and August 2018.
Counting the number of mental health staff can be complicated though. As we've written about before there are lots of different ways to define mental health staff. For example, one definition that NHS Digital use is slightly wider and includes nurses working in learning disabilities as well as mental health. By this measure the number of nurses has decreased by 6,800 between August 2010 and 2018.
And with that, David Dimbleby brought to an end his antepenultimate show (he's got two left). See you next week!