"All the evidence blows grammar schools out the water. Kent still operate a selective system and all the evidence shows that the educational outcomes are worse for poorer students than they are in somewhere like London where you don't have endemic use of selection."
Owen Jones, BBC Today Programme, 11 November 2013
"Grammar schools do not aid social mobility. Stop this deluded thinking."
The Guardian, 11 November 2013
"Are grammar schools the answer to elitism?" asked Radio 4's Today Programme this morning, signalling the latest episode in a long-standing debate over the merits of selective education.
Former Prime Minister John Major set the scene over the weekend when he claimed that the "upper echelons of power" continue to be dominated by a middle-class elite. 
There are 164 grammar schools in England, a far cry from their peak: in 1964 there were as many as 1,300 across the country, accounting at the time for one in four state secondary pupils. Back in 1947, almost two in five attended a grammar school.
The few that remain are scattered across the country, although the majority are concentrated in Kent (32), Lincolnshire (15) and Buckinghamshire (13). As such, studies into whether grammar schools are aiding or hindering 'social mobility' focus on examining how these areas perform and comparing them to everywhere else.
To gauge 'performance', you need something to measure. As we've found before, there are two often-used measures for social mobility in the education system, based on assessing schools' admissions of pupils from deprived backgrounds and how those pupils perform in exams.
Pupils claiming free school meals is one measure - the same indicator as the Department for Education (DfE) uses for allocating the Pupil Premium. The other is the 'Income Deprivation Affecting Children Index', which combines different measures of deprivation in an area, including the proportion of households receiving benefits and the number of homes without central heating.
Grammar schools and admissions
The Sutton Trust, which analyses trends in social mobility, has conducted a number of research projects using DfE data. Its most recent study looks at, among other things, what proportion of grammar schools' intake consists of pupils from deprived backgrounds, and how this compares to other state secondary schools.
Its researchers revealed that less than 3% of grammar schools entrants are entitled to free school meals, compared to 18% on average in other schools in areas where grammar schools exist (better than a crude comparison to the national average, as local variations in income and deprivation need to be factored in). Four times as many entrants to grammar schools came from independent schools.
The Institute for Fiscal Studies, which collaborated with the Sutton Trust, examined whether this might be due to the likelihood of children enrolling in the first place. Based on figures from the National Pupil Database, the IFS noted that:
"there is a substantial difference in the likelihood of a child eligible for free school meals enrolling in a grammar school as compared with a similar child who is not eligible for FSM"
It could, of course, simply be the case that pupils claiming free school meals have lower primary school attainment levels anyway, which might explain some of the difference.
However, the IFS accounted for this factor, finding that even among pupils with similar prior attainment, the likelihood of a child enrolling was less for a grammar school. In addition, grammar school enrollment was less likely if a pupil's primary school had more pupils from deprived backgrounds, and if their primary school had more high achievers at Key Stage 2 English and Maths.
Grammar schools and attainment
The picture might look somewhat different if grammar-school-educated pupils from deprived backgrounds did better in exams than their comprehensive cousins, notwithstanding their relative scarcity in admissions.
Not so, according to the journalist Chris Cook, then at the FT, who also used figures from the National Pupil Database to investigate the differences in attainment.
Assuming all the areas that still had grammar schools were put together into one example 'region', the research went on to compare how the pupils performed at GCSE level, compared to how they 'should' perform given the area they're schooled in.
According to the analysis, children from deprived backgrounds performed worse than their counterparts in areas without selection.
His own graph, below, demonstrates the effect. Performance is measured using 'FT points', where pupils are scored out of 40 for their five best GCSEs. If everyone were to perform the same, regardless of deprivation background, the lines would be horizontal. Instead, they slope as we might expect, favouring the less deprived, and moreso for the areas that retain selection.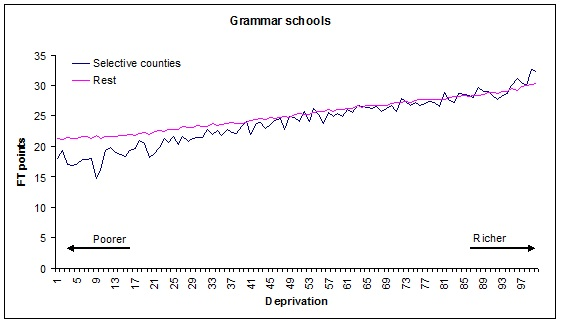 ---