BBC Question Time: factchecked
9 February 2018
Question Time was in Darlington this week. The panelists were: Energy Minister Claire Perry, Shadow Foreign Secretary Emily Thornberry, journalist for the Times Rachel Sylvester, broadcaster Terry Christian and Co-Chair of campaigning organisation Leave Means Leave Richard Tice. We factchecked claims on: the pay of people who work in social care and childcare, the gender pay gap, unemployment, and the value of the pound.
"So looking after your mum, give it to social care workers and they are usually women. We pay them as little amount of money as we possibly can within the law. Or our precious four-year-olds. They are looked after again largely by women and largely paid the least amount."

Emily Thornberry, BBC Question Time 8 February 2018
82% of people working in caring personal services are women. That's out of 1.3 million people, and more than half of them are care workers and home carers.
94% of people working in childcare and related personal services are women. That's out of 851,000 people from nursery nurses to teaching assistants.
The Office for National Statistics publishes a detailed breakdown of employment by occupation. From that you'd also find there are 11,000 florists, 17,000 sports players, and 43,000 clergy in the UK, as of the second quarter of 2018.
See how you fit in with the ONS's gender pay gap tool that shows how many men and women work in different jobs and how much men and women earn.
These caring roles are relatively low paid occupations. 12% of social care workers are paid the minimum wage as well as 16% of childcare workers, taking over 24s in 2017, according to the Low Pay Commission. That compares to 6.4% for all workers over 24 years old.
It's not all minimum wage work. The 'caring personal service occupations', which include childcare and social care, pay on average £9.11 an hour (slightly less for women, 20p more for men). Half of people in those jobs earn less than that, and half the people earn more. The best paid tenth of them earn about £12.99 an hour.
The least well paid group is the 'elementary administration and service occupations', paid on average £8.10 an hour (£8.58 for men, £7.85 for women). These figures are for all employees including both full-time and part-time workers.
The ONS points out that the kinds of jobs men and women are more likely to do is part of what explains the overall gender pay gap: "a higher proportion of women work in occupations such as administration and caring, which tend to offer lower salaries."
Many people care for someone else without being paid for it. 3.3 million females and 2.4 million males in England and Wales reported being unpaid carers in the Census in 2011. These unpaid carers are not included in the figures above.
---
"The gender pay gap is at its lowest level."

Claire Perry, 8 February 2018
This is broadly correct, comparing the median hourly earnings of women and men in the UK, excluding overtime pay. The gap has been falling almost consistently over time, although there was a slight increase in the provisional data for 2017.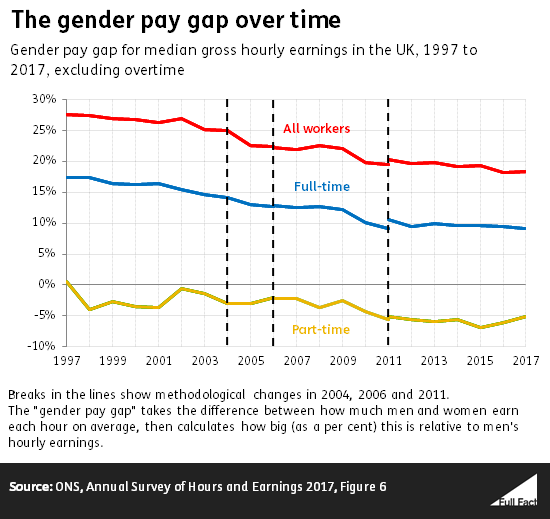 These figures don't show differences in rates of pay for comparable jobs, as they are affected by factors such as the proportion of men and women in different occupations. For example, a higher proportion of women work in occupations such as administration and caring, which tend to offer lower salaries.
The Office for National Statistics says there isn't a single number that adequately deals with all the issues surrounding differences between women and men's pay, but they prefer to look at this measure of median hourly earnings.
We looked at this issue in more depth last year.
---
"We've got 400,000 more people employed in this country [since the EU referendum]. We've got record low levels of unemployment."

Richard Tice, 8 February 2018
This is correct on employment, in fact the 400,000 figure quoted is lower than the figures show. Unemployment is at historically low levels, but is not the lowest on record. Both measures have been following a fairly consistent trend since 2012.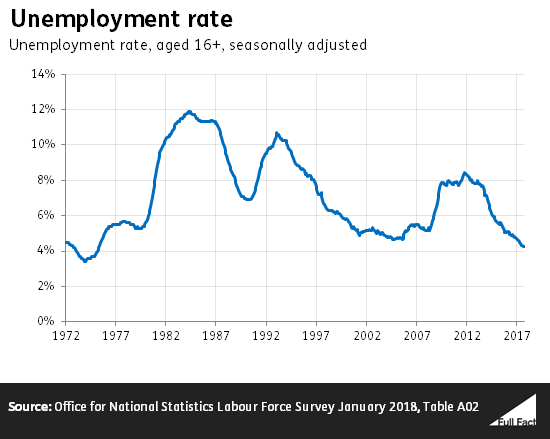 There are an estimated 450,000 more people in employment now compared to the three months from May to July 2016—around the time of the EU referendum. The figure is slightly higher or lower depending on when you start counting from. It was about 31.8 million then, and as of November last year it was 32.2 million.
Similarly, 75.3% of people aged 16-64 are employed, which is the joint highest employment rate since records from 1971 began. That's up from 74.5% from May to July 2016.
Just over 1.4 million people are unemployed, according to estimates. That's down from around 1.6 million around the time of the referendum. The current unemployment rate is 4.3%, down from 4.9% at the time of the referendum and the joint lowest since 1975.
This is very low unemployment by recent standards, but the rate was lower in the mid-20th century.
The unemployment rate counts people who aren't in work but are actively seeking it. What's more difficult to count is how many people aren't in the kind of work they want to be. While employment levels are high, the experience of being employed is changing.
---
"So far the pound has tanked by 15%... We've got the lowest growth in the EU."

Terry Christian, 8 February 2018
The UK had the third-slowest GDP growth rate in the EU in July to September 2017, compared to the same period in 2016. The Pound has fallen by 12% against the Euro and 5% against the US Dollar since just before the EU referendum in 2016.
The UK's economic growth is not quite the slowest in Europe. The UK's gross domestic product (GDP) has grown by 1.5%, comparing July-September 2017 to the same period the year before. That's slower than every EU country except Denmark and Greece (although there's no data yet for Ireland and Luxembourg), and the average rate among EU members is 2.6%.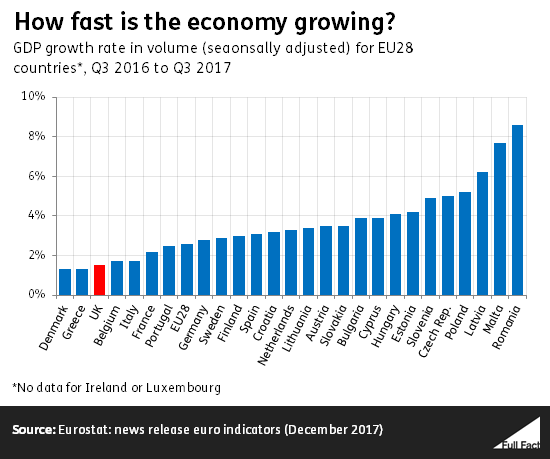 The UK's growth was roughly the joint lowest in Europe earlier last year, comparing economies' growth up to June 2017.
How much the Pound has fallen by depends on which currency you're comparing it to. The pound has fallen 12% against the Euro compared to what it was just before the EU referendum and about 5% against the US Dollar, based on monthly averages.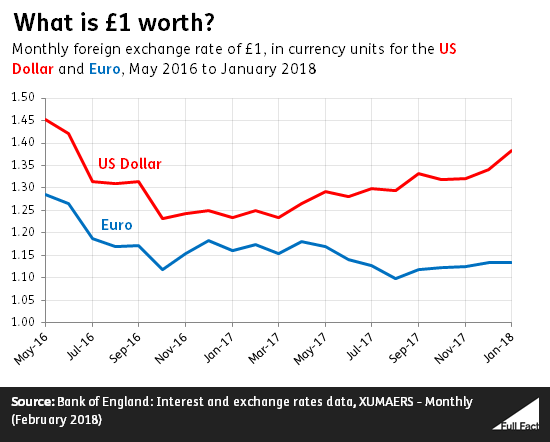 But, the IMF had said back in February 2016 that the pound was "moderately overvalued in 2015" by 5 to 15 percent. Other groups including the Bank of England and the IMF agreed that the pound was overvalued. This means the exchange rate could have been artificially high before the EU referendum .
A fall in the pound makes things bought from abroad more expensive and makes it cheaper for people abroad to buy things from the UK, whether that's UK companies, UK footballers, or UK exports.