BBC Question Time: factchecked
16 February 2018
"Under Conservative-led governments there are 1.9 million more children studying in good or outstanding schools."

Theresa Villiers, 15 February 2018
This is correct. The improvement, since 2010, has been influenced by Ofsted's changing inspection practices.
Schools aren't all consistently improving—Ofsted has recently pointed to a "small but persistent group of underperforming schools that have not improved enough over very many years".
1.9 million more pupils in schools rated good or outstanding
There were 1.9 million more pupils in schools in England rated good or outstanding as of August 2017 compared to August 2010. These are the two highest ratings schools can be given from Ofsted, schools that don't meet this standard are rated as requiring improvement or inadequate.
The total number of pupils has increased every year since 2009, so we need to look at the proportion of pupils across England who are in these schools too. This has also increased from 66% of pupils in August 2010 to 88% in August 2017.
The proportions are similar looking at school numbers: 68% of schools were judged good or outstanding in 2010, compared to 89% in 2017.
Most of the change comes from an increasing proportion of pupils in 'good' schools, and a decreasing proportion of pupils in 'requires improvement' schools.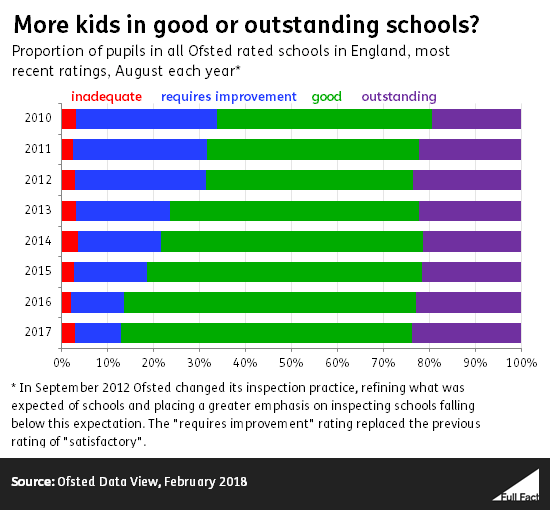 This improvement partly comes from Ofsted changing its inspection practices
In 2012 the "satisfactory" rating became "requires improvement", and Ofsted prioritised schools previously judged satisfactory for re-inspection in 2012/13 and 2013/14. It noted that the 'requires improvement' judgement had acted as a "sharp catalyst for more rapid intervention" among schools and local authorities.
By 2016, the majority of secondary schools that were rated satisfactory had become good or outstanding.
These figures exclude the ratings of some low performing schools that have closed and then re-opened as sponsor-led academies. Ofsted's statistics only count these schools once the new sponsor-led academy has been inspected.
Ofsted recently consulted on changes to its statistics because it says "not including these schools in the statistics affects the national grade profile because, in effect, the stronger schools tend to remain in the dataset when they become an academy while the weaker ones drop out".
For August 2017, Ofsted calculated that including the ratings of the predecessor schools would mean the proportion of schools rated good or outstanding would decrease by 2 percentage points, so falling to 87% of schools in August 2017.
---
"Faiza [Shaheen], do you think there is a rising problem of mental stress among children because of exams?"

David Dimbleby 15 February 2018

"It's not a matter of thinking. It's a fact, isn't it? It's just there."

Faiza Shaheen 15 February 2018
Exam stress clearly affects children in the UK, and from what we've seen there's some evidence from counselling services and school leaders that it's a growing problem.
This exchange from BBC Question Time comes off the back of reports that new times tables checks could be rolled out in primary schools in England.
Childline is a service that provides advice and counselling to anyone under 19 in the UK, and is part of the NSPCC. It delivered over 3,000 counselling sessions online or over the phone on exam stress in 2016/17, which is a 2% increase on what it dealt with in 2015/16 and 11% up on two years ago.
12-15 year-olds were the most likely to be counselled about exam stress, according to the charity, although it saw the biggest rise in contact from 16-18 year-olds.
As the NSPCC previously reported: "young people told counsellors how overwhelmed they were by the whole exam process. Excessive workloads, struggling with subjects and not being prepared for exams all contributed to young people feeling stressed and anxious."
There were also findings last year from The Key—which supports and provides information to school leaders. It surveyed its members, who are school leaders and governors, to find out their concerns about the state of education in England specifically.
When asked if they worried more about pupils' mental health during exams than they did two years ago, 81% of primary leaders agreed, and 78% agreed they had noticed increased stress, anxiety and panic attacks among their pupils over the same period.
This comes off the back of changes to the curriculum for schools in England in 2014. Among other things, this introduced new and more rigorous Sats tests in 2016 for children in Year 2 (aged 6-7) and Year 6 (aged 10-11). We can't say how much these changes might have caused the increased concerns shown by school leaders in the survey.
The survey findings from The Key were adjusted to make them more representative of schools across England, although we don't know if there is any selection bias. We've asked The Key for more details about the survey.
On its own, this kind of work can only tell us so much about this issue. The figures from Childline don't tell us about children who don't come forward and use these counselling services, for example.
The Office for National Statistics (ONS) has compiled an overview of the research that's available into the mental health of young people both in England and in the UK more widely.
We also know that exams aren't the only things that are changing for children and having an impact on mental health in schools. More children using social media report having symptoms of mental ill-health, according to findings from the ONS a few years ago.
---
"The priority is, why have we cut FE budgets by 50%?"

David Lammy 15 February 2018
At the end of last night's BBC Question Time Mr Lammy revised his claim, tweeting that the fall was between 40% and 50%. Mr Lammy's office has referred us since to an article in The Guardian from 2015, claiming the adult skills budget has been cut by 40% since 2010.
That's correct for the period 2010/11 to 2015/16—funding has fallen by around 35-40% accounting for inflation.
Since 2015/16, the core adult skills budget has changed, with apprenticeship funding separated out and other adult skills funding combined into one 'Adult Education Budget'. The new Adult Education Budget is set to fall by around 3% from 2016/17 to 2019/20, accounting for inflation, and the adult apprenticeship budget is set to increase by around 47%.
Cuts to the core adult skills budget between 2010 and 2015
The Adult Skills Budget includes funding for classroom-based learning, adult apprenticeships and other workplace training, for people aged 19 and over. It excludes community learning (informal courses on things like IT and employability) and training for offenders in prison.
There are two ways to look at what's happened to the budget: how much was allocated, and how much was spent. The annual budget for England is set out by the government each year, and then the Skills Funding Agency, now the Education and Skills Funding Agency (ESFA), is responsible for distributing funding.
Initial allocations by the government for the Adult Skills Budget fell by 34% between 2010/11 and 2015/16, accounting for rising prices over that period.
Spending via the Adult Skills Budget, reported in the ESFA's annual accounts, fell by around 41% over the same period.
This fall comes from a decline in funding for adult skills programmes other than apprenticeships, such as classroom-based and workplace training. The apprenticeship element of the budget actually went up over this period.
Part of this fall was due to some funding being taken out of the Adult Skills Budget and set up as separate funds. From 2013/14 grant funding for adults studying A Levels and equivalent was removed from the ASB and replaced with a separate fund for Advanced Learner Loans. A new pilot project for employer education projects was also set up in 2012/13.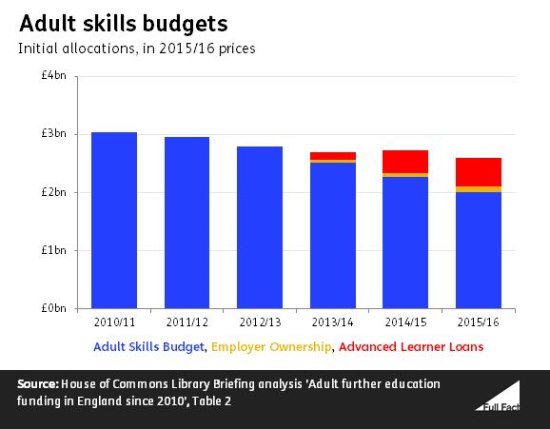 Spending since 2015/16
The Adult Skills Budget has since been replaced by the Adult Education Budget.  
The Adult Education Budget incorporates the Adult Skills Budget along with other post-18 skills budgets, but doesn't pay for apprenticeships.
Initial allocations for the Adult Education Budget are set to be £1.5 billion each year between 2017/18 and 2019/20. Taking inflation into account, spending will fall by around 3% over this period.
The adult apprenticeship budget—now separate to the core skills budget—is set to increase from £930 million to £1,400 million. That's an increase of about 47% taking inflation into account.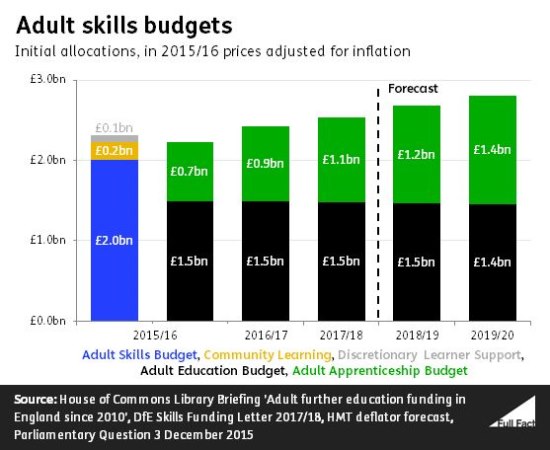 For more information about changes in adult skills budgets, the House of Commons Library Briefing explains the changes since 2010.
---
"I guess the Conservative government did raise the armed services budget to 2% of GDP [...] And I, as I understand it, the government has committed to that, to keep that target".

Camilla Cavendish, 15 February 2018

"But wasn't the budget cut between 2010-2015 by about nearly 20%, the defence budget?"

David Dimbleby, 15 February 2018

"I don't know how much. There were some cuts made, but in 2015 obviously the government committed to 2% of GDP."

Camilla Cavendish, 15 February 2018
In 2015, the government set a target of spending 2% of GDP on defence in every year for the rest of the decade. This target has been met in every year since, although it probably wouldn't have been without a change in counting methods.
The 2% target is a largely symbolic benchmark set by NATO in 2006, encouraging European states to spend more on defence. The UK has never spent below 2% of GDP on defence in recent decades, according to NATO's records which go back to 1970. It also has one the highest spending levels (as a percentage of GDP) among NATO members.
The 2% target
In July 2015, shortly after the general election, the Conservative government announced that it was committed "to meet the properly measured NATO pledge to spend 2% of national income on defence every year of this decade."
In October 2017, then-Defence Secretary Michael Fallon described 2% as the "minimum NATO commitment" and said "we meet it but we should aim to do better still".
The North Atlantic Treaty Organisation (NATO) was founded in 1949. It's a group of 29 countries working in "collective defence", meaning "if one NATO Ally is attacked, then all NATO Allies are attacked". NATO Allies consult and co-operate on defence and security-related issues.
The House of Commons Library explains that "[t]here is no intrinsic significance to the level of 2%" as a target for defence spending—in fact it's low by the UK's historical standards—but it is "politically and symbolically important".
In 2006, NATO set a target for its members to spend 2% of their GDP on defence, although it does not impose any sanctions or penalties for not doing so. According to the House of Commons Library, the target was put in place to "address the imbalance between the contribution of the USA and NATO's European members". It adds, "the difference between a country spending (for example) 2.02% and 1.98% of GDP is considered to be somewhat marginal and shouldn't be used as a basis for argument."
Has the UK met its 2% target?
According to NATO, the UK has spent at least 2% of GDP on defence in every year since 1970 (which is as far back as the data goes). The UK was one of only five NATO members to meet the 2% level in 2016, and one of only three members to do so in 2010.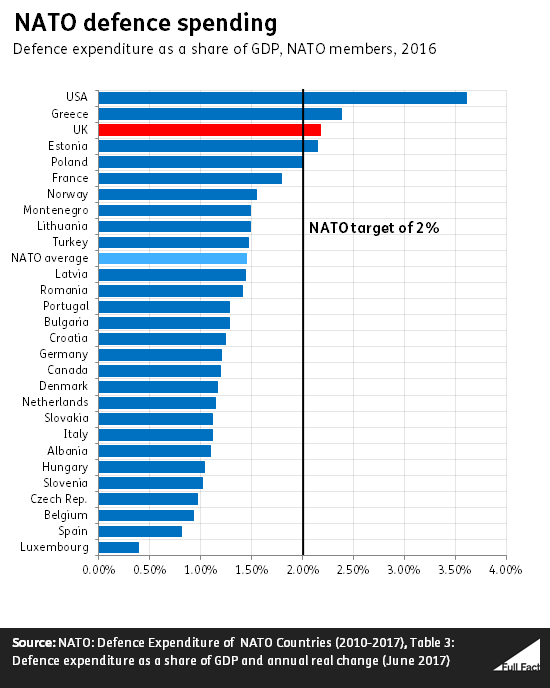 However, in 2015 the UK changed what was counted in its defence spending. War pensions (around £820 million), assessed contributions to UN peacekeeping missions (around £400 million), and pensions for retired civilian Ministry of Defence personnel (thought to be around £200 million) were included for the first time. That's over £1 billion in spending which was previously not counted in the budget.
The Royal United Services Institute has calculated that, without the change in counting rules, the UK would have been on course to spend 1.97% of its GDP on defence in 2015/16, rather than 2.08%.
The government emphasised that the revised counting method was in line with NATO definitions, and the House of Commons Defence Committee agreed when it examined the spending in 2016.
But the Committee also commented that : "We believe that this 'redefinition' of defence expenditure undermines, to some extent, the credibility of the Government's assertion that the 2% figure represents a significant increase in defence expenditure".
It recommended that the government also publish figures on what defence spending would be without the new inclusions, which as far as we have seen it has not done so far.
Changes in defence spending
Defence spending fell by 22% in real terms between 2009/10 (just before the 2010 election) and 2014/15, before the new counting methods were introduced. Comparing to 2010/11, it fell by 18%. Those figures use 2016/17 prices.
In the two years since then, it has stayed virtually the same in real terms, and between now and 2019/20, spending is planned to increase by 1% in real terms.