This week Question Time was in Reading. On the panel were secretary of state for education, Damian Hinds MP, shadow attorney general, Baroness Shami Chakrabarti, co-founder of Innocent Drinks, Richard Reed, the Daily Mirror's deputy editor-in-chief Alison Phillips, and presenter and author Richard Madeley. We factchecked claims on the number of school places, who the UK's biggest trade partners are, online shopping and rail prices.
"We've expanded the number of school places in the country by over 800,000 since 2010 ".

Damian Hinds MP, 7 June 2018
It's correct that there are around 825,000 more school places in state-funded primary and secondary schools in England than there were in 2010. That's an increase of 11%.
That includes 577,000 more places in primary schools and 248,000 in secondary schools.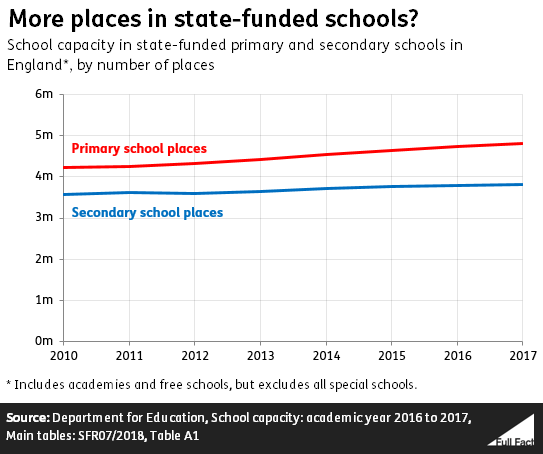 The number of pupils at state-funded primary and secondary schools has increased by around 505,000 or 7% since 2010.
Around 23% of state-funded primary schools were at or over capacity in May 2017 (around 3,800 schools). Around 16% of secondary schools were in the same situation (around 550 schools).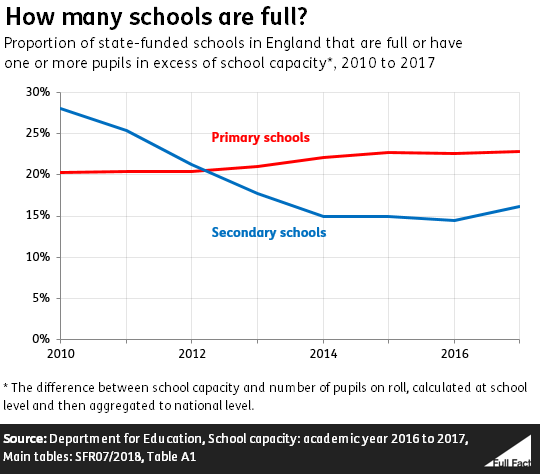 There were around 1.1 million unfilled places in primary and secondary schools in 2017, an increase of around 277,000 since 2010. 58% of these unfilled places are in secondary schools.
Local authorities estimate that 79,000 primary school places will be needed across England "to meet demand for academic year 2021/22." In secondary schools it is an estimated 87,000.
We've looked more at the proportion of places created in schools rated good and outstanding here.
"Germany's biggest export market is America and its second biggest export market is China. Our biggest export market is Germany."

Richard Reed, 7 June 2018.
It's incorrect that the UK's largest export market is Germany, in 2016 that title went to the USA. Germany is our biggest export market in the EU, though.
In 2016 we exported around £100 billion worth of goods and services to the USA (18% of our total exports) and £49 billion to Germany (9% of our total exports).
However our trade deficit with Germany, that's the gap between the amount we export and the amount we import, is higher than with any other country. In 2016 we imported about £26 billion more from Germany than we exported to it. That was closely followed by China, we imported about £25 billion more from than we exported to it.
We exported around £33 billion more from the USA than we imported from it in 2016.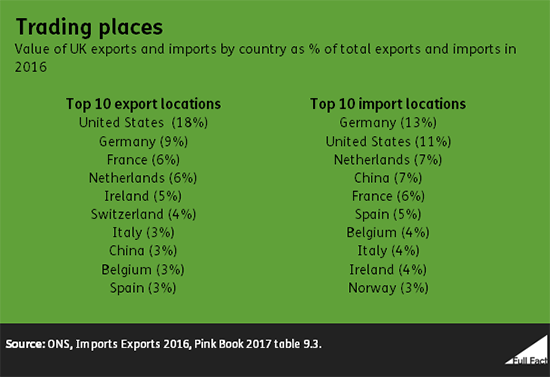 The USA is also Germany's largest export market. Around €111 billion was exported there in 2017—9% of its total exports. That was followed closely by France at €105 billion. China is Germany's third largest export market with €86 billion exported there in 2017.
China is Germany's biggest importer, at €101 billion in 2017.
"Everybody is getting their news and information off the tablet. They're watching television on the tablet... So many people… are buying online and they're not going to the shops."

Richard Madeley, 7 June 2018
Around 17% of all retailing in Great Britain was in online sales in April 2018, according to estimates from the Office for National Statistics (ONS), and that proportion is increasing.
Ofcom found that 17% of adults in the UK got their news from apps or online using a tablet in 2016, although that figure may have been underestimated. Ofcom reported in 2017 that 35% of adults they surveyed who use video on demand or TV catch-up services watch programmes and films using a tablet.
Going online shopping
Online shopping accounted for around 17% of all retail in England, Wales and Scotland in April 2018, according to estimates from the Office for National Statistics. This is up from 16% in April 2017.
The proportion of shopping done online has generally increased since at least 2008. Almost 6% of food purchases, and 17% of those for textile, clothing and footwear, were made online, which were both record levels.
These figures are collected monthly from a sample of about 5,000 retailers operating in Great Britain, including "all large retailers and a representative sample of smaller businesses". The ONS says their sample "covers approximately 93% of all known turnover in the retail industry" if you look at it "in terms of the number of businesses".
Internet sales in general were up by just under 12% between April 2017 and April 2018.
The average weekly value of internet sales was £1.2 billion in April 2018, most of which was spent in stores without a physical presence.
How do you like your news in the morning?
Most adults (69%) in the UK get their news from TV, according to a survey by Ofcom in 2016. 17% of adults said that "nowadays" they use internet or apps on a tablet for news. That's up from 13% in the previous two years.
Around 33% said they used radio, and 29% said they used printed newspapers in 2016.
Ofcom's research comes from a face-to-face survey of just under 3,000 people in the UK on the ways they consume news. Ofcom says the data may "underestimate some online news consumption activity" as it's a recall-based survey, relying on people remembering they looked at news online, which might be less memorable than say buying a newspaper or sitting down to watch television.
Ofcom's Technology Tracker survey, which samples just under 4,000 adults in the UK, found that in 2017 58% of adults had a tablet of some kind. 35% of adults who said they used TV catch-up or video on demand services said they used tablets to do so, according to a survey by pollsters Populus commissioned by Ofcom in 2017. 55% said they used a PC or laptop, and 35% said they used a smartphone, while 83% said they did so using a TV set. These figures come from an online survey sampling just over 2,000 adults.
"The prices are out of control, the trains don't run on time".

Baroness Shami Chakrabarti, 7 June 2018
Punctuality
Train punctuality has been falling generally for the past five years, across several measures.
Around 87% of trains in Britain arrived at their destination on time in the year to 26 May 2018, according to one measure from Network Rail.
"On time" in this case doesn't mean the exact time on the timetable though. This is based on the 'public performance measure' (or PPM) which is an industry standard throughout Europe. It counts "on time" to mean "trains arriving at their terminating station within five minutes for commuter services and within 10 minutes for long distance services" of the timetable agreed with Network Rail at 10pm the night before.
The worst performer on this measure was First Hull Trains as around 75% of its trains arrived on time over the year. The best performer was c2c Rail—which runs services through Essex—with 95% of its trains arriving on time.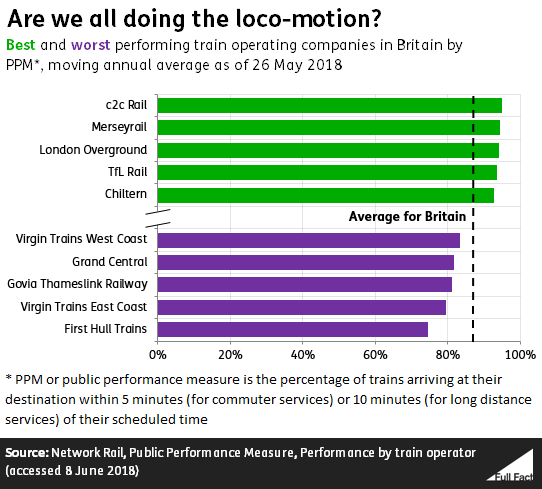 Another measure looks at whether a train arrives at its destination within 59 seconds of the scheduled time. This is know as 'right-time performance'. Looked at this way around 62% of trains were on time in the year to 26 May 2018.
Neither measure will necessarily reflect your own experience of the railways—if you get off before a train reaches its final destination, for example, this leg isn't picked up directly in these figures. There may also be variations depending on whether you travel at peak and off-peak times.
The worst performer using this measure was again First Hull Trains, only 22% of it's trains arrived on time. The best performer was Arriva Trains Wales, with 83% of trains on time.
One other measure has shown a similar trend: over the last five years the proportion of trains that have been cancelled or 'significantly late' (usually when a service arrives over 30 minutes late) has generally been increasing, although this has fallen in the last year. In the year to May 2018 around 4% of trains in England and Wales were cancelled or significantly late.
Ticket prices
The average ticket price in Britain increased by over 20%, once you factor in inflation, between 1995 and 2018.
The price of first class tickets has increased the most (55%), followed by unregulated standard class tickets (28%) and regulated standard class tickets (5%).
Regulated standard class ticket fares can only increase by a certain amount each year (in 2018 it was 3.6%). This includes tickets like saver returns, standard returns and weekly season tickets as well as certain commuter fares in and around the London area.
In the short-term rail fares have fallen by 1% on average over the last year, once you factor in inflation.
Of course these figures will vary by train operator and across the country, so won't reflect the experience of all passengers.
---