Has there been a fall in the number of child sex abuse cases referred to prosecutors?
18 November 2013
"Latest figures now show that despite there being more child sex abuse cases a hollowed-out police and Crown Prosecution Service are referring for prosecution nearly a third fewer cases."
Yvette Cooper, Shadow Home Secretary, 18 November 2013

This morning, tech giants Google and Microsoft announced measures that they claimed would make it harder for internet search engines to return child abuse images.
The move came as the Prime Minister prepared to host a summit on internet safety at Downing Street, and David Cameron's campaigning on the issue was highlighted by Google Executive Chairman Eric Schmidt as one of the influences behind the changes announced today.
However, Labour has urged the government to do more. Shadow Home Secretary Yvette Cooper claimed that figures showed that while the number of child sex abuse cases was on the rise, nearly a third fewer allegations were being referred to prosecutors.
The Sun provided more detail on these figures, noting that while the number of cases involving the sexual abuse of a child "shot up from 14,885 in 2008 to 18,915 last year" there hasn't been a commensurate rise in referals to the Crown Prosecution Service (CPS):
"Police referred 9,381 child sex allegations to the Crown Prosecution Service last year. The figure was 11,094 in 2008 and two years later it was 13,018, meaning there was a 28 per cent drop since 2010."
Rise in child sex abuse cases
Child protection charity the NSPCC totted up the total number of cases recorded by police in 2012/13 for various sexual offences against children, and found that there were 18,915, including 5,156 allegations of rape of a female child under 16 and 6,634 cases of sexual activity involving a child under 16.
Comparing this figure with the total for same group of offences in previous years shows that the number has indeed increased from 14,885 in 2008/09: a rise of 27%.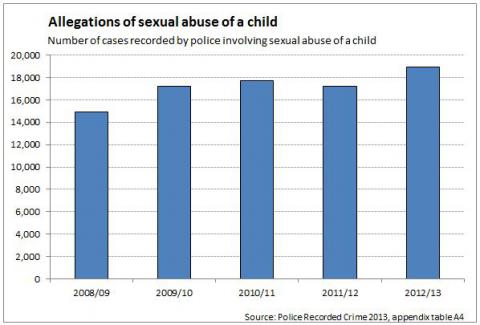 We have to be a little careful about how we interpret this data, as it doesn't necessarily mean that there is a higher prevalence of child sex abuse, as Ms Cooper suggests. Police recorded crime covers allegations of abuse logged by police, many of which have not been proven (or even taken to court).
In this light, it's worth noting that although the prevalence of child sex cases has risen in the most recent year, it had remained largely flat for the three previous years, and the increase might owe much to the publicity surrounding Operation Yewtree arrests that followed the Jimmy Saville scandal.
CPS referrals cut?
The second part to the Shadow Home Secretary's claim rests on data unearthed in a couple of Parliamentay Questions earlier this year. These show that the number of cases passed to the CPS involving children fell from just over 13,000 in 2010/11 to 9,381 in 2012/13, following year-on-year rises in the two preceeding years. 
However we should be careful about comparing this data directly to the police recorded crime figures as Ms Cooper did. As one of the answers given in Parliament makes clear, the offences grouped under 'child abuse' for the CPS's purposes goes beyond sexual offences, and includes crimes such as child homicide, neglect and trafficking.
It's also not necessarily the case that these figures show that 28% more offenders are getting away with it. What the data also highlights is that the proportion of cases that the CPS chooses to proceed with has also increased. While no further action was taken against alleged offenders in 36.4% of child abuse cases referred to the CPS in 2010/11, only 31.9% escaped further action in 2012/13. If we account for this, the drop in child abuse cases proceeded with by the CPS since 2010/11 is 22%, or less than a quarter.