"Devastating figures released over this summer show that £9.3 billion of public money is paid through housing benefit directly into the pockets of private landlords."

Jeremy Corbyn, 7 September 2016
£9.3 billion in Housing Benefit spending was for payments to private sector renters in 2014/15, if you adjust for inflation. This is the latest year there are confirmed figures for.
Technically this doesn't go directly to private landlords. The housing charity Shelter says that most private renters get the money paid into their bank account.
By contrast, Housing Benefit is usually paid directly to the landlord when it comes to council or housing association homes.
In the same year £9.4 billion was paid in Housing Benefit on behalf of housing association tenants, and £6.1 billion to councils in their role as landlords. So payments to private tenants made up 37% of all Housing Benefit payments that year.
It'll be a similar proportion in 2016/17, according to government forecasts.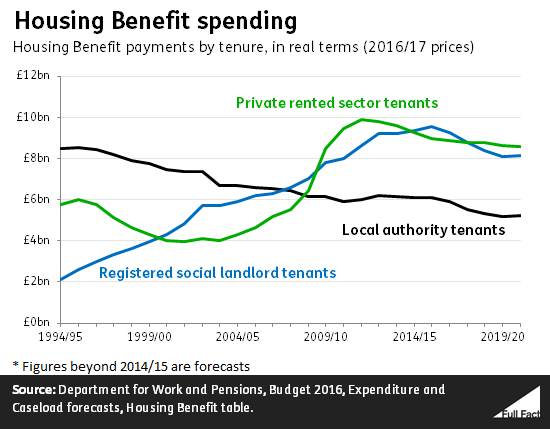 This is slightly higher than the proportion of Housing Benefit recipients, who make up 31% of all recipients. They account for a greater share of Housing Benefit payments by value because they receive more on average: £110 per week, compared to £89 per week for tenants in the social rented sector.
This factcheck is part of a roundup of Prime Minister's Questions. Read the roundup.
Full Fact wants to see greater accountability for public figures who mislead us—and we need your help.
Political debate in the UK is in flux right now. The UK's exit from the European Union is approaching, we will soon have a new prime minister and potentially a general election.
We want politicians to tell the truth, and while the best politicians realise that their work should be done honestly, some aren't taking their responsibilities seriously. Both sides in the EU referendum campaign let voters down, from deceptively designed leaflets to some of the arguments made on each side. The public rightly expects more from politicians.
We want to see greater accountability for public figures who mislead. Full Fact will continue to advocate for higher standards and call out those who don't uphold them.
But we rely on the generosity of our supporters to make sure we can spot the most harmful misinformation when we most need to.
Can you help us?
Support better public debate today.
---