In brief
Claim
We built more homes in 2017 than in all but one of the last 30 years.
Conclusion
Correct for the last 26 years, looking at the total number of homes added to the overall stock including things like conversions, minus demolitions. There were 217,000 homes added in 2016/17.
We built 1.1 million homes in 2017.
Incorrect. This is the total number of homes added to the overall housing stock since 2010/11, or the number of new homes built since 2009/10.
Claim 1 of 2
"And the good news is that last year, 2017, we built more homes, 1.1 million, than in all but one of the last 30 years."

Liam Fox, 8 March 2018
1.1 million homes have added to the overall stock of housing in England between April 2010 and March 2017. That's not the same as homes built—it also includes buildings converted to homes for example, and also factors in buildings that have been demolished.
Talking specifically about new homes built, there have been 997,000 new homes built since then.
The Conservatives first entered government in coalition with the Liberal Democrats following the May 2010 election, but the houses completed during their first several months in office would have been started while the previous Labour government was in office. These were mainly built by a combination of housing associations, councils and the private sector.
Looking just at the most recent year, 2016/17, there were 217,000 homes added to the overall stock, including 184,000 new homes built.
217,000 new homes in the space of a year is the second highest on record over the last 26 years—which is as far back as the data goes. The highest on record was 224,000 in 2007/08. We've written more about that here.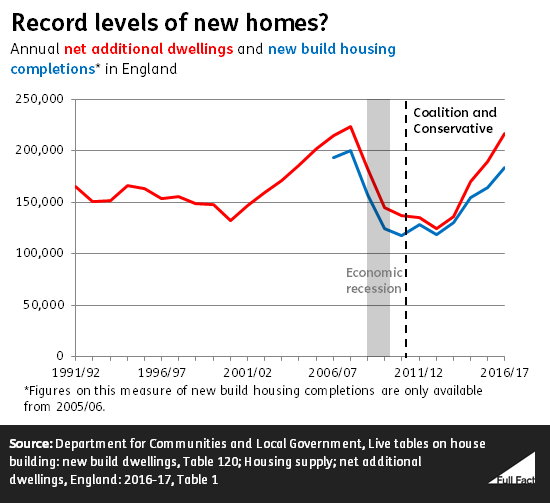 The Ministry of Housing, Communities and Local Government publishes other figures that go further back, but, these are known to undercount the number of homes.
This factcheck is part of a roundup of BBC Question Time. Read the roundup.
We need facts more than ever.
Right now, it's difficult to know what or who to trust. Misinformation is spreading. Politics and the media are being pushed to the limit by advancements in technology and uncertainty about the future. We need facts more than ever.
This is where you come in. Your donation is vital for our small, independent team to keep going, at the time when it's needed most. With your help, we can keep factchecking and demanding better from our politicians and public figures.We can give more people the tools to decide for themselves what to believe. We can intervene more effectively where false claims cause most harm.
Become a donor today and stand up for better public debate, on all sides, across the UK.
---