In brief
Claim
Real wages have been growing faster recently than at any time in the past decade.
Conclusion
Incorrect. Across Great Britain real wages are growing by about 1% annually—the fastest rate in around two years.
"Real wages have been growing faster recently than at any time in the past decade."

Theresa May, 15 November 2018
This is incorrect. "Real wages" (i.e. wages after adjusting for inflation) were growing faster in December 2016—just under two years ago.
It's possible Mrs May meant to refer to "regular pay" (i.e. excluding bonuses), which if you don't adjust for inflation is growing at its fastest rate in almost a decade—since December 2008.
But this doesn't account for how prices are changing over time, so it isn't as useful for describing the real world impact of changes in people's pay. It also doesn't reflect what some people actually take home in their pay packets as it excludes bonuses.
How is wage growth measured?
There are four main ways of measuring what's happening to wages. You can look at the growth in regular pay (which is pay not counting any bonuses), or you can look at the growth in total pay (which includes bonuses). Both of these measures can then be considered with or without adjusting for inflation, to give a total of four figures. They are all valid ways of describing wage growth—but they can often tell quite different stories.
The Office for National Statistics Figures publishes figures each month for all four measures of the growth in average weekly earnings in Great Britain.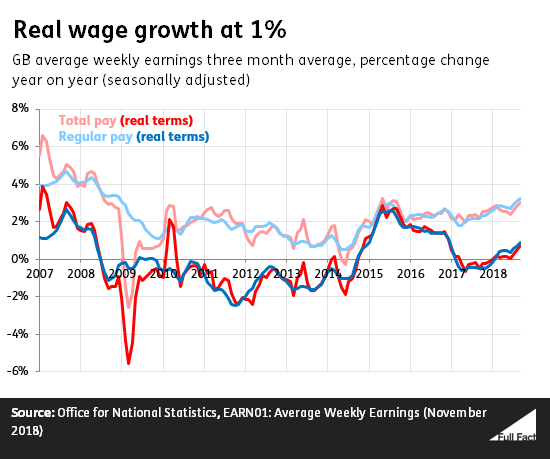 Three years ago total pay was rising by around 2% to 3% annually, but inflation was also close to zero, meaning that real-terms pay was also increasing by 2% to 3% annually.
In recent months pay has been growing at a similar pace, but inflation has also been at around 2%, meaning that the real terms total pay growth is much lower. It was 0.8% in September 2018.
All these figures refer to wage growth in Great Britain and so exclude Northern Ireland. They also refer to a three month average—for example figures in September 2018 compare how quickly wages have grown on average between July and September 2018 with the same period the year before.
Data for the whole of the UK is published annually. This data can't show detailed monthly trends, but shows that in April 2018 median full-time weekly earnings grew by 1.2% in real terms compared to a year earlier. That's the highest it's been since April 2016.
A familiar claim
This isn't the first time we've heard this kind of claim from the Prime Minister or other senior government figures recently (although it's the first time we can recall it's erroneously been described as "real wages").
On 14 November, the day before this latest claim, Mrs May said in parliament that the figures showed "the fastest regular wage growth in nearly a decade" (which is why we suspect that she meant to say the same thing a day later), and on 17 October she said that they showed "wages rising faster than at any time in a decade".
The Chancellor made the same claim in Parliament on 6 November, Work and Pensions minister Alok Sharma said it on 14 November, and Financial Secretary to the Treasury Mel Stride said it on 19 November. We've also seen variants of the claim in social media posts over recent weeks from Health and Social Care minister Matt Hancock, Guto Bebb, Rory Stewart, Jake Berry and the Conservative party's official Facebook account.
These claims are all broadly correct if you look regular pay not adjusted for inflation.
But as we've said on this issue before, because this measure doesn't reflect people's total take-home pay and doesn't account for rising prices, it's perhaps the least helpful of the four measures for reflecting the impact people will feel from changes in their pay.
With Brexit fast approaching, reliable information is crucial.
If you're here, you probably care about honesty. You'd like to see our politicians get their facts straight, back up what they say with evidence, and correct their mistakes. You know that reliable information matters.
There isn't long to go until our scheduled departure from the EU and the House of Commons is divided. We need someone exactly like you to help us call out those who mislead the public—whatever their office, party, or stance on Brexit.
Will you take a stand for honesty in politics?
---