In brief
Claim
UK GDP growth in the second quarter of 2018 was 0.4%. In the Eurozone it was 0.3%.
Conclusion
This was correct when the claim was made earlier in August, but the figures have since been revised, with both the UK and Eurozone growing at 0.4% in the second quarter. Growth in the EU and the Eurozone is higher in the previous 12 months than the UK. It's projected to stay that way.
"GDP growth in the second quarter of 2018: United Kingdom: +0.4% Eurozone: +0.3%" 

Twitter user, 10 August 2018
When this claim was made earlier in August, it was correct that in the second quarter of 2018, the UK's Gross Domestic Product (GDP) grew by 0.4% and the Eurozone's grew by 0.3%. The Eurozone figure has since been revised to 0.4%, the same as the UK.
In the longer term, UK growth is below growth in the Eurozone.
The Eurozone is made up of those countries that use the Euro, and isn't the same as the European Union as a whole (which includes countries like Poland and the UK which don't use the Euro).
The EU's growth last quarter was, like the UK's, 0.4%. Its growth was still the same even if you remove the UK from the calculation.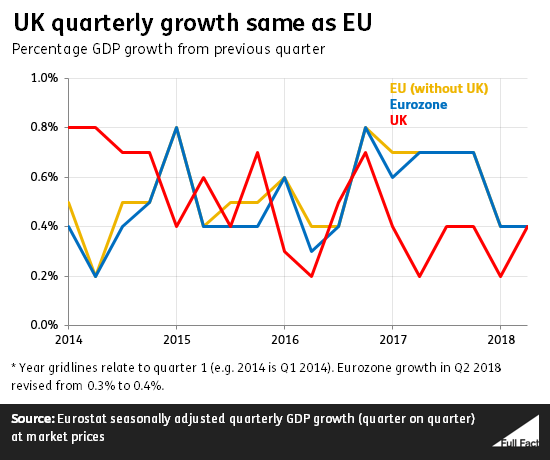 Referring to the UK's performance the Office for National Statistics said: "The economy picked up a little in the second quarter with both retail sales and construction helped by the good weather and rebounding from the effects of the snow earlier in the year."
GDP is the main measure of the size of a country's economy. It can be measured in different ways, one of which is adding up the value of all goods and services produced in a country. 
What's happened over the longer term?
Looking at a single quarter's growth figures in isolation won't give you the big picture. Quarterly GDP growth has been higher in the EU and Eurozone since the last quarter of 2016.
GDP growth in the Eurozone and wider EU is forecasted to be higher than in the UK in 2018 and 2019.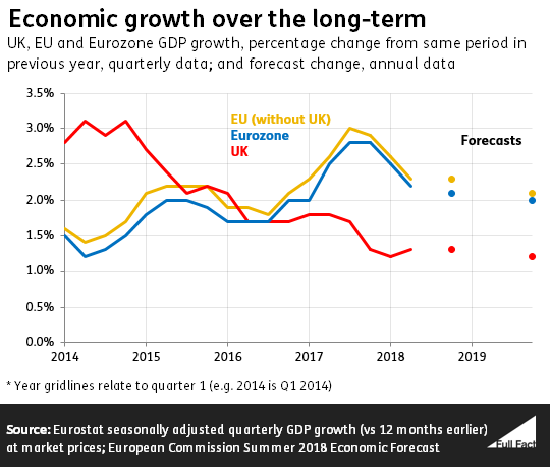 We need facts more than ever.
Right now, it's difficult to know what or who to trust. Misinformation is spreading. Politics and the media are being pushed to the limit by advancements in technology and uncertainty about the future. We need facts more than ever.
This is where you come in. Your donation is vital for our small, independent team to keep going, at the time when it's needed most. With your help, we can keep factchecking and demanding better from our politicians and public figures.We can give more people the tools to decide for themselves what to believe. We can intervene more effectively where false claims cause most harm.
Become a donor today and stand up for better public debate, on all sides, across the UK.
---