There's no agreed definition of the 'gig economy'
It usually refers to low-paid, flexible work such as running errands (TaskRabbit), giving lifts (Uber) or delivery services (Deliveroo or Hermes), where people are offered piece-work through a website or app.
That also means there's no single figure for how many workers are involved, but there have been recent estimates from the CIPD and the RSA organisations, putting it at just over a million on various definitions.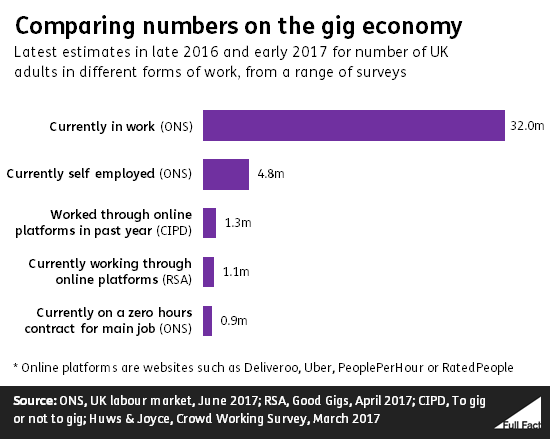 Gig workers tend to be younger and more likely to work in professional or creative work
That's according to an extensive survey by market researchers Ipsos Mori for an RSA report earlier this year.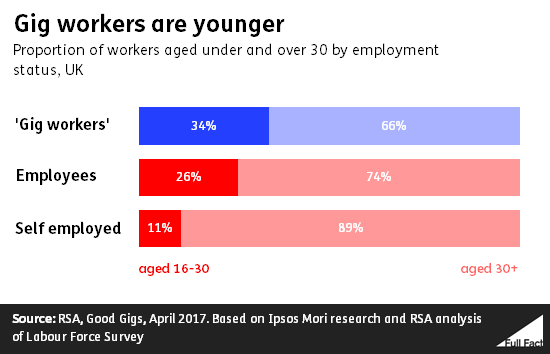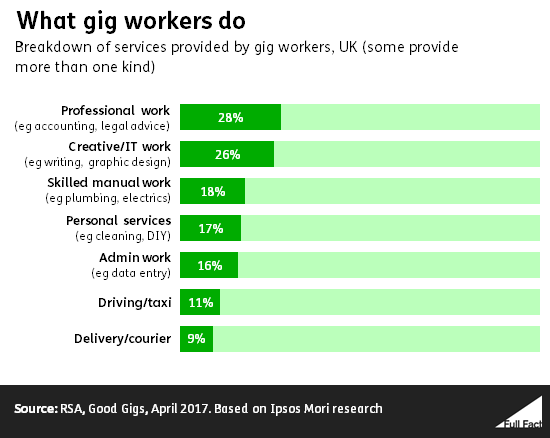 This is against a backdrop of growing self employment in the UK
More and more people in the UK are becoming self employed, and now around 15% of workers fall into this category. The increase has been happening for over a decade, and this predates the widespread use of digital apps to contract work.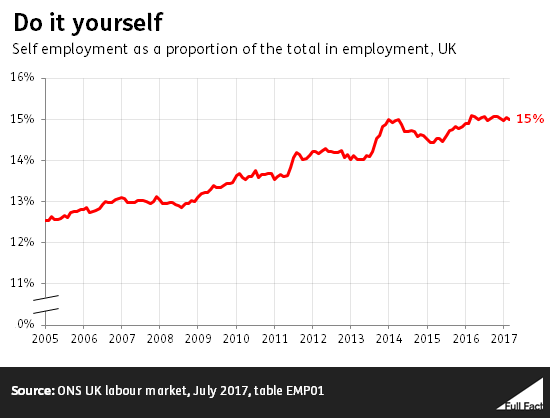 Being self employed isn't the same as what you might include when you think of jobs like Uber and Deliveroo. For instance, the self employed figures include people who are employers themselves. If you exclude these people, the figure is likely to fall to about 12 or 13%.
As we've found before, the statistical evidence we've seen suggests that people are generally taking up self-employment happily.
Self employment has accounted for just over a quarter of the change in employment since 2010, while most is accounted for by employees.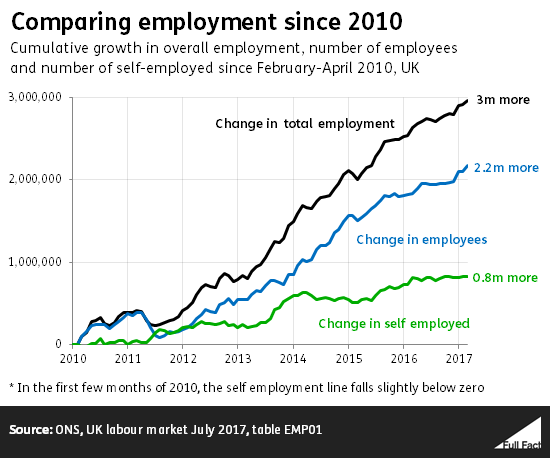 The UK has seen relatively large rises in the proportion of workers who are self employed
The growth in self employed workers hasn't been on the same scale among other members of the G7 group of major economies. Several, including the USA—which has a much larger proportion of workers who are classed as self employed—have seen a shrinking proportion of the self employed.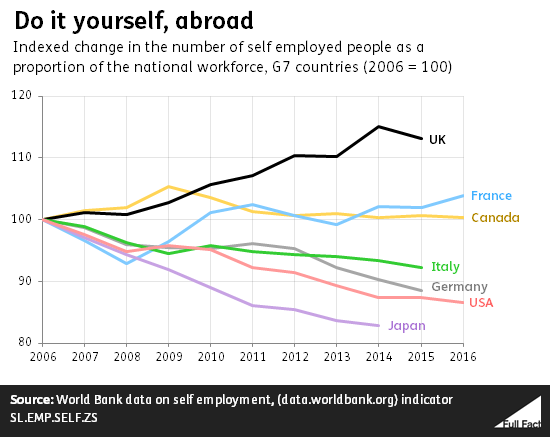 Small owner-managed companies are getting more common, and this could cost the Treasury
One feature of the 'gig economy' that's been reported on is the growth in people forming owner-managed companies, often with no employees other than themselves.
The Office for Budget Responsibility forecasts that if the growth in such companies continues, it will weigh in at a cost of £3.5 billion a year to the public finances by 2021.
That's because while the Treasury gets more in corporation tax from the new companies, the reduction in the number of employees and the self employed reduces its income from income tax and national insurance contributions by a greater amount. Company owner-managers get the most generous tax deal, according to the Institute for Fiscal Studies.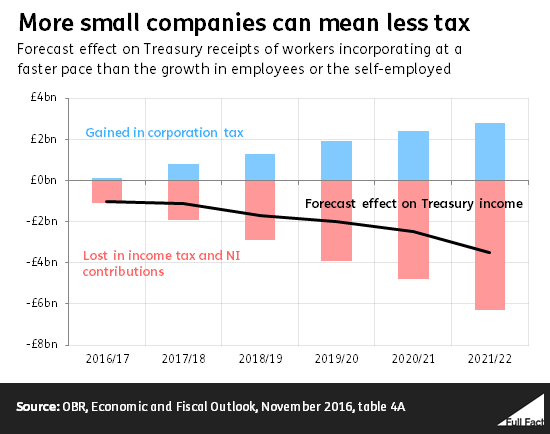 The integrity of our elections is in danger, and we need your help
You're probably here looking for facts. Thank you for that trust. But with the EU parliament elections on the way and more elections a possibility, we need to act now to make sure our elections are protected, before it's too late.
Could you help protect our elections by becoming a Full Fact donor?
Misinformation isn't new, but advancements in technology mean it can spread at an unprecedented scale. Our dangerously outdated election laws have not kept up with the digital age, putting our next elections at risk of abuse.
Currently, it's possible for a candidate to run a thousand different political ads to win the same seat, promising something different to each group it targets. At the same time, there's no law requiring those who publish online campaigns to disclose who they are or how they are funded. The opportunity for bad actors to manipulate election results is left wide open.
You may already know about our work to make public debate online more honest and transparent. Every day, we call out the most harmful misinformation on social media platforms when and where we see it. But right now, we're urging the government to overhaul our election laws to make sure political campaigning is held to the same level of scrutiny online as it is offline.
This work all depends on the generosity of hundreds of people who all believe that for democracy to work, we need transparency. Our monthly donors help strengthen our voice, and show our politicians that this really matters. Would you consider joining them?
Become a donor today to make sure our elections are protected.
---