Our key fact checks of the Conservative Party in the 2019 general election campaign
11 December 2019
With the 2019 General Election just a day away, we're rounding up the work we've done over the campaign in a series of easy-to-read guides to help you get the facts you need. 
This article summarises our fact checks of claims made by the Conservative Party. You can find equivalent articles rounding up our fact checks of claims from the Labour Party here, of the Scottish National Party and the Liberal Democrats here, and of Plaid Cymru, the Green Party and the Brexit Party here. (We'd recommend our colleagues at FactCheckNI for fact checks of Northern Irish politics.)
In our work this election, we've checked a range of the most important claims from all parties, but we have focused particularly on claims were we suspected there may be inaccuracy or the potential to mislead. All parties have also made accurate claims during this election, which we may not have written about, so we wouldn't suggest using these roundups to judge how honest any party is overall. At the same time, just because we haven't written about a particular claim doesn't mean we've verified it as true.
Please follow the links to read our full length fact checks for each of these claims: these include links to all the sources we've used (so you can check our work for yourself).
Honesty in public debate matters
You can help us take action – and get our regular free email
Health
"40 new hospitals"
This is a claim we've covered many times during the campaign (and in fact before it even began). As we first wrote in early October, only six hospitals in England are actually getting money for building work at this point, around £2.7 billion. This will pay for upgrades to existing hospital sites, not extra hospitals.
The remaining 34 will come from up to 38 other hospitals, which have received a total of £100 million to prepare plans for building work between 2025 and 2030, but not to actually begin any work. These hospitals are not expected to be delivered until after the next election.
The biggest NHS funding increase "in living memory", of £34 billion
This is another claim we've heard a lot of (it's sometimes phrased as the biggest increase "in a generation" or "in modern memory", or as a "record" amount.)  
Once you adjust for inflation (the rise in prices over time, which is the most meaningful way to look at spending increases) the "£34 billion" is actually a spending increase of £20.5 billion for the NHS in England in the five years between 2018/19 and 2023/24. The last time public spending on health increased by at least that amount over five years was between 2004/05 and 2009/10. So it's not a record amount if you adjust for inflation.
"50,000 more nurses"
A key pledge in the Conservative manifesto was for "50,000 more nurses" in the NHS in England. 
This has been the subject of some controversy, partly because of the fact that it includes a target of 18,500 nurses already working for the NHS who will be encouraged to stay in their jobs rather than leaving. This isn't necessarily a problem. As we've written, the NHS has a significant turnover of staff, and improving the retention rate of nurses is a reasonable approach if you want to increase the number overall. 
Instead, we've said, the bigger question is around the funding for these nurses. The Conservative manifesto costings commit less than £900 million to this increase in nurses by 2023/24, which is not enough to pay for 50,000 more nurses. Comments made by the Conservatives' Rishi Sunak during the TV debates suggest that the bulk of the funding for these extra nurses will come from the existing NHS budget, rather than representing additional funding. 
Brexit
"Get Brexit done"
The front cover of the Conservatives' manifesto promises to "Get Brexit Done", and the phrase appears on 22 other occasions throughout the document. Conservative politicians have also repeated it many times on the campaign trail.
As we have said quite a few times ourselves, Brexit is a process, not an event. It's correct that the UK will stop being a member of the EU if Boris Johnson's deal passes Parliament and the country leaves on 31 January 2020, which is just over seven weeks away. It is not unreasonable to describe that as getting Brexit "done". But it will not be the end of the Brexit process.
Under Boris Johnson's deal, negotiations with the EU on a future relationship would then take place during a transition period, during which time the UK will still follow EU rules and pay money into the EU budget. The withdrawal agreement does not by itself secure a trade deal with the EU—that would have to be negotiated during the transition period, currently set to run until the end of December 2020. 
The government will face a deadline in July 2020 about whether to extend the transition period, and the possibility of leaving the transition without a trade deal and reverting to World Trade Organisation terms if the future relationship is not negotiated by the end of the transition.
"No checks on goods going from GB to NI, and from NI to GB"
Boris Johnson was asked about leaked Treasury documents that Labour said showed the negative effects of his deal on goods moving between Northern Ireland and Great Britain. He said there would be "no checks on goods going from GB to NI, and from NI to GB… one of the great benefits of the deal that we've done, is if there is any particular that the people of Northern Ireland don't like, then… all those provisions automatically lapse in four years' time." 
As we wrote in our article about his comments and the documents themselves, this is not true. Checks will have to take place on goods crossing from Great Britain into Northern Ireland. Goods moving from Northern Ireland to Great Britain will at least require "exit summary declarations". Whether there are additional checks will be up to the UK government, but the Treasury documents highlight a tradeoff whatever decision is made: that there would be risks to not having such checks, but that having checks would be disruptive to the Northern Irish economy.
It's not correct, as Mr Johnson said, that if there are any terms of the Withdrawal Agreement that people in Northern Ireland don't like that they would lapse automatically after four years.
Economy, tax and spending
Labour's plans would mean an extra £2,400 in tax for "every taxpayer"
The Conservatives claimed numerous times that every taxpayer in the UK will have an additional bill of £2,400 per year due to Labour's policies. When they initially released this figure, we criticised it for a number of reasons, one being that Labour hadn't released its manifesto yet so it wasn't known at that time what its policies would be.  
But the main problem, as we subsequently wrote, is that the figures are pretty meaningless anyway. It's not true that every income tax payer would have to pay this to fund Labour's pledges. That's because Labour does not plan to fund its spending pledges through higher income tax for everybody (there are other taxes, such as corporation tax), and even if it did, the cost would fall disproportionately on higher earners.
Police and Crime
"20,000 more officers on the streets" 
The Conservative manifesto repeated a pledge previously announced by the party that they would be "putting 20,000 more officers on the streets". 
As we wrote in our fact check of the manifesto, this would return the number of police officers to almost, but not quite, the total in 2010. But there is some context worth considering: because the country's population has grown since 2010, recruiting another 20,000 full-time police officers would still leave the number of police officers per person 8% lower than it was in 2010, factoring in projected population increase and the government's recruitment timetable.
Other topics
"Homelessness peaked under Labour in 2008 and is down by half since then"
Chancellor Sajid Javid claimed that homelessness reached its peak in 2008 under Labour, and since then is down by almost a half.
As we said in our fact check, according to all the evidence we've seen, this is almost the exact opposite of what has happened. Homelessness peaked in 2003, then fell dramatically until 2009, before rising again. Newer figures since 2018 aren't comparable but other measures also suggest homelessness has increased since 2010.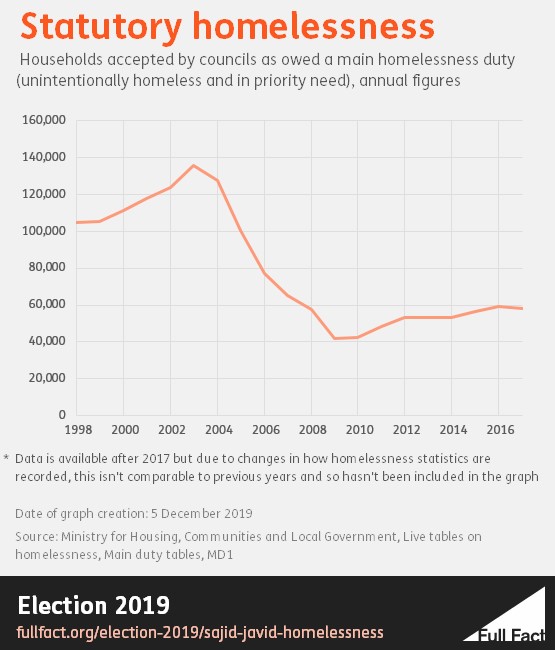 The Conservatives later told Channel 4 FactCheck that Mr Javid had misremembered the statistic.
"840,000 more immigrants every year under Labour"
The Conservatives claimed that "Jeremy Corbyn's plan for unlimited and uncontrolled immigration" meant that net migration "could increase to over 840,000 people… coming to the UK every single year". 
The problem with this is that Labour doesn't have any such policy, and on top of that their calculations (which assumed that people from every country in the world would migrate to the UK at the same rate as Hungarians did in the five years after 2004) were not credible.  
Correction 6 February 2020
We corrected this article to clarify that the claim "homelessness peaked under Labour" specifically referred to the year 2008.